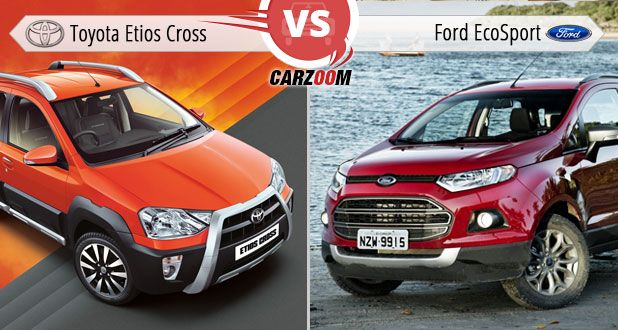 Last year march, it was celebration time for Ford literally after launching its EcoSport as a Compact SUV in the market. After which, game was literally changed for Ford with sales figures touching skies and Ford was all on cloud 9 with the success of its Sub-4-metre vehicle in the market. This year, Toyota as well, tries to achieve something as it launches its Cross Country vehicle in India against all the odds in the market. That brings us an idea, how would it be if we just have a comparison between both the cars, to see if EcoSport was really the exceptional case in Automobile Industry or Toyota has got the same kind of potential here. So, we bring you a fresh and a bit jazzy comparison between two cars which are completely different from each other, but focus at a similar market segment. We are talking about a comparison between Ford's Superstar EcoSport versus the Liva hatch's Cross Country version for Toyota, the Etios Cross.
Prices
When EcoSport was launched, it was, with all those features and design, considered to be out of most affordably rich vehicles, it still is. But when we compare it with Etios Cross, it seems a bit expensive deal. While Toyota offers four variants of Etios Cross at a price range of 5.76-7.40 lakhs, Ford with its price range for 10 respective trims cost somewhere between 6.14-9.48 lakhs. So here, being more affordable, Toyota could snatch the deal if it was only about pricing affordable or cheaper. And since it's not, we should move further for a more deep analysis.
Engine and  Performance
Talking very straightforwardly, Ford has revolutionized the market with its EcoSport offering 'the best' engine of its class and for this segment, we would not mind compromising our love for Toyota which makes refined engines maybe, but Ford here literally can teach Toyota to be a blend of performance, refinement, efficiency or whatever counts to be the best. So without boasting much, let's just have a look at that, with figures Ford is superior to Toyota here.
Ford, in its EcoSport offers three engine trims with 1.0 litre EcoBoost petrol engine being the toughest with figures like 123BHP and 170Nm, and then there is another 1.5 litre TiVCT petrol engine with figures 110BHP and 140Nm and lastly, a capable and efficient yet power packed 1.5 litre TDCi diesel engine which produces 89.7BHP and 204Nm.
On the other hand, Toyota offers very basic set of three engines in Etios Cross with a 1.2 litre DOHC petrol engine with power 78.9BHp and 104Nm torque, another bigger petrol mill which is 1.5 litre with max output of figures to be 88.7Bhp and 132Nm and a single diesel engine which is a 1.4 litre D-4D unit which is considerably low in output with 67.07Bhp and 170Nm.
All in all, Ford's engines sound better and the 1.0 litre EcoBoost is a real charm to drive which is the most refined one with best low-end grunt amongst all, including Toyota's engines.
Apart from that, with no AT option in any of the Etios Cross versions and with an integrated 6-speed Powershifter, Ford here in this segment declares an overall winner over Toyota making its vehicles more focused and driver friendly for hassle free city rides and even for high-speed open road performances.
And the only area, where Toyota could dare to raise its hand up high is the Etios Cross being more efficient than EcoSport, but that too marginally in diesel variant only with a total economy of 23.59 KPL against EcoSport which does 22.67 KPL. While in the petrol fuel, EcoSport defeats Etios Cross with an efficiency of 18.88 KPL against Etios Cross with a low mileage of 16.78 KPL.
Hence, EcoSport claims its superiority in this segment very easily over Toyota Etios Cross.
Drivability and Safety
We know really well that Toyota is made for more driving friendly appeal than show-off elements, but that doesn't mean EcoSport is a show-off either. Yes it is indeed but wait, what's wrong in being a poser if you know you can pull that off in reality as well over styling and stuff. Well that's exactly what Ford did when it rolled out world's first vehicle, and that it still does. Hence, on an overall drivability count, Ford for its legacy with Ikon and Old-Fiesta  in better driving ergonomics and handling tends to defeat Etios Cross in this segment as well.
Apart from being top on drivability count alone, unlike Toyota, which adds just a few basic features in a Cross Country car of it like SRS Airbags, ABS with EBD, an immobilizer etc. should have added features what Ford offers like EBA+ESC+TCS+HLA etc, in addition to what Toyota offers. If Toyota would have done that, then only it would have been able to earn that Cross Country badge which it otherwise boasts a lot about in and out of it.
Lastly, with more cornering ability and better ant-roll drives, EcoSport comes loaded with front Independent McPherson Struts with coil springs and anti-roll bar and rear Semi-Independent Struts with twist beam and gas/oil filled absorbers for more lag free rides, but remain stiff a bit than Toyota Etios Cross's basic McPherson struts front and torsion beam rear suspensions, which are meant for softer rides over Indian pot-holed roads. Still, we go for EcoSport completely with more driver friendly and controlled rides every time.
Interiors  and Exteriors
It feels funny how we keep declaring Eco as a winner in every segment, but what can be done as Toyota actually feels a lot lower to what Ford is offering. And so, once again in the looks department, with tough built, Urban SUV looks, chrome infusions, and an ultra modern Compact yet spacious design, EcoSport defeats Etios's Cross avatar with more plastic claddings and front and rear bumpers. Toyota had surely tried to give it a nice beauty job, which indeed looks nicer than ever with a garnished headlamp to top it all. But EcoSport with its more easy, compact and high-leveled design and looks is our clear choice here.
Inside as well, Fiesta-borrowed paneling and cockpit with metallic and techno feel, features like 20 storage compartments, Bluetooth connectivity, cooled glove box etc. with more room for 5 fully grown adults, EcoSport outperforms Etios Cross which looks decent from the inside as well while tries to achieve more sporty blends with an all black piano-finish theme, stitched sporty seats, cooled glove box and chrome garnished gear-knob etc. But to be really honest, Ford can teach Toyota to stylize a car more properly. And so, remains our pick ultimately with an overall domination over Etios Cross for this particular segment.
Pros and  Cons
Ford EcoSport Pros:
Overall concept
Surprisingly spacious
Overall performance
Looks
Reliable handler
Ford EcoSport Cons :
Not any against Etios Cross we could think of.
Toyota Etios Cross Pros:
Reliability
Toyota's Quality
Built
Freshness otherwise
Toyota Etios Cross Cons:
Overall performance.
Cornering ability.
Not really behaves like a Cross Country.
Final Verdict
Without any doubt in mind, we choose EcoSport to be our overall winner for this comparison. It performs awesomely, behaves adequately and is expected to achieve same quality as of a Toyota. So that's about it.