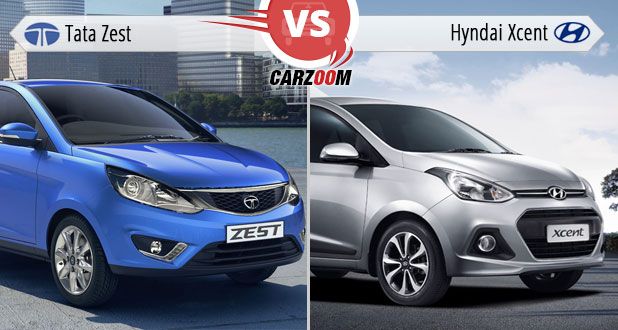 Compact sedan segment is getting competing day by day, thanks to the Indian Govt. for penalizing cars over 4-metre long, without which Indian automobile industry wouldn't have witnessed a flooded birth of small and compact cars . All the compact cars, like sedans or SUVs are sheer results of this. We here are sharing with you an even hotter comparison between two such cars. One of them is Old player in this segment, while the other one is a rookie. We are talking about the newly arrived in market Tata Zest which is expected to change the market position for Tata versus the giant Hyundai Xcent. Let's compare the car with the existing one to see how fair it plays on paper till now. 
Prices:
The mantra of success for any compact vehicle is not just its easy-to-go-with size and specs but also the competitive rates it should be tagged on in the market and keeping compliance with that, Hyundai priced its Xcent sedan somewhere between 4.66-7.19 lakhs for the petrol variants and an affordable 5.60-7.41 lakhs for the heavy diesel mill variants. Tata on the other hand, Placed Zest petrol version at very affordable 4.63-5.99 lakhs, while Diesel trim is also less price than that of Xcent except the base model with 5.64-6.99 lakhs. 
Engine and Performance:
Inside the aesthetically appealing body, Xcent sports peppy 1.2 litre Kappa-2 petrol engine and a newly introduced 3-Cyl 1.1 litre diesel mill which it shares with its younger hatch variant as well. While Tata calls for a freshly tossed and slim 1.2 litre 4-Cyl Revotron engine which is new. But the diesel mill remains the usual Fiat-driven 1.3 litre Quadrajet which is a revolution itself. On power factors, Xcent churns out decent enough figures of 81.83bhp power and 114 Nm of torque from Kappa mill while the diesel drills to touch a low power number of 71.01bhp only, combined with a torque production of 180Nm, which makes it a better city car and may disappoint you with hardly any low-end grunt and uneven lags on highway sprints. While on the other side, Tata's Zest comes loaded with figures of around 83.84bhp of power and 140Nm of torque from the petrol engine and some 88.77bhp and 200Nm figures from the diesel one which makes it a better performer.
In shifters department, Xcent supports butter-smooth 5-speed AT system for petrol and a decently operated 5-speed MT for the diesel clone. AT feels great in operations and you would only want to opt for them if you are bored of shifting manually, otherwise the MT system here is class apart. On the other hand, Tata Zest arrives with whole new criterion by planting a newly developed F-tronic 5-speed semi AT in diesel and a 5-speed MT in petrol variant. It is smooth to operate as well.
On the mileage matrix, Hyundai claims the diesel Xcent will run around 24.4 KPL, while the petrol will return a good 19.1 KPL in manual avatar and some 17 KPL with the auto shifter. Tata Zest arrives with the mileage figures of 23 KPL for diesel which well lower than Xcent and 17.6 KPL for petrol mill which is again quite low against Xcent. To sum up, Xcent's mileage is better but Zest engines are powerful especially the Diesel one. 
Drivability and Handling:
In driving appeal, the Xcent so far has impressed the buyers and spectators with its excellent ride quality. The suspensions are on softer side and hence soak up jerks and pot-holes very elusively for a smooth ride and the softness of the Suspensions surely makes it roll a bit around corners but not too much, making it a better handler than many in the market right now. But the features which Zest has revealed looks astonishing like Immobilizer, independent McPherson Strut suspensions in front and independent 3-link McPherson Strut for the rear as well with anti-roll bars in both ends and a better ABS over the competitor's conventional one, with better cornering abilities. Zest looks a better driver's car for us in the segment with a loaded chassis 
Interiors and Exteriors:
In the looks department, Zest impresses us up to a  certain extent with all fresh and elegant design, posing aggressive looking projector headlamps, chrome plated radiator grilles, large and open air dam, body color ORVMs and grab handles, LED DRLs, LED rear lights with chrome finishing just like the Xcent. Even the Amaze inspired side profile looks active and compact with raw shoulder and sidelines. While on an overall profile, its hatch Variant, Bolt, looks more relaxed than its heighted rear built boot. On the other hand, providing the class-leading fluidic design, Xcent here follows the Hyundai tradition well enough. With a booted version of the Grand i10, it looks similarly charming to that but the added chrome filled wide diamond grille looks sober and different on the sedan here. The boot section is well designed too with rounded design and reshaped tail lights, boot and bumper. And lastly, the integrated aluminum inserts in the rear lamps give the cluster a premium look. And with that, Zest looks fresh, but Xcent is a looker of the segment really.
Getting inside of the Xcent, you recall the cabin of the Grand i10 with a bigger and better appeal and feel of course. Cab looks ergonomically attractive with dual-tone black-and-beige high quality material. Seats are comfortable and spacious in both the rows with enough leg, shoulder and headroom for all the passengers, especially on the back seat with a foldable and well-positioned armrest with cup holders. Apart from that, the car comes loaded with features like keyless entry, push button start, rear AC vents, 1GB internal storage for audio files, rear parking sensors with reverse camera, electric folding ORVMs and electro-chromic rear view mirror. Plus, a climate control, leather on steering with audio and telephony controls, gearshift indicators and airbags are some of the few features in Xcent.
While the Zest from Tata is not behind as company revealed 5'' touchscreen HARMAN derived infotainment system, Elite class upholstery, dual beige-black interior with chrome, decent space and comforts, exclusive MapMyIndia SATNAV system, audio system with AUX-in, USB and Bluetooth telephony come standard with steering mounted controls just like the Xcent. Cabin of both the cars remain quite compatible and comparable with very nice quality of materials of fits and finish. This is like a tradition with Hyundai now, but a whole new achievement for the Tata brand.
And appreciating the efforts from both the sides, we give equal marks to both the brands with niche incorporation inside. 
Pros and Cons
Hyundai Xcent Pros:
Brand value
Best in class ergonomics
Performance figures
Service network
Space and styling
Hyundai Xcent Cons:
Body roll
Conventional engines
Diesel lags
Absence of some basic features like auto door lock and seat belt adjustment 
Tata Zest Pros:
Good performance
Spacious
Cabin class and styling
Game changer
Comparatively better Ground clearance 
Tata Zest Cons:
Resemblance of Tata Manza
Tata service and quality
Skinny tyres
Low in cabin storage 
Final Verdict
Hyundai has hardly lost a war in providing best value for money and attractive looks in recent times. But with Zest against it, competition gets a bit serious and hence we declare Zest a partial winner for the time being with its on-paper specs, intimidating performance against the Xcent in market.