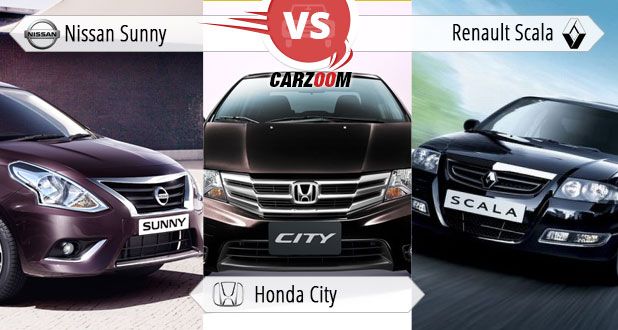 After the demands of our beloved readers, today we bring you the comparison between three trendy cars of India's admirable segment Sedan. These three sedan models we are talking about are Honda City, Nissan Sunny and Renault Scala. While Honda's sedan is one of the most popular and appealing sedans of country, the Sunny and Scala are siblings and almost identical to each other and probably this is the reason behind their respective not-so-fair sales in India. But does it mean, these two cars are not as good as Honda City or any other same segment model or it's just that their luck is not working well? Before coming to any final conclusion, let's see what these three models are offering to their respective customers and how are they different from each other.
Price:
Starting with price range that normally becomes the turning point of a buyer's decision. This is the reason every company tries to price its respective model very smartly so that it can be customer's first choice over the others.
In petrol trims, Nissan's Sunny seems more affordable than other two by coming within price range of 6.9-8.9 lakhs over the Honda City's and Renault Scala's almost similar price range of 7.2-10.9 lakhs and 7.2-10.6 lakhs, respectively.
Further, Sunny is taking the cake away again by carrying cheapest cost among three in the diesel models. The Sunny is available at price range of 7.9-9.6 lakhs while on the other side City costs at 8.4-11.0 lakhs and Scala at 8.3-10.2 lakhs.
Price Scores:
Honda City- 1/2
Nissan Sunny- 2/2
Renault Scala- 1/2
Engine details:
Under the hood, all three sedans share almost similar sized petrol and diesel engines in it but still offer various output and torque range which undoubtedly makes Honda City better on paper. The City carries 1.5 liter of i-VTEC petrol engine developing 117bhp and 145Nm of max power and peak torque respectively over the 1.5 liter of petrol unit in both Sunny and Scala which is responsible to develop the max power of 97.6bhp and torque of 134Nm in both sedans.
The petrol models of all the three sedans are mated to a 5-speed manual transmission along with a CVT gearbox as option.
And now it comes the diesel fuel where again 1.5 liter of engine does it duty in all three sedans, their displacements and engineered technology are different though. City carries 1.5 liter of i-DTEC diesel mill churning out max output of 98.6bhp and torque of 200Nm. This fuel unit of City, on paper, seems better than 1.5 liter K9K dCi diesel engine which is equipped in both Sunny and Scala having 84.8bhp and 200Nm as its power and torque.
While the City diesel is geared up with a 6-speed manual gearbox, the other two cars get 5-speed manual.
On the grounds of fuel efficiency, Honda's cars always prove themselves better and when it's about City, no doubts remain in mind. The City offers clearly better claimed mileage of 17.4-18.0 km/l in its petrol unit and 25.1-26.0 km/l in diesel. Contrary, Nissan's Sunny and Renault's Scala both offer equal claimed figures of 16.95-17.97 km/l in their respective petrol models while there diesel mileage differs i.e. Sunny diesel (22.71 km/l) and Scala diesel (21.64 km/l).
Therefore, by considering the above facts, City, on paper, is a clearly winner in this section in terms of its more powerful engines with better fuel efficiency as well.
Engine Scores:
Honda City- 2/2
Nissan Sunny- 1.5/2
Renault Scala- 1/2
Performance:
It's a well known fact that in the field of on-road performance, it's very difficult to beat Honda's most popular car City. The City is not only the Honda's best model but also the India's one of the most admiring sedans too. Its lately introduced diesel engine is very quiet and surely grabs people's attention towards it. It offers a very linear power delivery and is very easy to drive. The gearbox and steering wheel does it duty well and its overall weight has been reduced too which is making it lighter than ever and also assisting the car to get better fuel efficiency.
Nissan recently has brought the facelift version of its Sunny in market with slightly better claimed mileage in diesel trim than before but as told above, it still is less fuel efficient than Honda City but more fuel efficient than Renault Scala too. The Sunny also offers a very comfortable drivability on road and also is easy to handle. But if compare to City then diesel engine seems bit noisier, petrol model is very responsive though.
Further, Renault Scala due to having Nissan Sunny's engines offers similar on-performance as well. Both the engines of Scala are well drivable and easy to handle. The only major difference between Sunny and Scala is their slightly different mileage figure.
Overall, we are thrilled with Honda City's performance but must say Sunny and Scala are also giving a tough fight to City. But still, because of City's smoothness and better fuel economy, we would opt Honda's sedan over the other two.
Performance Scores:
Honda City- 2/2
Nissan Sunny- 1/2
Renault Scala- 1/2
Space & Dimension:
In space department, none of the three cars will disappoint you whether it's about the legroom or headroom or thigh-room etc. but still the car which delighted us the most was again the Honda's classy City. This sedan despite of having shorter length than Nissan Sunny, still offers a more than sufficient legroom and more comfortable thigh-room in its inside cabin. However, overall their cabins are airy and one will love to sit in any of them.
Dimension wise, Sunny is longer and taller than other two by carrying length of 4455mm and height of 1515mm over the City's length and height of 4440mm, 1495mm and Scala's 4425mm, 1505mm. The width of all three sedans is equal i.e. of 1695mm.
The wheelbase of all three sedans are equal again which is of 2600mm. Further, City carries better ground clearance and car boot of 165mm and 510 liters respectively over the Sunny's and Scala's similar 161mm (ground clearance), 490 liters (boot space).
Generally, all three sedans impressed us with their spacious cabin and decent measurements.
Space & Dimension Scores:
Honda City- 1/1
Nissan Sunny- 1/1
Renault Scala- 1/1
Interior:
At inside cabin, Honda has mainly focused on car's practicality and the build quality is solid. But definitely, we were expecting lot better. The simple seat covers, simple dashboard gives the car a decent but at the same time an out dated look too especially when compares to other two sedans we discussing here. We like Honda City's inside cabin but only for its spaciousness.
Nissan on the other side has offered a very classy interior in its Sunny sedan. Along with good material quality, it also gets premium seat covers, dashing dashboard, classy features designed in such a way that making the car's inside very nice and appealing. Though, if we compare the Sunny's interior equipments with Renault's Scala then definitely it somehow lacks.
And the last one is Renault Scala which is as impressive as its sibling Nissan Sunny on the grounds of its interior cabin. The thing in which Scala scores more is the slightly more interior features availability in it than City and Sunny both.
Interiors Scores:
Honda City- 0.5/1
Nissan Sunny- 1/1
Renault Scala- 1/1
Exterior:
Though both Nissan Sunny and Renault Scala are almost identical in almost every field but not in this. The Renault by launching its Scala later than Sunny also did some experiments in Scala's exterior profile and must say it has very much succeeded too. The Renault Scala looks trendier and up to market than Nissan's simply designed Sunny. The outside curves, lines, features all are very well adorned in Renault's this classy sedan that giving an edge fight to Nissan's car.
But here again the car that is taking the cake away from both Sunny and Scala is the classy Honda City which looks far trendier and attractive than other two. The Honda has designed its car very smartly and it is easily noticeable on road even in the middle of the crowd. So if we have to choose one among three as per their respective looks then we would surely go for Honda City.
Exteriors Scores:
Honda City- 1/1
Nissan Sunny- 0/1
Renault Scala- 0.5/1
Safety:
As far as their safety measures are concerned, all three sedans, on paper, get safety devices like dual airbags at front, ABS (antilock braking system) with EBD (electronic brake-force distribution), immobilizer etc. Meanwhile, Sunny is also equipped with side airbags which is missing in other two. Also, while brake assist is marking its presence in Sunny and Scala, it is missing from City. But if we talk about practically life, then Honda's cars are said to be more reliable and more practical for the daily use.
Safety Scores:
Honda City- 1/1
Nissan Sunny- 1/1
Renault Scala- 1/1
Verdict:
Nissan's and Renault's cars can compete with Honda's models and also can give a tough fight too but when it comes to brand image in country then it's impossible to beat Honda. So if you want car with an awesome on-road presence, more practical nature and with a trustworthy brand name, then go for Honda City with your closed eyes. And if brand image doesn't matter that much to you and you want a car with luxury touch then Nissan Sunny and Renault Scala will be better for you, where Sunny might get preference over Scala coz if its price affordability.
Final Scores:
Honda City- 8.5/10
Nissan Sunny- 7.5/10
Renault Scala- 6.5/10