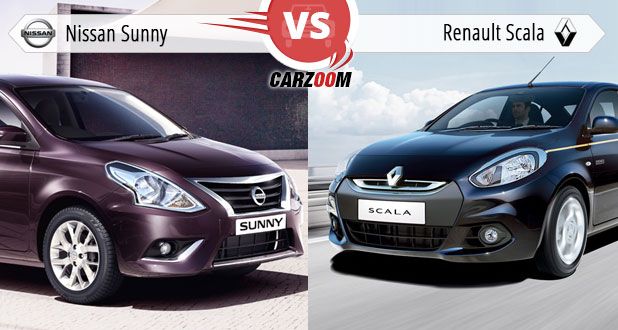 When it comes to mark the difference between two sibling cars which are very much identical in almost every way and can be identified only by seeing their badges, then the actual trouble occurs. Such comparisons seem very much easy but difficult too at the same time. Easy because of their identical nature which let us manage the comparison short and precise but difficult because it becomes tough to choose the better one among two. Well, here we are talking about similar types of two siblings which only carry a badge difference. These are Nissan Sunny and Renault Scala. Let's have a look on comparison.
Price:
Both the sedans are equipped with diesel and petrol fuel mills and have difference in their price range. However, it is also said that this price difference is because of the spoken or unspoken deal between Nissan and Renault. As the deal says, due to the reason of carrying similar specs, features and all; the brand which will launch the car later will also place the price more than the other particular sibling car, so that no one's market will suffer.
Hence, as Nissan launched its Sunny first in market, it is available at cheaper price range of 6.99-9.80 lakhs. Contrary, Renault later launched its sedan Scala with slightly more price range of 7.24-10.61 lakhs.
Still, whatever the reason is, our Indian customers are not used to of such similar models with different price tags and Scala due to having higher prices suffer more.
Engine details:
Coming to the under hood, there is not any difference at all and both the cars share same engines as well as power and torque. There is a 1.5 liter of petrol engine in both which develop max power and peak torque of 97.6bhp and 134Nm respectively. This petrol engine is mated to a 5-speed manual gearbox while an X-TRONIC CVT gearbox is also present as optional.
The next engine is of diesel which is a 1.5 liter K9K developing max power of 84.8bhp and peak torque of 200Nm. This diesel mill is also available in both sedans and mated to a single 5-speed manual transmission system only.
In terms of fuel efficiency, finally these are slightly different with each other. Nissan recently brought updated model of Sunny in market with improved fuel economy by 1 km/l in its diesel variants. Now Nissan Sunny diesel offers claimed mileage figures of 22.71 km/l over the Renault Scala's 21.64 km/l. Contrary, the petrol mdoels of both the cars provide same figures of 16.95 km/l in manual version and 17.97 km/l in automatic.
Performance:
If compare these engines of both sedans with other same segment models then these seem less powerful on paper but once come for driving then Sunny and Scala both feel very impressive, especially their diesel models. The K9K diesel mill is very responsive and makes the cars drivable. The engines are refined and smooth and their light steering wheels let you drive very smoothly on road. Overall, as both share same engines, their driving dynamics are same as well and one can't find the actual difference.
Space & Dimension:
As far as their dimensions are concerned, Renault by launching its Scala later than Sunny had done some experiments with it. On paper, Scala is shorter and less higher than Sunny while the width of both sedans are same. The Sunny carries dimension of 4455 x 16954 x 1515 mm over the Scala's 4425 x 1695 x 1505 mm. Meanwhile, the wheelbase and boot capacity of both cars are equal again i.e. 2600mm and 490 liters respectively.
On the grounds of space, Nissan Sunny never disappoints and nor does the Renault Scala. Both offers more than sufficient legroom and headroom, but thigh-room is average could be better though. Hence, for their as usual similarity, we give equal scores to both here.
Interior:
As changing the interior costs much more, Renault kept its Scala's interior as same as Nissan's Sunny. The dashboard is same, instrument panel, music system, control buttons on steering wheels etc are almost similar as well. To make the interior premium and decent, both use leather upholstery on seats in the top-end variants. Apart from that, the common features in these sedans are Multi-Information Display, Integrated Audio System with 4 Speakers, MP3 & AUX-in while USB & Bluetooth port is missing from Scala but present in Sunny, manual AC in base variant while auto AC in top-ends and keyless entry etc.
Further, while features like rear parking sensor and rear view camera are only present in Nissan Sunny, Renault's Scala gets engine start stop button which is missing from Nissan's sedan. So, overall, both are nine on ten in terms of their interior equipments with Sunny obviously in lead.
Exterior:
Again, Renault has tried to change its Scala sedan to make it different than Sunny and somehow has succeeded too. Both these sedans look different from each other and if frankly speaking then Renault's Scala is our choice among these two in this particular section. While Sunny looks quite quirky, the Scala is smarter and bold. The cutting and curves in Scala are sharper than Sunny and making the car quite noticeable. But still, it doesn't mean Sunny has nothing. Nissan recently updated its Sunny and now new 2014 version is looking more charming and admirable than ever.
Hence, while both sedans carry an appealing and confident exterior profile in their own way, we would pick Scala for its bolder appearance.
Safety:
On the safety front, Sunny and Scala both are equipped with immobilizer, dual airbags at front, ABS (antilock braking system), EBD (electronic brake-force distribution) with emergency brake assist, anti-theft device with alarm etc. Nissan's Sunny also has side airbags in its top-end trims.
Verdict:
As we have seen, both have almost identical qualities, then how people will actually choose one between these two? Well, answer could be their respective brand value, and brand with more dealer networks and better after sale services probably wins. However, both Nissan and Renault are new in India and offers almost same types of services but still our vote goes to Renault for comparatively better post buying services but yet again there is one con of Scala too which is its higher prices.
Renault Scala Pros:
Better exterior profile
Offers slightly better post buying services
Renault Scala Cons:
Despite of having almost similar car, price range is higher
Slightly lacks in interior equipments
Nissan Sunny Pros:
More affordable
Diesel engine in Sunny is li'l bit more fuel efficient
Nissan Sunny Cons:
Exterior profile not as much exciting as Renault's sedan
Somehow not offers that much better services post buying