Once again the can be felt in the market of D-segment cars after the launch of updated Hyundai's Elantra. Along with modifying exterior glimpse and major renovations in the interiors, New Elantra does get major transformation in almost every aspect over the current model. At times when most manufactures are opting for SUV segment, Hyundai has gone for the kill with new Elantra in the D segment.
It's been long since these D-segment models got changes on a higher scale and probably this is the reason customers seems excited by Elantra's this re-launch, may be they are thinking that something is better than nothing and this is the reason Elantra is being highly appreciated.
In this queue, we bring to you one of the most demanding versus sections between Refreshed Hyundai Elantra and New Corolla Altis is not an unknown name for anyone, its running quite successfully worldwide and in India as well. Let's have a look, what similarities or dissimilarities these two trendy beauties have.
Price:
The Primary factor while choosing any car usually starts with its cost, everyone first want to see which one is more affordable and then they look towards other things. Here in this section Toyota seems to take over the Hyundai by offering the top-end variants of its Altis at much lesser price than Refreshed Elantra.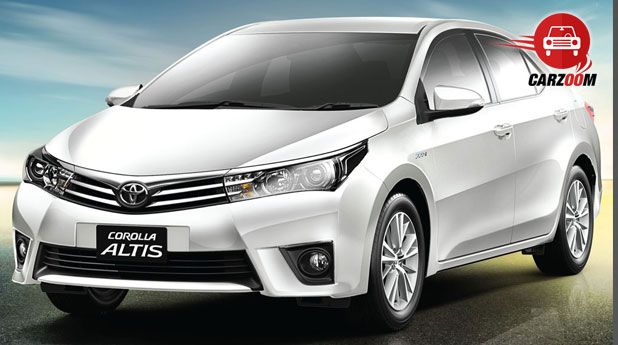 Let's start with base variants, Refreshed Elantra's price range starts from 12.99 lakhs in petrol and from 14.79 lakhs in diesel which is way higher than the Altis's starting price of 13.78 lakhs of petrol model and 14.81 lakhs of diesel.
Major difference between the two is their top end price tag, while Hyundai's sedan is affordable one whose top end variant ends at the price of 17.99 lakhs in petrol and 19.19lakhs in diesel; Toyota Corolla Altis is slightly costlier than Elantra i.e. 18.86 lakhs in petrol model but with 17.57 lakhs in diesel it is around 1.6 lakh cheaper than Elantra's top diesel variant.
Engine details:
Both the sedans offer petrol and diesel fuel options in their respective sedans and tried to make them powerful than others. While engine size of petrol trims are equal in both, their produced power and torque differs and make Elantra powerful than New Altis.
The Refreshed Elantra is equipped with a 2.0 liter petrol mill which is responsible to derive the max output of [email protected] and peak torque of [email protected] On the other side, in New Altis, this figure goes only up to [email protected] and [email protected] respectively in its 1.8 liter petrol trim. Diesel unit of Elantra is more powerful as well and make the New Altis sits behind. Hyundai's Elantra is powered by a 1.6 liter diesel mill over the 1.4 liter of New Altis and develops 126bhp and 260Nm of impressive power and torque which is clearly better than Altis's 87.2bhp and 205Nm.
Further, Hyundai has geared up its Elantra with manual and automatic both transmissions in its petrol and diesel (6-speed in both) trims while again Toyota lacks here and provides just a manual transmission in its diesel trim, its petrol model gets 7-speed auto gearbox too with newly introduced paddle shift along with 6-speed manual though which is a great move and will assist the New Altis petrol to give a better drivability on road.
On road, New Altis petrol provides a comfortable ride and decent handling and it feels quite light to drive in city while the diesel trim is kind of rigid due to its less produced power. The suspension of New Altis is soft which make its drivability (especially in petrol) silky smooth even on rough roads. The Elantra too offers a decent handling and well-balanced brakes on highways. Thanks to its produced power, torque and light steering wheel as well, its driving is really fun.
On the grounds of their fuel economy, Elantra yet again proves itself better by providing claimed mileage of around of 22.54 km/l in diesel and 18.23-14.59 km/l in petrol over the Altis's mileage of approx 21.43 km/l in diesel and 14.53 km/l in petrol.
Space & Dimension:
On paper, both sedans share almost equal dimensions but practically New Elantra is bit more spacious than Corolla Altis, the reason is its improved space with improved legroom and headroom in this updated model.
The Elantra carries length of 4570mm which is slightly less than Altis's 4620mm while width of 1800mm is slight more than Altis and height gets not-noticeable difference of 10mm i.e. New Altis is 1475mm tall while Elantra is 1465mm.
Further, the wheelbase of both the sedans are equal again which is of 2700mm, this wonderful figure give the cars a sleek and slim glance at outside. For storing the luggage, these cars get satisfactory but not-much-impressive space, the Toyota's sedan is still better though. The New Corolla Altis carries car boot of 470 liters over the 420 liters of new Elantra.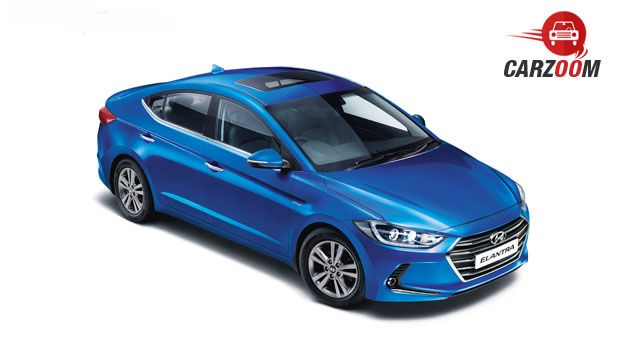 Interior:
Thanks to renovation of New Elantra, it gets many new and comfort features while Elantra on the other side also have bucket-full in this manner. On the name of newly added or modified features, New Altis has new piano black instrument panel cluster providing the car a rich feel, new 7.0 LCD touch screen music system with Bluetooth & SD card, 8-way adjustable power driver seat, navigation system, reverse camera, increased vertical adjustment of seats, rear reclining seat (first in segment) etc.
But it doesn't mean Elantra is on the backfoot here, it gets new all black dashboard with silver detailing , black seats, 10-way adjustable power drive seat over the Altis's 8-way. Elantra is also designed with such features which are highly missed in New Corolla Altis, these includes rear defogger with timer, front seat ventilation, 8 inch touchscreen with android auto and apple car play, dual zoned fully automatic temperature control, sunroof, rear Ac vents, auto cruise control (Altis has manual), electrically adjustable, retractable & heated outside mirrors and some more.
The finishing work done on features is also comparatively better in Elantra than New Altis; the material quality is of top-notch in Toyota's model though.
Also See: Visit Our Toyota Corolla Altis FAQ section containing all small-yet-useful info altogether for your convenience
Exterior:
Coming to car's exterior profile, while Hyundai Elantra already carries a striking stance, Toyota is also offering a well-appealing glance with many refined features.
New Altis is designed with modified grille at front, sharp lines and curves at body, auto headlamps/ LED headlamps, daytime running lamp (available in special accessory package only) etc, the noticeable point here is that features like LED headlamps are usually found in upper segment cars but Toyota has surprised us by giving it in its Corolla Altis. The Elantra on the other side offers an attractive smartly designed exterior profile which can be noticed easily in between the road.
Hyundai arms new 16 inch 10 spoke alloy wheels in its beauty Elantra which somehow completes the classy exterior of this sedan while New Altis also gets similar 16" alloy wheels. However, both sedans carries solid build quality but still to match the Toyota's standard in this manner is quite not possible by Hyundai or other brands.
It's true that Toyota doesn't concentrate more on features equipment but make its cars for long life practically and this time also equipped some new-styled-modern-features in it like LED headlamps, daytime running lights etc which makes the car modernized in front of Hyundai's comfort-features-packed and value for money Elantra.
Safety:
Hyundai and Toyota both have provided almost every safety device usually mentioned on paper in their respective sedans which include dual front airbags (Elantra also has side and curtain airbags in its top end variant though), ABS (antilock braking system), EBD (electronic brake-force distribution) etc.
Hyundai Elantra also gets features like ESP (electronic stability program) which improves car's stability by detecting & reducing loss of traction), hill start assist control which is responsible to prevent the car from rolling away when trying to pull away up or down, vehicle stability management, impact and speed sensing auto door lock, automatic headlight control, electronic stability control, these are one of the few quite important features which are missing in Toyota New Corolla Altis.
Altis gets brake assist which is unavailable in Elantra.
But in practically Toyota's models are known as one of the safest ones on road, the reason is their small yet useful arrangements regarding car's safety which are not mentioned on papers and can only be felt during driving.
Verdict:
New Toyota Corolla Altis Pros:
Impressive on-road performance
lustrous design with modern features
Toyota's unmatched reliability and wonderful after sale services
New Toyota Corolla Altis Cons:
Comparatively less powerful engine
Fuel efficiency could be improved a bit
Lacks in comfort features
Auto transmission is missing from diesel trim
Hyundai Elantra Pros:
Value for money car
Powerful engine with better fuel economy
Enriching comfort features
One of the best looking cars
Hyundai Elantra Cons:
Hyundai's not so impressive brand image as Toyota
Costly maintenance post buying
Pricing still on the higher side