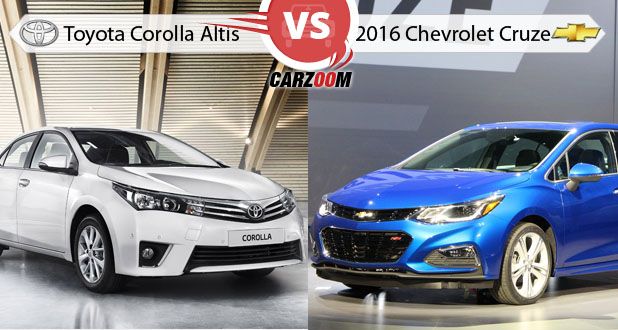 If it's about D-segment comparisons then we can't forget its previous segment-leader Chevrolet Cruze which is though losing its popularity now-a-days as many other models in same segments are proving themselves better but still Chevy's this Cruze is still in this race somehow. And when another brand Toyota brings its beauty Corolla Altis in a refreshed form then here we are by offering a detailed comparison between these two trendy beauties of our Indian automobile industry.
On comparing these two models, what we strongly felt was that Chevy Cruze seriously needs an updation with some major renovations now as other car manufacturers are slowly-slowly leading in this respective segment and that time is not far when Chevy Cruze will be out of race, we definitely don't want that though. However, it gets an update which is not as significant as expected but it might prove to be handy to boost its sales? Well, before reaching to any conclusion, let's see what these two premium sedans are serving to their respective lovely customers.
Price:
The Chevy's Cruze is available with only diesel trim which has priced at much competitive range as per its segment and undoubtedly giving a rub shoulder fight to its rivals. But Toyota also on the other hand has made its newly re-launched car much affordable in its segment.
The base price of Cruze diesel is 13.95 lakhs while Corolla Altis's diesel is slightly on the higher side and comes at the base price of 14.81 lakhs. Contrary, story is reverse in its top variant prices; here Cruze diesel ends its price tag at 16.95 lakhs while Altis diesel swims up to 16.41 lakhs.
The petrol variant of Corolla Altis comes between 13.69-18.36 lakhs while there is no petrol Cruze available in market.
*All the prices are of ex-showroom Delhi.
Engine & performance:
If talking about fuel units availability then Toyota seems better coz it provides both petrol and diesel trims to its newly updated Corolla Altis while Cruze is powered by diesel unit only. But by considering the market demand, diesel model seems enough as customers wants it more now. Also, Cruze gets a powerful diesel engine which not only develops so much impressive power and torque but also make the Altis diesel to sit far behind.
The Chevrolet Cruze is equipped by powerful 2.0 liter DOHC diesel engine responsible to churning out the max power and torque of [email protected] and [email protected] respectively which is far better than Corolla Altis's tiny diesel mill of 1.4 liter D-4D producing not so much appealing output and torque of [email protected] and 205Nm between 1800-2500rpm respectively.
One more aspect where Cruze is better is availability of 6-speed manual and automatic both transmissions in it while Altis diesel is just mated to a 6-speed manual transmission. However, there is a 7-speed auto gearbox in Altis too but geared up only with its petrol trim. The available petrol engine in new Altis is a 1.8 liter Dual VVT-I which breathes through [email protected] and 173Nm of max [email protected] and torque respectively.
The on-road performance of Toyota Corolla Altis is highly appreciable and recommendable; Toyota always designed its models with power packed performance which gives a premium and top-notch comfortable feel even in long trips and journeys.
While Cruze on the other side also runs successfully through its powerful diesel engine. The available torque and power of this car naturally results in good acceleration. Its auto gearbox makes the drivability easy and handling decent but it doesn't mean that manual-one not perform well, we really like the performance of this trendy Cruze with manual transmission as well.
As far as their fuel efficiency is concerned, Cruze's powerful engine automatically becomes slow in its fuel economy and offers claimed mileage of around 17.3 km/l which is not as much impressive as Toyota's 1.4 liter diesel's 21.43 km/l of claimed mileage figures.
Hence, only because of Toyota Corolla Altis-diesel version's better fuel efficiency, it is sitting just next to Cruze in competition despite of carrying smaller engine.
Also See: Visit Our Toyota Corolla Altis FAQ section containing all small-yet-useful info altogether for your convenience
Space & Dimension:
With this renovation, Toyota has improved the Altis's legroom and headroom which is making the car very spacious than ever but Cruze doesn't lack here as well, a six feet tall person can easily sit in the Chevy's this premium sedan as Cruze also offers a freely-freely cabin with lots of space. Talking about dimensions, then newly re-launched Corolla Altis is slightly longer than Cruze and carries length of 4620mm over the 4597mm. However, Cruze is still slightly wider and taller than Altis and has width and height of 1788mm and 1477mm respectively which on the other hand is 1775mm and 1475mm in Toyota's sedan.
Car boot in both the sedans are not much appreciable and could be improved by a big leap if compared to other same segment models. While the Cruze has boot space of 450 liters, New Corolla Altis has 470 liters.
Hence, due to sharing almost similar dimensions, we give both the sedans equal scores here.
Interior:
At inside cabin, Toyota has done a great job by refining its interior features which are now making the car premium than ever and giving a really tough fight to the loaded-interior-features-Cruze. The Corolla Altis is featuring 8-way power drive seat over the 6-way power adjustable driver seat of Cruze. New Altis also gets comfort features like cruise control, push start/stop system, navigation system, touch screen music system, intermittent wipers etc.
Some features which are missing from New Altis but available in Cruze are rear defogger, Mylink infotainment system with Apple car play, illuminated vanity mirrors, trunk illumination and power holding & heated outside mirrors.
On the other side, demanding features like rear AC vents are missing from both but available in other same segment models. Overall, both the sedans have almost equal features in them.
Exterior:
There was a time when Cruze was extremely popular just because of its eye-catching exterior glimpse but then other same segment models launched and Cruze's popularity faded. Though, it's still is a good looking car but somehow can't stand in front of attractive glimpses of Skoda Octavia and also new Toyota Corolla Altis.
Toyota has launched refreshed classy sedan a while ago whereas Chevrolet has updated Cruze now which is unfortunately has not made any drastic change to it. On the contrary, Toyota offers striking outside profile to this Corolla Altis while Chevrolet on the other hand still tied with Cruze's old glimpse despite of this update.
One thing which is highly missed in new Altis is electric panoramic sunroof which is marking its presence in Chevy's beauty. But still, we give here one extra score to New Altis as still remains on top despite of Cruze getting new update.
Safety:
On the grounds of safety, both the sedans are well equipped with common yet requisite features like airbags, ABS (antilock braking system), immobilizer with alarm etc.
But refreshed Corolla Altis also takes the car's safety on a higher level by offering the features like EBD (electronic brake-force distribution) and brake assist which are missing in Chevrolet's Cruze. These features help in preventing the car from skidding on any rough road conditions.
Verdict:
New Toyota Corolla Altis Pros:
Better fuel efficiency
Refined exterior profile
Premium material quality
Toyota's reliability and top-notch customer's satisfaction
New Toyota Corolla Cons:
Less powerful engine (diesel)
Developed power and torque could be improved
Ground clearance is low
Chevrolet Cruze Pros:
Powerful engine with impressive power & torque
Enrich in interior features
Solid build quality
Chevrolet Cruze Cons:
Mileage could be better
Petrol trim is missing
Performance still needs updation
After sales service is still Hit or miss