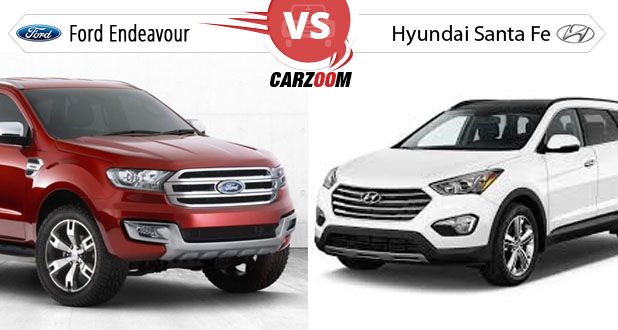 New Ford Endeavour is here. We introduced it to you, we spread the news of its specs and we reviewed it by our experts as well. We compared it with cars of its capabilities and of even dissimilar ones and that leads us to its last but certainly not the least competitor in the market, the most premium SUV of the segment, Hyundai Santa Fe. One of the most expensive and Snob valued SUVs, Santa Fe is really in a league of its own. But watching our old champ in new clothes chasing it down for fame would be a pretty exciting job as well. Let's have a look then.
Prices
In comparison with the Endeavour, if Fortuner sounded expensive then surely, Santa Fe with its price range of 28.29-31.72 lakhs in the market would seem blindingly insane whereas Endeavour comes cheaper at a price range of 23.63-28.16 lakhs.
New Ford Endeavour here is surely the choice of pocket friendly buyers but with a boot full of premium class features, Santa Fe is still a better bet if you don't really have a budget limit.
Also See: Visit Our Ford Endeavour FAQ section containing all small-yet-useful info altogether for your convenience
Engine and Performance
Engine wise, Ford's so called capable and top notch engines i.e. 2.2 and 3.2 ltr TDCi VGT/DOHC 16 Valve are nice performers with a max power of 157bhp @3200rpm and with torque rate 385Nm @2500rpm on the top-end variant. Where, Fe's guardians have carefully plucked and placed a small but capable 2.2 ltr CDRi Diesel engine into its hood with a max power in all the three variants being similar and as good as [email protected] and a whopping and revolving torque of [email protected] (depending upon variants) for lag free accelerations and constant outbursts of insane performance throughout the rides in all conditions. The 3.2litre engine of Ford Endeavour outshines Santa Fe with 197bhp [email protected] and 470Nm of peak torque between 1750-2500rpm.
Both the cars, have used a similar pattern in putting a 4×2 MT and AT option in the base and mid-models, where the 4×4 top variants of both the cars come equipped with an AT system. But here as well, Santa Fe with a 6-speed auto box (even the manual is 6-speed) goes smoother over up shifts and downshifts against the Endeavour's not so bad yet slow-in-comparison 6-speed gearbox. 
Comparing the mileage figures, then surprisingly with a small heart and more power churned out of it, the Santa Fe understands the Indian market's craving for fuel economy and hence with the help of its 3rd gen FI system delivers a better fuel economy of 10.8 KPL in city and 14.66 KPL on open roads. Contrary, the Endeavour with its overall average of 9.2 in city and 14.12 KPL on open roads seem a bit thirsty here.
With performance figures like that in all angles, New Endeavour clearly seems to outplay the Santa Fe's a bit lazy appeal in terms of modern engineering.
Drivability and Handling
A car packed with fancy features and numbers is nothing if it doesn't behave well on road. Hyundai knows this fact very well it seems like because it not just comes filled with all the general figures of safety and drivability but also preaches other SUVs of the segment about reaching surmounted betterment at it. Over Endeavour's standard safety features like 6 Airbags, ABS with EBD, collapsible steering column, Ford's patented Dynamic Safety Engineering etc. Santa Fe is crunched with some market astonishing features like Flex steer and Advanced Traction cornering control for roll free and easy corners, ESC, 4-wheel drive assist, lane Depart Warning system, VSM, 7-Airbags (one for the knee as well), Down Hill Brake Control (DBC), Hill-Start Assist Control (HAC) for some fun filled off-road-rough-terrain plays and an ABS with BAS over the conventional safety barriers.
The New Endeavour not just handles well on road with 18'' wheel set over Santa Fe, but stays in control with front and rear ventilated discs in the wheels. The total ground clearance of the Fe is very less at only 185 mm where the Endeavour stands like a tall boy over it with a happy clearance of 225 mm.
Also See: Visit Our Hyundai Santa Fe FAQ section containing all small-yet-useful info altogether for your convenience
And last but not the least, Endeavour like in all the drivability quotients overtakes and leaves the Santa Fe far behind with its improved and better performing front Independent Coil Spring with anti roll bar and watts linkage type with anti roll bar for better and smooth handling and stability.
Exteriors and Interiors:
Both the cars if put against each other in a beauty pageant, then there is no doubt about it, that with its patented and revolutionary Fluidic Design and aerodynamic cues, the Santa Fe is a looker over Endeavour's boxy design. But with a freshly touched grille, chrome-bits, body decals and automatic headlamps with LED DRLs, it's still in the league of its own. Anyways, the Endeavour could not be compared still with the Santa Fe with its aesthetically advanced exterior hues like Xenon headlamps with HID positioning lights, fog lamps with DRL, LED rear combi-lamps, rear sporty spoiler, front and rear skid plates and dual mufflers etc. while rear defogger, rear glass washer/wiper, ORVMs and foldable mirrors remain standard in both the cars. Ford Endeavour is a winner here.
Roomy and fresh, the new Endeavour is suave and sophisticated inside. But when it offers a pre-fixed slab sided dual tone beige look and dark grey panel that run across the dashboard inside, Hyundai with its keyless operations through remotes and sleek pushes in the SUV makes you feel like a true British aristocrat with high-class options of customizations to choose from for the room, including an interior theme between grey, black, beige and brown colors for upholstery and compartment theme and an even exciting option between Cross Metallic and 3D Carbon for IP garnishing. Apart from that, a touchscreen infotainment system remains comparable in both the cars as a centrality. But when Santa Fe uses a semi digital theme for clusters, the Endeavour uses a more futuristic colored TFT LCD in meters for extra functionality.
Apart from that, Endeavour is roomier than the Santa Fe and an advantage of high-end market luxury saloon cars like features will always be felt in the cabin of Endeavour with enough leather, panoramic sunroof, Ventilated seats for comfortable rides, power seats with 4-way lumber support and memory program makes it an even better and elite choice over the Santa Fe which is still decent in comfort levels. But when you get creature comforts like that of some high-end Merc or Audi, you get spoilt easily. Passenger comforts are still well versed within the Endeavour with Climate control, Cup holders and rear AC vents and controls just like the Santa Fe.
With all these features and many more, Endeavour seems a clear winner of the comparison when it comes to appeal, feel and price Endeavour feels like a better bet with enough fancy features and easy and constant performance charts; it's still considerable enough and trustworthy.
Pros and Cons
Endeavour Pros:
Affordable
Long list of features
Decent abilities
Market prestige
5 Star safety rating
Endeavour Cons:
Spares and costing
Not a full fledge highway cruiser
Mileage
No MT for 3.2l
Santa Fe Pros:
Elite class and premium feel
Best in class features
Driving appeal
Safety features
Hyundai's service network
Santa Fe Cons:
Skyrocketing pricing
Soft suspension
Shortage of headroom in 3rd row seats
No MT for AWD
No serious off-roader
Final Verdict
Endeavour is a winner clearly for this comparison and it's a niche packaged car to buy if you want a combined SUV for hardcore off roader. The new SUV is certainly a step in right direction as it now one of best looking SUV which is premium from inside, Safe as house and astonishing off road performer.
Right now, it is best sub 25 lakh SUV but it will face the heat from new Santa Fe and New Toyota Fortuner which will be launched in early 2017.