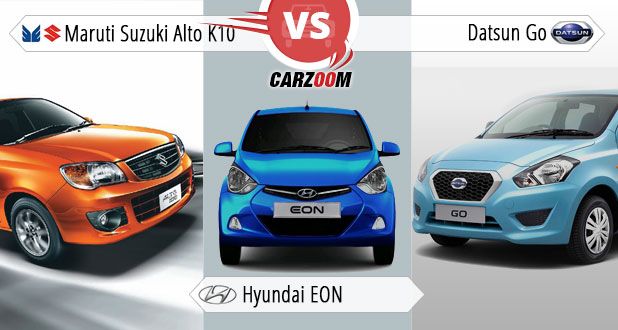 Welcome to our comparison section, today we will be comparing new Alto K10 with Hyundai's EON and Datsun go. Alto has tasted hug amount of commercial success since its launch and probably the most successful car till Dzire has take over the crown from it. Hyundai Eon on the other hand is also futuristic designed car and decent performer too, while Datsun Go on the hand is newly arrived car but failed to meet the expectations of buyers despite of being under affordable price bracket. Maruti has brought some changes in new Alto K10 probably the most noticeable one is inclusion of an automatic gearbox which makes new Alto k10 the least priced automatic car in India. So let's find out in detail that, who is better among all by comparing the various aspects of these cars.
Price:
Price becomes the most important phenomena especially in this segment which is targeting the Middle income group people. All the three cars are almost similarly priced, starting with new Alto K10 which starts at formidable price of Rs. 3.06 lakh for the base variant while base variant of Hyundai Eon and Datsun go cost at Rs. 2.88 lakh and 3.12 lakh respectively. The top variant of Alto k10 ends up at Rs. 3.81 lakhs while top variant of Eon is at Rs. 4 lakh and Datsun Go is at 3.79 lakh.
Alto K10 is available in automatic version as well which is placed at Rs. 3.80 lakhs which is the least priced automatic car in India. By analyzing the price factor the initial price criteria goes with Eon and top with Datsun but Alto K10 offering an automatic variant in same price range So why to bet your money in manual gearboxes. Life is all about fun and it lies in an automatic car driving.
Engine and Performance:
Now come at the another important part of the car I.e. Engine and it become more exciting section of this entire section as we gonna talk about the AMT variant of new Alto K10. All the cars are available in Petrol trim, while Datsun Go has a LPG variant and Alto K10 has CNG variant to offer. When you look at the specs of all the cars most probably they are on same path.
India's most selling car Alto has been known for its refined performance though it's probably the most underpowered car among the three. The petrol specs of all the cars are equal with almost same amount of power around 67BHP but torque is different Alto k10 has peak torque of 90Nm, Eon with slight improved torque by 4Nm and Datsun Go with the highest with 104Nm peak torque.
Alto K10 has become more fuel efficient but not more powerful or zippier, but with 67Bhp power it a fun car to drive. Introducing an automatic variant in this price range is certainly a commendable effort by Maruti, but whether it does justice with it? The automatic gearbox provides you the option of automatic and manual drive mode, in automatic mode there is drive, neutral and reverse selector options while in manual mode you can choose the gear level but it automatically adjusted the system and downshift the best gear. AMT is smooth on lower speeds but as the speed increases there is fraction late movement of gearbox but there is not much to complain about.
Hyundai Eon on the other side has average engine than Alto K10 but has better ride and handling than Alto k10 particularly at low speeds. It is lesser jumpier noisier than Alto K10 and cops with roads difficulties due to its heavy body weight. But at higher speeds Alto k10 feels more confident and one doesn't mind pushing it further.
Datsun Go has highest Torque among the three and didn't feel sluggish at higher speeds. Datsun Go probably quickest to reach the 100 km mark among three at par with Alto K10 but on the other side this engine isn't rev like K10. Gearbox is rigid, suspension is noisy you can feel tyre sound inside the cabin and engine sounds rough too.
On fuel efficiency terms Alto K10 beats EON and Datsun Go with ease thanks to 15 percent improvement in mileage which now stands at 24.07 Km/l against Eon's 21.1 km/l and Datsun's 20.63 km/l. Overall Alto K10 is standing superior here in this segment with revived and decent performance than Eon and Go.
Space & Dimensions:
| | | | |
| --- | --- | --- | --- |
| Criteria | New Alto K10 | Hyundai Eon | Datsun Go |
| Length | 3545mm | 3515mm | 3785mm |
| Width | 1490mm | 1550mm | 1635mm |
| Height | 1475mm | 1510mm | 1485mm |
| Boot Space | 177 liters | 215 liters | 265 liters |
| Ground Clearance | 160mm | 170mm | 170mm |
| Wheelbase | 2360mm | 2380mm | 2450mm |
By looking at the specs above Alto k10 is falling behind in every criteria except in length from Hyundai Eon, Maruti has reduced the length of new Alto K10 by 75mm. All the cars are has seating capacity for 5 persons but in EON and Alto K10 rear bench space is certainly questionable for 3 adults.
Hyundai Eon seats are comfortable and provide good lateral support but some parts of these seats are made up of Rexene which gets hot during summer. Alto K10 seats are also very comfortable and supportive but Datsun go is the spacious among all.
Exterior:
Alto K10 is immensely improved car now in terms of exteriors like starting from the front with Single chrome front grille, big swept headlamps and circular fog lamps surrounded by dark black plastic which gives new Alto an improved look. Side is also improved with body colored ORVM's, door handles, side protector mouldings and 13 inch wheels. Rear side is a redesigned one now with combination lights and single chrome line complimenting the boot design.
Datsun Go on the other hand is bigger in size than Alto k10, Eon and based on Nissan's V platform. Front side of Datsun Go looks elegant with D shape front grille supported by Logo and follow me headlamps. No fog lamps even in the top variants of Datsun go strange; side of the car has body painted door handles, black ORVM's and Indonesian 13 inch wheels. Rear side is simple and conventional with single reverse light and third brake light.
Hyundai EON is certainly a sportiest looking car among all based on Hyundai's Fluidic design though it was launched some time back still it looks most futuristic among all. Hyundai Eon front is most stylish with NEW GEN wrapped headlights, triangular fog lamps, single hexagonal grille; side's main attraction is old flap style and curved gate which meets the C pillar at the sides. Rear side is inspired by Old Gen Hyundai Verna which looks fantastic among all the cars.
Interior:
Alto K10 is latest to get updates in interior the dashboard is now a dual tone one with black beige color scheme, Audio system surrounded by Piano black finish with USB, bluetooth support, upgraded upholstery, Steering wheel is now three spoke with airbag module, Overall ambience of cabin has improved immensely but Eon's seems to be a better one.
Hyundai EON is also carrying dual black beige color scheme, three spoke steering wheel with tilt adjustment and airbag module in top variants. Seats are also dual shaded with Rexene which usually heats up during summer, instrumental console with MFD but no RPM meter even on top variants. EON has 2 DIN audio system with USB, Aux and I pod connectivity. Limited rear bench space is certainly a disadvantage for Eon but overall EON is at least better than Datsun and in some aspect from Alto K10.
At last Datsun GO which is least attractive internally with evident cost cutting in many areas, unconventional placing of gear knob etc. Seats fabric is basic with dual shade which is firm yet rigid, at front seats are extended but cannot fits in 3 adults though. Rear side space is better among all three. But when we compare it with other two cars the interiors are basic and even the quality used is average.
Safety:
Alto K10 is now safer car with the introduction of features like driver airbag, keyless entry, 3 point seat belts, front fog lamps, and high mounted stop lamps. Whereas EON is equipped with reinforced body structure, front fog lights, central locking, keyless entry, driver airbag, engine immobilizer and child safety rear door locks. Datsun Go on the other hand doesn't have fog lamps and airbags even for the top variants. It has some safety features like central locking, speed sensitive power steering and front power window.
Verdict:
Alto has been most successful car for Maruti since its launch and up gradation in the engine in the form of K series engine and now refreshing looks make Alto K10 more likeable car. Hyundai Eon with its extreme good looks and decent performance is also giving tough competition to other cars of this segment but cannot match the popularity of Alto series. Datsun Go on the other hand has only the size and space advantage, apart from that it's just a car. Awareness about Go is very low among the masses Datsun need to look after that.
To sum up, Eon and Datsun are old cars now with no near future updation news. On the other hand Alto's sales figures saw a deep but this mouth watering combo of attractive look and automatic variant is certainly a trump card from Maruti which certainly attract the buyers.