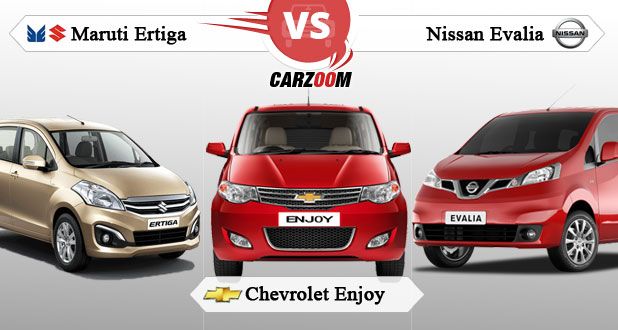 For the people who have large family and want to own a car for daily commuting, the automobile industry has muscular and spacious cars called MPVs (multi-purpose vehicles). The MPVs can be used for family and commercial purpose as well. Our experts think that these cars have a bright life in the Indian market coz it's a good spacious choice for your large family by spending few extra bucks over the small hatchbacks which is not a bad idea at all .
But the question now arise, do people think the same? Well, when we managed to talk with some Indian customers, they had different opinions. Some agreed with the opinion of experts while some were quite disappointed as they think that MPVs don't get appealing on-road performance, In addition they doesn't have a feel of a SUV and  carry not so-impressive glimpse-at-outside. What if we say that there is a brand which has made a strong MPV with attractive exterior glance and aforementioned traits? Want to know which one is that? Well, for that lets go to our comparison section below where we have compared three muscular MPVs of India; Maruti Ertiga, Chevrolet Enjoy and Nissan Evalia. Let's have a look.
Also See: Visit Our Maruti Suzuki Ertiga FAQ section containing all small-yet-useful info altogether for your convenience
Price:
As far as their price range is concerned, Enjoy diesel comes with the price tags of 6.27-8.76 lakhs which seems most affordable here as Ertiga diesel carries slightly more range of Rs. 5.99-9.25 lakhs while Nissan's Evalia only diesel variants on the other side are most expensive here with the tags of 9.14-12.22 lakhs.
Among Maruti Ertiga and Chevrolet Enjoy; Enjoy is winning here by having slightly less price range but Ertiga offers more features, better mileage, and most important them of all is a 4-speed automatic transmission making it a value for money prospect over the other two.
Also, the Maruti Ertiga CNG is available at a price range of 7.86 lakhs.
Price Scores:
| | |
| --- | --- |
| Maruti Ertiga | 1.5/2 |
| Chevrolet Enjoy | 2/2 |
| Nissan Evalia | 0/2 |
Engine details:
There is a descending no. of fuel availability in these cars with Ertiga having three types of fuel units i.e. diesel, petrol, CNG, Enjoy having two i.e. diesel, petrol and lastly Evalia having only one fuel unit that is diesel.
Here comes the heart of these bold rugged models where Maruti's MPV is powered by a 1.3 liter CRDi diesel engine that develops the max power of 89bhp and peak torque of 200Nm. The engine is mated to a 5-speed manual transmission gearbox. The engine is now assisted by SHVS hybrid technology.
Another MPV is Chevrolet's Enjoy which also gets a 1.3 liter diesel engine but comparatively churning out the less max power & peak torque of 73.7bhp and 172.5Nm, mated to same 5-speed manual transmission though.
Contrary, Nissan Evalia gets bigger sized diesel engine of 1.5 liter which is good to derive84.8bhp and 200Nm of max power and peak torque and geared up with 5-speed manual transmission.
Hence, as per paper figures, while Ertiga and Evalia despite of having different sized engines offers similar torque, Enjoy lacks here with its 172.5Nm of torque.
The petrol mill is where missing in Evalia, Ertiga has a 1.4 liter unit with 93.7bhp and 130Nmon offer and Enjoy has 1.4 liter petrol engine with better 99.8bhp and 131Nm on the paper. Both the engines are mated to 5-speed manual transmission.
Nissan Evalia is out of race by not having petrol fuel at all, Further, Ertiga gets a beneficial score here by having third type of fuel i.e. CNG which is missing in other two.
On the grounds of fuel efficiency, Ertiga proves to be best in both petrol and diesel variants by having claimed figures of 24.52 km/l in diesel and 17.5 km/l in petrol. Nissan's single engine Evalia is also a fuel efficient and its only diesel trim offers you claimed mileage of 19.3 km/l. The Chevy's Enjoy here like its engine is on the last by giving average of 18.2 km/l in diesel and 13.7 km/l in petrol.
So by considering the above figures, while Ertiga's and Evalia's offered power n torque figures are acceptable along with their better fuel efficiency, Enjoy somehow lacks here comparatively and definitely could be better.
Engine Scores:
| | |
| --- | --- |
| Maruti Ertiga | 2/2 |
| Chevrolet Enjoy | 0/2 |
| Nissan Evalia | 1/2 |
Performance:
We are done on the paper, let's move towards the real life task now; are these cars practical on the road as well? Let's have a look. After sitting on the driver's seat, a feeling of confidence comes in Chevrolet Enjoy. It has a lower dashboard which gives you clear vision of the front. The Enjoy overall provides a nice ride quality but still its NVH level could have been much better. The diesel engine of Enjoy is noisy and needs a refinement. Although, Enjoy's well tuned suspension provides it a balanced ride and it's very-very comfortable for the long journeys.
Ertiga's both petrol and diesel are much better than Chevy's Enjoy when comparing on the grounds of road performance. However, the diesel engine of Ertiga also make little noise but still its far-far better than Enjoy's. Ertiga's diesel engine has much lower turbo lag, thanks to its comparatively lighter weight which also provides the MPV a quicker speed on road.
Further, like the Enjoy, Ertiga also gets tuned suspension and comfortable drivability in the long journeys. One more plus point of Ertiga is its shorter length which makes it easy to drive and turn especially in the congested city roads.
And when it's about Nissan's Evalia, its only diesel engine picks up very well from low rpm to the higher and makes the car better to drive in city traffic. It offers a better on-road handling and well-tuned suspension which definitely seems better than Enjoy while driving, but Ertiga is still slightly better than Evalia in overall package of ride quality coz Ertiga gives you a feeling that you are driving a car but on the contrary, you will get a van-ride feeling in Evalia.
Performance Scores:
| | |
| --- | --- |
| Maruti Ertiga | 2/2 |
| Chevrolet Enjoy | 1/2 |
| Nissan Evalia | 1.5/2 |
Space & Dimension:
When we go through the measurement of these models then Evalia with its more length, width and height proves to be the longest, widest and tallest one among the three while the Chevy's Enjoy also gets longer length, the Ertiga is the smallest one though. The Nissan's Evalia carries overall dimension of 4425 x 1700 x 1860 mm over the 4305 x 1680 x 1750 mm of Enjoy and 4265 x 1695 x1685 mm of Ertiga.
However, despite of having longer lengths, huge Evalia and Enjoy both lacks in their wheelbase length than Ertiga. The smallest Ertiga carries longest wheelbase length of 2740mm over the 2720mm of Enjoy and 2725mm of Evalia.
Let's come to the practicality now where Nissan's MPV undoubtedly proves its worth in the terms of space availability and practicality, Enjoy also doesn't disappoints here while Ertiga comparatively lacks but if we see it alone then one will not feel that bad coz it has its own pros too.
As discussed above, Evalia by having more dimensions provide spacious cabin with ample legroom, knee-room, headroom and thigh support as well. Even its rear seat gets much more space than the other two. Also it comes with a huge cargo room of 500 liters by folding down its seat for storing your luggage. But the point where Evalia disappoints is the windows of second row which doesn't go down but slides. Also, Overall cabin looks highly outdated and gives a feel of mini-van.
In the terms of space availability, Enjoy gives a neck-to-neck fight to Evalia with plenty of space availability inside the cabin, it's so much airy with more than sufficient headroom and legroom, though thigh support is not that good but overall it's very roomy. The middle row gets dual seats with a gap in between for going to the rear row but the seats doesn't fold all the way, they hang in amidst, so don't expect an elder person to make it to the last row as ingress is very difficult.
Coming to the rear row where a bench like seat for three is welcoming you, but it is best suited for two or three with small build. It gets enough legroom as well as knee-room which also can be increased by pushing forward the middle row seat but it lacks under thigh support. Last but not the least, when it comes to storage capacity where Enjoy gets around 630 liters of space by folding down the rear seats which is definitely best among three.
Now it's the Ertiga which on the grounds of space definitely lags behind the other two. There is no legroom at all at the last row seats; one will have to flip the middle row seats forward to get legroom at the rear. When you fold down the last row, space at second row seats get compromised.
The thigh support in comparison to the other two is best in Maruti Suzuki Ertiga. Luggage capacity is not good as it offers only 135 liters with all three rows intact and if last row seats get folded down (which really folds down very properly unlike the Chevy Enjoy), you can get 480 liters of boot space it can be further expandable up to 735 liters by folding the middle row seats as well.
Hence, by considering above facts, while Nissan's and Chevrolet's MPVs are scoring almost equal points, Ertiga will have to sit behind here at least.
Space & Dimension Scores:
| | |
| --- | --- |
| Maruti Ertiga | 0.5/1 |
| Chevrolet Enjoy | 1/1 |
| Nissan Evalia | 1/1 |
Interiors:
Going inside the cabin and you will get a premium-kinda feel in Maruti's Ertiga which somehow lacks in other two. The dashboard, interior design, plush seats etc looks modern and smartly designed in Ertiga while it seems slightly simple and out dated in the other two, comparatively.
Though, list of features availability are almost similar in all three, let's have a look. Maruti's classy Ertiga gets features like 7 inch Smartplay infotainment system with navigation, voice guidance, day and night IRVM, internally adjustable ORVMs, central door lock, keyless entry, tilted steering wheel with mounted audio controls, seat height adjuster at driver's side, front seat belt shoulder height adjuster for driver and co-passenger, AC with heater, 2nd row A/C, Rear window defogger, radio with CD player, USB, speakers, tweeters and many more small yet useful ones.
On the other side, Chevy's Enjoy is designed with features like rear AC, central door locking, day & night inside rear view mirror, power adjustable outside rear view mirrors, reverse parking sensors, remote keyless entry, rear defogger, tilt adjustable steering, audio system with CD player, MP3, radio, dual speakers at front & rear, aux-in, USB etc.
Meanwhile Nissan's Evalia is adorned with features like MID (multi functional display), reclining seats, 1DIN audio system with CD, MP3, USB, speakers at front & rear, follow-me home headlamps, manual AC with heaters, rear AC vents at 3rd row, electrically adjustable ORVM, rear monitor camera with color display, central locking, keyless entry, tilt steering adjustment, rear defogger etc.
Though, all three models carry almost equal features range but we missed the features like rear Ac vents in Ertiga & Enjoy and steering mounted controls in Evalia and Enjoy. And, for Ertiga's more premium nature, we give it half point extra.
Interiors Scores:
| | |
| --- | --- |
| Maruti Ertiga | 1/1 |
| Chevrolet Enjoy | 0.5/1 |
| Nissan Evalia | 0.5/1 |
Exterior:
One of the most important sections in a comparison story is its public appeal, everyone wants that her/his car will look trendy and smart in garage and on-road and here with a far better margin, Maruti Ertiga wins. Once you look at the exterior profile of all the three models, you will not want any explanation why we said the Ertiga best.
While the Ertiga carries a striking, eye-catching glance at outside, the other two disappoints on a higher note. Chevy Enjoy and Nissan Evalia both have better dimension than Maruti Ertiga but these more dimensions give these cars a curve-less, simple and not-so-modern look while Ertiga on the other side despite of having least dimension offers you a well-proportioned pose and road-presence.
To have a huge size with better glimpse is really a tough job for a MPV but Ertiga surely is an exception here. Maruti Ertiga seems more car-like vehicle, for family and urban friendly as well while Enjoy and Evalia on the other side give a feeling of mini bus, mini-van with a rural-type design.
So, without discussing this section any further, we give full score to our cute-lovely-MPV Ertiga.
Exterior Scores:
| | |
| --- | --- |
| Maruti Ertiga | 1/1 |
| Chevrolet Enjoy | 0.25/1 |
| Nissan Evalia | 0/1 |
Safety:
As these are the cars which also can be used as commercial vehicle along with for the family, their safety grounds for sure should be best. And in this queue, every car maker here has tried to make their respective cars safest. On paper, Ertiga gets safety devices like driver side airbag, ABS, Seat belt with pretensioners as standard across all variants. It also features safety aids like reverse parking camera with display assistance, Brake Assist, EBD, engine Immobilizer etc.
Chevrolet Enjoy on the other side gets ABS with EBD driver & passenger side airbag, rear spoiler, child-protection rear door locks etc, brake assist is missing here though. Further, our Nissan's four wheeler is equipped with dual front airbags, ABS, brake assist, EBD, immobilizer etc.
Safety Scores:
| | |
| --- | --- |
| Maruti Ertiga | 1/1 |
| Chevrolet Enjoy | 0.5/1 |
| Nissan Evalia | 1/1 |
Final Verdict:
As per our overall experience with these three MPVs, we come to the clear conclusion that Maruti's Ertiga is a winner here with its power-packed performance, comfortable nature, striking outside glimpse and competitive price range. Even the sales figure prove our verdict as Ertiga is most selling MPV among these three while Chevy's Enjoy and Nissan's Evalia are struggling for their success in the Indian market. Though, other than the above mentioned facts, one more reason behind Ertiga's success is the reliability in after sale services of its brand Maruti which is just unbeatable where Chevrolet & Nissan is still far-far behind..
Final Scores:
| | |
| --- | --- |
| Maruti Suzuki Ertiga | 9/10 |
| Chevrolet Enjoy | 4.25/10 |
| Nissan Evalia | 5/10 |