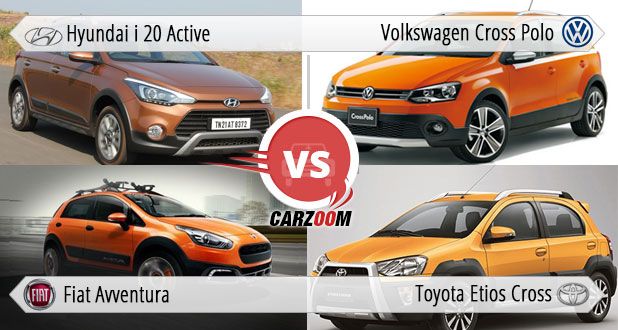 Some people goes to Gym to have a lean body and make six pack abs while some go there to just get bulky and muscular so they can pose better, same can be said for Hyundai i20 active which is crossover version Elite i20 hatchback. Crossover segment has number of cars like Volkswagen Cross Polo, Toyota Etios Cross, Fiat Avventura and now Hyundai jumps into the pool with i20 Active. Cars like Etios Cross, Volkswagen Cross Polo have some cosmetic changes which differentiate them from their hatchback counterpart while Avventura is most serious attempt of all with raised suspension and tail gate mounted spare wheel. On the other Side Hyundai i20 active is beefy version Elite i20 with body cladding, roof rails and more rugged look. In this comparison we will be comparing Hyundai i20 active with Cross Polo, Avventura and Etios Cross.
Price:
| | | | | |
| --- | --- | --- | --- | --- |
| Prices in lakhs (Ex-showroom Delhi) | Hyundai i20 Active | Fiat Avventura | Toyota Etios Cross | Volkswagen Cross Polo |
| Petrol | Rs.6.38-7.09 | Rs. 6.44-7.31 | Rs. 6.23-7.63 | Rs. 6.9 |
| Diesel | Rs. 7.63-8.89 | Rs. 7.18-8.49 | Rs. 7.42-7.72 | Rs. 8.4 |
In February 2015 Hyundai retailed over 10,000 units of Elite i20 hatchback and with this price company is confident to sell over 3000 units' a month of i20 active. As you can see all four cars are giving cut throat competition to each other in the segment. The initial price of Etios cross petrol is most affordable of lot followed by i20 active and Avventura While in diesel section Fiat Avventura takes away the cherry as far as initial price while the top variant of Etios cross is less pricey than all other cars.  To be precise, i20 active top diesel variant is 40,000 costlier than Avventura, approx 50,000 more than Cross Polo and 1.17 lakh more than Etios Cross.
 Engine and Performance:
All the cars are available with petrol and diesel engine options; Hyundai has not changed the engine line up of i20 active so except out right performance to be same as Elite i20. Let's start with diesel the 1.4L oil burner of i20 Active produces 89bhp power and 220Nm of peak torque while Cross Polo also delivers same amount of power but 10Nm more torque than i20 active. Fiat Avventura 1.3L multi jet engine is good enough to deliver 92bhp power which better than all fours but it falls behind in torque department than Polo and i20 active. Weakest of the lot is Etios Cross with its underpowered engine giving 67bhp power and 170Nm of torque. All the cars are mated to a 5-speed manual transmission except Hyundai i20 active who comes with 6-speed manual gearbox.
Amongst petrol engines, The Etios offers with two sets of engines a 1.2L liter with 79bhp power and 104Nm of peak torque and a1.5L engine with more power of 89bhp power and 132Nm of peak torque. Fiat is meanwhile offering 1.4L with 89bhp power and 115Nm torque. Hyundai i20 active on the other hand powered by 1.2L VTVT engine of Elite i20 hatchback producing 82bhp power and 114Nm of peak torque.
In ride and handling department Cross Polo is certainly best of the lot while Avventura diesel engine has adequate power, offer mature ride and handling package with superb suspension than its hatchback counterpart with massive 205 of ground clearance. Toyota Etios Cross despite of slight more weight doesn't make much difference in its road manners; Throttle response at low rpms is pretty good with no turbo lag. Handling is decent too but slow response of steering wheel spoils the fun.
Hyundai i20 active as we earlier said comes with same set of engines but Hyundai claims that petrol offers 6% better and diesel with 11% better in gear acceleration that its hatchback counterpart. The 1.4L is smooth, rev happy and pretty strong performer in the segment and ride seems to improve a bit doesn't feel softer on lower speeds.
Space and Dimensions:
| | | | | |
| --- | --- | --- | --- | --- |
| Criteria | Fiat Avventura | Hyundai i20 Active | Toyota Etios Cross | Volkswagen Cross Polo |
| Length | 3989mm | 3995mm | 3895mm | 3987mm |
| Width | 1706mm | 1760 mm | 1735mm | 1698mm |
| Height | 1542mm | 1555 mm | 1555mm | 1474mm |
| Boot Space | 280 liters | 285 liters | 251 liters | 280 liters |
| Ground Clearance | 200mm | 190 mm | 174mm | 168mm |
| Wheelbase | 2510mm | 2570 mm | 2460mm | 2456mm |
As you can see all four cars are less than 4 meters but still offers good amount of space. In this segment main problem arises in the rear bench space but i20 active is spacious of all followed by Avventura, Etios Cross and Cross Polo. I20 active seats provide good support overall with ample legroom even if there is six-footer sitting in the front seat, marginal bump and rear a/c vents would not affect the space like Cross Polo. Apart from i20 active, Etios cross is spacious enough to board five adults easily than Polo and Avventura. In ground clearance segment which is very crucial because this separates Crossover from hatchbacks. Avventura is leading the table with 205mm of ground clearance while i20 active swank on 190mm of ride height and Etios cross polo and cross polo with 174mm and 168mm respectively.
Exterior:
Crossover is all about more rugged look, side cladding, roof rails, skid plates and tuned suspension. Hyundai i20 active is based on award winning and best looking hatchback Elite i20 which serves as an advantage for i20 active. When we look towards the i20 active one must agree that it is much better looking crossover than Cross Polo and Etios cross.
Hyundai has made lots of enhancements up front like projector headlamps with LED daytime running lights with cornering feature, fake bull guard, skid plates, new front-rear bumpers; fog lamp is now larger and rounded too. Side profile looks tall than Elite i20 thanks to roof rails, raised ground clearance and features like black cladding, side skirts, silver painted fuel filler cap, and C pillar completes the rugged look of active i20.
Hyundai retained the yummy, outstanding, 3-way LED tails which is the catchiest point about Elite i20, and rear bumper too is same.  Rear bumper now boats two big rounded bumper reflectors and to balance the look is a roof spoiler and Skid plates. I20 Active's roof antenna has been changed to shorter unit. Overall i20 active exteriors have been redesigned well and surely look better than Cross Polo and Etios cross.
Fiat Avventura is carrying Italian DNA is the most stylish of the lot with some features like swept back smoked headlamps, side cladding with Avventura embedded on it, Tail gate mounted spare wheel which gives it the feel of SUV.
Cross Polo and Etios Cross carries same design of their hatchback counter parts except few minor tweaks. So overall Hyundai i20 Active is a nice innovation by Hyundai looks better than Cross duos but Avventura has some beautiful elements which makes it the winner of this comparison.
 Interior and safety:
Interiors and cabin of Hyundai has always been the strongest point for them right from first i20 which got better with Elite i20 hatchback and same can be said for i20 active. Overall layout of i20 active is same as Elite i20 but the cross version gets all black upholstery than dual tone beige of i20. Moreover there are two interior color options available as well one is blue with light blue shade with seats are of blue shade and door pads, the other combo is of orange and black in which you get orange seats and orange accent around the center console, A/c vents and gear knob. Among the two choices light blue shade is the most refreshing and airy.
Avventura stands on the second spot with quite unusual yet catchy cabin, dual tone dashboard with three gauges, orange ambient lighting certainly enhance the cabin but cannot match the Hyundai's class and ambience.
Volkswagen Cross Polo might not be feature rich car like i20 active but it's not bad either. Fit and finish and quality is of top notch and it gets three spoke steering wheel, all black color theme for the cabin, climate controls. Etios Cross comes with 2 DIN audio system multi device support, steering mounted controls, quality is fine but placement of A/c vents and unconventional dashboard brings quirkiness to the cabin.
As far as safety is concerned Etios cross comes with two airbags as standard which is a plus point for Etios cross. In I20 active you will get two airbags, ABS, rear camera, automatic headlamps wit cornering function, anti-pinch windows. Volkswagen on the other hand is known for its well built and stout cars comes with crash sensors, impact beams, engine immobilizer with floating code, two airbags. Avventura also have long list of safety features with well built quality. Overall all four cars excel in this department it's very hard to choose a clear winner.
Verdict:
Hyundai has managed to make i20 active distinct than the regular hatchback version with added ground clearance and boxy look. When we compare it with Cross Polo and Etios Cross, i20 active stands out as a better styled car with long list of equipments and its ease of use. Interiors are i20 active's biggest strength while its weakness is slightly unenthusiastic driving experience. Avventura on the other hand is most stylish one here but hampered by underpowered engines. Toyota Etios cross and Cross Polo has better engines but ruined by simple design. Overall good design, funky interiors makes i20 active pick of our comparison but if you want something distinctive Avventura is not at all a bad choice either.