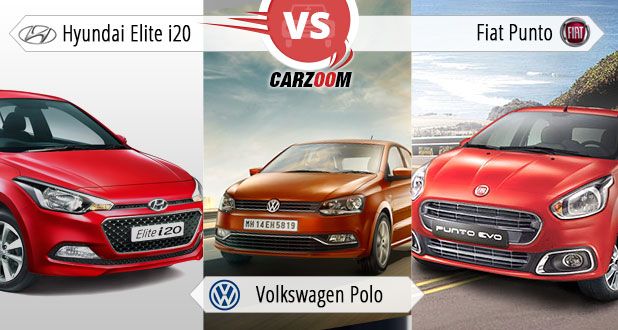 Welcome to the most anticipated comparison of 2014. The Hatchback section is very competitive at present with big brands launching the facelift version of its popular cars day by day. Three cars we going to talk about are Hyundai elite i20, Volkswagen Polo and Fiat Punto EVO. All these cars are facelift versions, all new design; engine etc makes these cars competitive in all aspects. It is a competition between 2nd largest car manufacturer in India, German Giant and Indo-Italian tigers. Before arriving on to final verdict, let's see how they are different from each other.   
Price:
Price is one of the main phenomena customer looks for while buying any car. In terms of price Fiat's Punto EVO base variant is less priced than Polo and elite i20.
Punto EVO petrol variants range between 4.55-6.65 lakhs, while Volkswagen Polo starts at 4.99–6.07 lakhs and Hyundai elite i20 comes at 4.89-6.46 lakhs. EVO base variant is nominal them of all, while top model is highest them of all.
In diesel Trim Punto EVO rule the segment with 5.27-7.19 lakhs while elite i20 is priced at 6.09-7.66 lakhs and Polo is 6.27-7.37 lakhs.
Price scores:
Punto EVO- 2/2
Hyundai Elite i20-1.5/2
Volkswagen Polo-1/2
Engine and performance:
Hyundai elite i20 petrol variant is powerful of the lot with 1.2 kappa VTVT engine developing 81.5BHP max power with 115nm torque, Polo's 1.2 MPI petrol engine with the figures of 73.9BHP and  110nm torque and Punto EVO 1.2L F.I.R.E petrol engine offering least them of all with the figures of 67BHP power and 96nm torque. Clearly i20 is the clear winner in this section.
Petrol variants of above mentioned cars are mated with 5 speed MT (Manual transmission).
In diesel engines, 1.4L U2 CRDI Hyundai Elite i20 and 1.5L TDI Volkswagen polo in terms of power stands on same position with almost similar figures of 88BHP of power but Polo's torque is whisker better than elite i20 with 230nm torque in comparison to Hyundai's 220nm torque.
Punto EVO's diesel engine is subdivided into two sections one is 1.3 Multijet with 74BHP power, 197nm torque, another is 1.3 Multijet 90HP with 92BHP power and 209nm of peak torque.
There is stiff competition in this section, but to get optimum value of money and brilliant performance one should prefer Hyundai as it carries good ownership value.
On mileage front Elite i20 stands out in both Diesel and petrol variants with the mileage of 22.5 km/l and 18.6 km/l respectively. Polo is better than EVO in petrol trim with 16.4 km/l mileage against 15.8 km/l but it slightly lacks behind in Diesel section with 20.1 against EVO's 21.2 km/l.
Engine & performance scores:
Hyundai elite i20- 1.5/2
Volkswagen Polo-1/2
Punto EVO- 1/2
Space & Dimensions:
Fiat's Punto EVO is the longest and widest them of all with 3989mm length 1687mm wide and 1525mm wide. Hyundai elite i20 is widest amongst other cars with 3985mm L×1734mm width ×1505mm height respectively. Volkswagen polo is smallest than both the other cars, it carries 3971mm length, 1682mm width and 1469mm tall.
In wheelbase section, Elite i20 gains 1st position among all with 2570mm, EVO has 2510mm of wheelbase and Polo with least of them 2469mm.
Punto EVO, Polo and Elite i20 all of them has seating capacity of 5 persons. EVO offers best in class 195mm ground clearance, while i20 is offering 170mm and lowest them of all is Polo with 165mm of ground clearance.
Hyundai elite i20 is offering with best in class boot capacity of 295L, while Polo and EVO with 280L each.
Space & Dimensions scores:
Hyundai elite i20- 2/2
Punto EVO- 1.5/2
Polo-  1/2
Interiors:
In terms of internal beauty Elite i20 is out scoring Polo and EVO. Elite i20 is loaded with loads of features like comfortable and royal seats; Modern information display at front, music system with 1GB internal storage, Automatic air controller, armrests and Map pockets etc makes it different from its competitors.
Punto EVO can come close to elite i20 with features like two tone dashboard and seats, sleek steering wheel, modern music system, classy finishing touch etc., but the amount features are not there to justify the cause.
Lastly, The Polo has Piano black finish dashboard which is excellent, comfortable seats, music system, and aluminum finish center console.
When we compare all the cars with each other the aroma inside all the cars very good, but on interior equipments front Elite i20 has lot to offer than Polo and EVO.
Interior score:
Hyundai elite i20- 1/1
Fiat Punto EVO- 0.75/1
Volkswagen Polo- 0.75/1
Exterior:
It is very hard to choose a clear winner this segment as all the cars are tremendously beautiful and equally gorgeously designed as well. Every car has its uniqueness and specialty which separates them from one another.
Hyundai elite i20 has automatic headlamps and sporty C black pillar designed sides which is 1st in segment, newly designed tail lamps. Punto EVO, on the other hand doesn't falls behind from i20 in terms of looks as it also went through a complete makeover like i20.
Last but not least Polo which is also being designed in a new way especially from the front  side like new place of its logo on all new bonnet, new fog lamps etc.
In today's world, maximum people look for sporty element in the car with beautiful design being a plus. When we look at all the elements of cars, i20 scores slightly more than polo and EVO, due to its rejuvenated design, tail lamps and better finishing touch.
Exterior scores:
Hyundai elite i20- 1/1
Punto EVO- 1/1
Polo- 0.75/1
Safety:
As far as safety is concerned, all the three hatchbacks score an equal amount of number. All the cars are loaded with long list of features like ABS, Dual air bags, defoggers, central locking and automatic door lock and immobilizer etc. Though all the cars has its unique features as well like
Hyundai elite i20 has smart pedal system and impact sensing unlock system which polo and EVO doesn't have, Punto EVO has FPS (fire prevention system) which neither of the two cars has, similarly Polo has anti- pinch power windows which is absent from EVO and i20.
When we look at the number of features per car, Elite i20 as expected wins the race by from Punto EVO and Polo.
Safety scores:
Hyundai elite i20- 1/1
Fiat Punto EVO- 1/1
Volkswagen Polo- 1/1
Verdict:
After all the analysis and comparison it is time for now to sum up the things with final verdict. Hyundai has all the elements to rule the segment but only factor which might hamper this, is its price, while Punto EVO is good for you if you want pocket friendly car and Polo with medium price and good performance can also be a good choice.
But overall analysis suggests that Elite i20 is better than Polo and EVO if you want reliability, durability and good for your money.
Total Scores:
Hyundai Elite i20 – 8/10
Fiat Punto EVO – 7.25/10
Volkswagen New Polo– 6/10