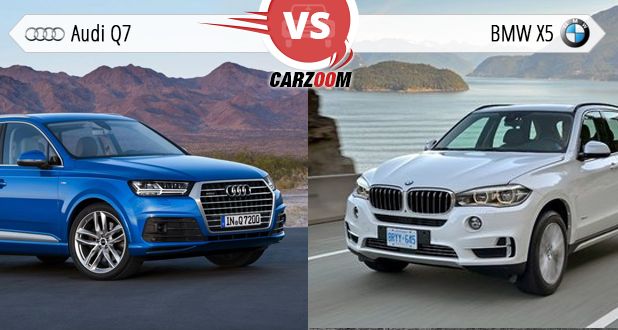 Finally after revealing the New and Upgraded 2016 AudiQ7 in our launch news section, here we are in our versus section comparing it with as many cars as we can to let you know of the right basis of not only choosing a better SUV amongst them in the market, but also to unveil some of the unknown and un sorted facts about them as well. And so, moving on with our comparison section, we bring you a fruitful comparison between two of the most complimenting and aggressive market rivals, BMW X5 versus the new Audi Q7.
Prices:
Both the vehicles are almost counterparts of each other, born out of sheer German Engineering rivalry. And hence to fuel the rivalry to be even stronger, both cars are priced really competitive with the BMW's revised prices to be 72.90 lakhs (Ex-showroom Delhi) for the seven seater xDrive 30D variant. While Audi, with its two diesel trims would cost somewhere between Rs. 72-77.5 lakhs (ex-showroom Delhi) based on the choice of package from Premium plus and Technology Package for the 3.0 ltr version. Both the SUVs are neck t o neck in terms of pricing, so it's very hard to choose a clear winner.
 Also See : Visit Our BMW X5 FAQ section containing all small-yet-useful info altogether for your convenience
Engine and Performance:
Considering Audi first, it comes with one engine trim only in diesel with a 3.0 ltr V6 TDi Quattro generates a decent 245.4bhp [email protected] and 600Nm of wheel burning [email protected] Despite that, BMW's linear engine is enough with 258bhp and 560Nm figures to beat down Audi's much slower and lazy V6 with an acceleration of 0-100 in 7.1 sec while V8 being the most powerful of the lot pulls the Audi's huge SUV from 0-100 in just 6.4 sec.
Apart from that, BMW again has an upper hand in blessing its top of the line diesel SUV with an 8-speed Steptronic Sport Automatic Transmission System and oppositely, Audi uses a similar tech-graded 8-speed dual clutch gears for seamless shifting from both. Both BMW and Audi come with a paddle shifter to save those fractionally important time gaps.
But once again, after being equal to the BMW standards, Audi is ready to let you down in mileage figures when the BMW X5 delivers an efficiently dynamic mileage of 15.35 KPL, the Audi's V type delivers around 14.75 KPL overall, comprised with ARAI. Audi claims that fuel efficiency has been improved by 26 percent. And better not ask about the mileage figures of the V6 which gulps fuel like a drunkard gambler but never misses to give optimum performance in senses. Still, despite of V8 capabilities, BMW remains our choice for a better output in this segment over Audi's.
Drivability and Safety
Well to tell you straightaway, the competition in handling and drivability ends as soon as a BMW enters it. Same as here, Audi doesn't stand a chance against BMW's dynamics in driving, handling and combined safety standards which come loaded with features like Cornering Brake Control (DBC), Dynamic Stability Control (DSC) and Dynamic Traction Control (DTC) etc.
In addition to some of the common features it shares with the Audi's giant SUV, like ABS with Brake Assist, Cruise Control, Safety steering columns, ESC, Hill Descent Assist, parking electro brakes etc. But Audi, in this segment and with tight competition couldn't take chances and hence, to compensate over its basic features for safety and drivability, adds features like ESC, EBF, Anti Slip Program (ASP), EDL etc.
But despite of being boarded with such features and an even advanced Audi's Adaptive Air Suspension package for the Q7 working with Audi's Quattro, it couldn't eliminate the amount of weight its SUV carries which makes it feel even heavier around the corners while BMW with its Electronic/ Speed Sensitive Steering wheel combined with its unique, Adaptive Suspension Package with independent and infinite damping and self-leveling rear suspensions which pushes corners like anything with minimum and acceptable body roll, no partiality though. And so, as we said already, BMW remains undisputed once again in this segment as well and clearly the more thrilling of the two.
Interiors and Exteriors
Aesthetically, Audi's top of the line and popular SUV, Q7 looks appealing and sleek with V-shaped bonnet, drawn back headlights with Audi's Matrix headlight and T shaped LED DRLs, chrome Audi signature single frame grille struts, dynamic and coupe like roof line with an even better and suave shoulder section which all ends on a very dramatic note with Audi's monstrous LED rear lamps which blend into the body.
When we compare it against BMW's newly carved body with pronounced shoulder-line, sculpted bonnet, new Adaptive LED headlights, cornering lamps, still the same signature Corona Rings and Kidney grille in Titanium finish. An elegant use of satiated aluminum and Titanium finish around the side frame moulding, bumpers and window frames Audi's ample attitude of an enormous sized SUV looks old and boxy, when BMW gives you sleeker and more sportier stance with equal and even better level of killing looks.
Interiorly, Again and finally, BMW looks terrific with better, no-black- wood and beige material interior trims, with more curvy and sporty Cab-in and more driver focused and sharp controls of the whole unit commanding the vehicle's electronics a 6'' touch screen HARMAN-KARDEN infotainment system, while in its boring black theme and comparatively limited and old theme/upholstery options, Audi situates a Bang and Olufsen audio system for more refined, melodious and perfect audio experience. Still, with more space for 7 and better comfort levels for all the three rows, BMW is top-notch in creature comforts while both the cars share an equally capable 4-Zone deluxe level Climate Control System to enhance the comfort levels even more. But still, to be loyal to the rivalry, Audi couldn't let the opportunity to slip away and that's why, like BMW, comes loaded with a lot with intuitive rear seat entertainment package with storage package and foldable tables with cup-holders. We still buy the BMW though for it's richer and luxury dipped package and a class which no other German SUV could practically match up to.
Pros and Cons
Audi Q7 Pros:
Road presence
Promising package
Interior richness
Audi Q7 Cons:
Design might not be of everyone's taste
Unsettled ride
BMW X5 Pros:
Overall a better package
A driver enthusiast car
Spacious and luxurious
Performance and engine notes
BMW X5 Cons:
Single trim engine
Last row space
Very simple consoles.