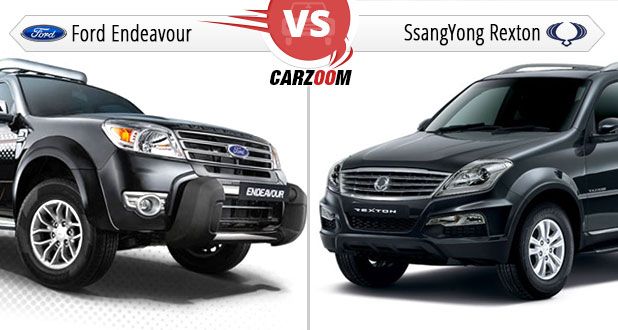 One is the newest and one is not new yet out of the most stylish ones for sure. One had been around for years and still growing and one was new in India yet still adorably welcomed. One is a Korean, backed with a giant like Mercedes-Benz and one is an American Giant itself. One is SsangYong and the other is Ford. So, clear what we are talking about? And if not, then let me tell you about the comparison we are heading towards, which is not just going to be grand and watchable, but futuristic and juicy as well. We are talking about the comparison of the new 2014 Ford Endeavour versus the SsangYong, not so young, Rexton. Let's get further without wasting much precious words.
Price
Had been a part of our focus since a while now, the Endeavour is price tagged around 19.5-23 lakhs for the three consecutive variants it comes in. But surprisingly, with a feature packed character and size, in this segment of cars, SsangYong has priced its fairy SUV at a mouth watering price range of 18.9-21 lakhs which makes it one of the most affordable SUVs of the segment. Nailed it in the pricing clearly, but does it only cost cheap or cheapness goes further too? Let's check out.
Engine and Performance
Open up the bonnet of any of the three variants of the Endeavour, you'll be welcomed with a set of ever punchier 2.5 and 3.0 litre TDCi VGT/DOHC 16 Valve engines which breathe at its best than ever and even better than the noisy and quality lacking 2.7 litre 5 Cylinder Turbo diesel engine of the SsangYong Rexton which feels dated now after three actual generations of the Rexton legacy internationally since 2001.
Still, the Rexton engines manage somehow to perform better on specs with power figures of 162bhp in RX5, 162bhp in RX6 and 184bhp in RX7 @4000rpm and torque sums up to [email protected] for both RX5 and RX6 but 402Nm @1600-3000rpm for the RX7 version. While in the Ford's Endeavour, we are well acquainted with the power figures of
141bhp for 2.5 litre 4×2 MT
153.86bhp for 3.0 litre 4×2 AT
153.86bhp for 3.0 litre 4×4 AT, all at @3200rpm.
While the torque figures for the base model is 330Nm and for the upper two variants, the torque figures are as good as [email protected] each. The performance on paper might look less in Endeavour but trust us, comparing it on road is a whole new definition for the SsangYong which fails to satisfy the drivers with enough oomph factor which the Endeavour somehow manages to grab and reflex, making it a better performer amongst the two.
Even when the performance is given a shift, the Rexton with its much hyped yet dated Mercedes AMG derived 5-speed e-tronic auto transmission feels quirky and lethargic when compared to the freshly up shifted 5-speed auto box of the new Endeavour. The manual shifters in both the cars with 5-speed manual box feels just the same and decent enough.
Coming to the terrain abilities, then both the cars are disappointing though due to minus off-road abilities, yet Endeavour is surely a rough road hugger with a sleek 4×4 performance over the 4×4 conventions of the Rexton. 4×2 on both the cars look cool and feels unabrupt too for the highway cruises.
Both cars, being available with diesel drinking engines are North-south pole to each other with the Endeavour managing a decent ARAI mileage of about 12.67 KPL overall. While the Rexton engine is a drunkard maniac gulping a huge amount of fuel with a mileage delivery of around 6.5 KPL in city and 9 KPL during highway cruises.
So, on a concluding remark, Endeavour makes a better performer at heart than the Korean Rexton.
Drivability  and  Safety  

On driving front, the technologically advanced Rexton tops the chart with all the necessary features such as ABS with EBD, safety airbags and cruise control like the Endeavour. But apart from these common features, the SsangYong Rexton boasts happily and safely with ESP, Active Rollover Protection, 4×4 torque on demand with low ratio, hill Descent Control, Speed Sensitive Steering etc. which all are surely some huge missing features from our big American bug. All these features surely make Rexton a poser, but in real life situation the Rexton falls on its knees around corners for grip with similar 16'' inch wheels as of Endeavours, if ESP is not turned on. Which here, without such loaded equipments, the Endeavour does well, naturally in handling, corners, speed and slows. At least better than its Competitor here.
But in braking department once again, Rexton shows an upper hand with ventilated discs in front and discs in rear wheels of the SUV when the Endeavour offers discs only for the front wheels. The most surprising thing about the Rexton is that it is equipped with all the best goodies, but we don't understand why SsangYong hadn't tuned the features to deal the best out of them. Like the set of independent Wishbone Suspensions in front and 5-link rear suspensions with anti-roll bar are made to perform off-road brutally, but with a tune-up like that, Rexton performs its best only on wet and snowy terrains and up-hills and not around corners or off them.
Standing on a high ground clearance of 208mm against the Endeavour's 210mm, Rexton should have felt more in control the way Endeavour does but it doesn't.
Interiors and Exteriors
To be honest, the third gen and old Mercedes M class borrowed-uplifted looks of the Rexton are not the most charming in the market against the newly dialed cheesy looks of the Endeavour. But with features like automatic eagle eye projector lamps with L-shaped parking lights, bold and aggressive front, large air dam, steel belt-line, fluidic side profile with chrome molding, chrome grille, LED DRL, ORVMS, sporty rear spoiler and electronic roof with sun blind, Rexton is the car you may fall in love with. But the claddings, sculpting, chrome serving and wraparound headlamps of the Endeavour with aluminum side steppers can't even be neglected either. Still, Rexton earns our praises in this particular section. Both thumbs up!
Inside, the Endeavour feels fresh and livens up as we described in our specifications and reviews section before with dual-tone beige interior theme, titanium finish dash, futuristic SATNAV and leather wrappings etc. but when it comes to the cabin fits and finish, Endeavour is clearly intimidated by the Rexton's more elite and mature incorporations. 8-way adjustable driver's seat with memory, touch screen central infotainment system with all the best Audio functionalities, key-less entry, Navigation system with pre-Loaded maps, dual tone black and beige theme, leather wrappings around steering and gear knobs, anti glare IRVM, Sunglass holder, steering mounted gears and automatic climate controls, rear AC vents/controls with cup-holders are of the few features which the Rexton very classily moulds inside. In simple words, the features Endeavour boasts about now and some even it doesn't have, had been around with the Rexton altogether and where the Endeavour uses a rear view camera display in the SATNAV system, Rexton uses an alarm based parking sensor.
But in the space department, Rexton lacks a bit with unequal sharing of room with unprivileged last row passengers due to high flooring of the vehicle. Endeavour has space but is not much comfortable for long hour seatings and lacks certain thigh support in seat cushioning.  Otherwise, the comfort levels on a long run, with enough room for everyone, Rexton feels far more rejuvenating a vehicle against the Endeavour with decent space and in-cab comforts.
So, on an overall, Rexton chases away the freshness from the so called fresh avatar of Endeavour and hence, proves to be one of the most luxurious and opulent SUVs around the market of this segment.
Endeavour Pros
Drivability
More refined
Ford's built
Better performer
Fresh
Endeavour Cons
Expensive package
Body roll
Terrain abilities
Rexton Pros
Complete package
 Best-in-class cabin
Safety features
Appeal and royalty
Rexton Cons
Cranky engine
Dated transmission
Not tuned
Mileage and running costs
Service network
No off-road skills
Final Verdict
SsangYong Rexton is the car if you want a decently luxurious SUV, a soft-roader and want to get showered over with gadgetries. Go for Ford Endeavour if you want a more serious performance oriented car with taste for rough patches. Or else, look for a more purposeful package in the market, there are many!