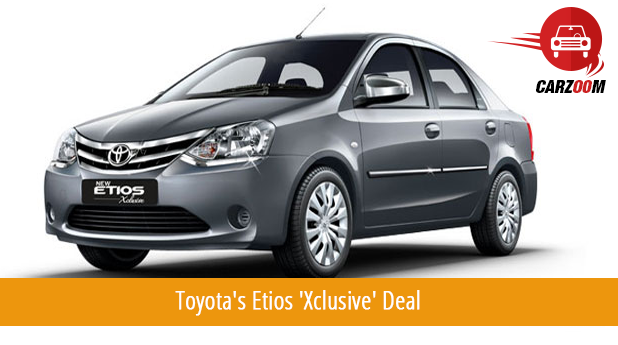 Toyota had a clear strategy in the market since last year. Whenever the sales goes a bit down, they try to upscale the same with just an Xclusive badging. Yes, you read it right, its a very sharp and cunning technique used by many a companies including Toyota to launch a limited edition of a particular car in a particular segment with minor tweaks to boost up the sales. And so, yet again, Toyota has introduced an Xclusive Limited Edition variant of its successful market Sedan, Etios, yet again to gain certain market publicity and sales success.
Talking about Etios Xclusive, then being a limited edition, only 900 of these are ever going to be produced and it will be based on Toyota Etios's G grade trim. The Xclusive tweak will refurbish both diesel and petrol engines exclusively. With new front grille now in full chrome, new chrome garnishing on front headlamp and rear tail-lamp clusters, and lots of chrome on electrically adjusted ORVMs looks rich and elegant and certainly gives the car an Xclusive feel of prominence. Apart from applying the aesthetic strategy to the exterior, interior section also gets a hint of the Xclusivity with a new and exclusive Audio System with Bluetooth and Xclusive Limited Edition Badging inside the cabin with more upheaval and rich atmosphere inside the car now.
Apart from that, the car will be available in two super selected variants only and Xclusive edition only gets an option of two colours to choose from i.e. Classic Grey and Symphony Silver.
But, if you envy this chrome filled and Xclusive badged limited edition Sedan, then be ready to spend a good amount of money for the prominence as the petrol variant would cost somewhere around 5.98 lakhs*while the diesel trim tops up to touch 7.10 lakhs*
*Ex-Showroom Delhi
But worry not, its Toyota! Its always surprisingly delightful! And that's why to rejuvenate the whole Xclusive experience, company's finance division announces a 100% finance plan for the special edition Etios with 0 down payment Money to be paid for this class vehicle. Apart from that, customers can be delighted further with extra applicable discounts up to 50%to be availed on services related to VAS and other such services.
The Xclusive might not be that exclusive in tweaking, but it does surely impress us with the easy ownership option it comes with, which is surely going to be blissful for the speculating customers as well.
For more updates on upcoming cars and news related to them, keep looking this space.