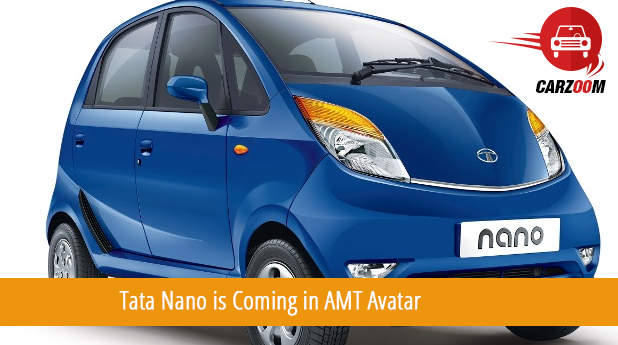 Its been quite a time since Tata first launched its 'Cheapest Indian Car' in the market as Nano. Since then, this car has evolved and improved a lot. Tata has been constantly planning to upgrade and update this vehicle and such an example of this effort was noticed by the company when in the Auto Expo this year, Tata introduced or showcased the Twist F-tronic version of its cheapest car to the market. And now, it is being rumored that Tata might just launch the same concept to practicality very soon in the coming time. It might even arrive next month itself.
With the rumors up in the air about Tata, which might launch Twist F-tronic version of Nano, after Zest, it can be a very innovative yet chaotic step not only in the Indian Automotive Industry, but also on a global level. As proposed, the new Nano will get an Automated Manual Transmission (AMT)system just like it's sibling Zest and market rival Celerio. And with that, chances are that Nano Twist would become world's cheapest Automatic car.
To make it all simple, an AMT is actually a Manual Transmission system which has Automatic Clutch. And just like that, Nano's AMT system is also a 5-speedsystem based on the current 4-speed MT system. Developed in collaboration with Italian company Magneti Marelli, which also develops system for Formula 1cars, Nano is going to be the smoothest entry level hatchback in the market focused more precisely towards comfortable and stress free city drivings.
Apart from the above mentioned mechanical change, the car is expected to be similar to the current version mechanically. While aesthetically, the upcoming Nano, as spied by many people, is said to be visually upgraded also. The car is said to have new set of bumpers and headlights with 'smiling face' design. The front fascia is new along with the rear end which incorporates new set of tail-lamps and bumpers with intakes. apart from that, the car will now have an openable tailgate and bigger 25 ltr fuel tank. But the addition of a tailgate would surely add further 60-70 KG So weight to the car effecting the efficiency somehow.
Inside also, the car is expected to be new completely with good quality plastic finish, new console, EPAS steering wheel, beige upholstery etc.
All in all, we expect after the Zest, that Tata should launch the Nano soon. And with such changes, you can't expect the car to be anyways available at the same price tag and that's why, we suggest you to be ready to bear a revised and increased rate of the car also. Also, the company might roll out CNG and diesel variants of the Nano as well, later this year or early next year as proposed and planned.
For further updates, keep looking this space.