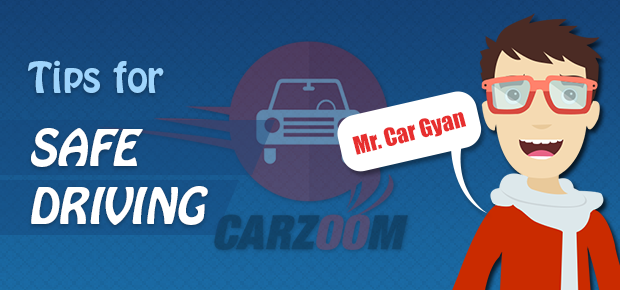 We @ Carzoom India cares about safety of our readers, Car owners, Drivers and Carzoomers and for each of us, we have bought 10 tips of safe driving. And we wish you hassle free, healthy and safe driving.
So here are some quick tips to ensure you reach home safe every time.
1) Just having a driving license is not enough. Analyze if you are really a good driver or not. And if your answer is NO, then you should do practice first on the clear ground before going out on the traffic road.
2) Make sure before going out that your car is well maintained. Its necessary to check your vehicle by yourself or by professional mechanic at regular basis for the safe driving.
3) Follow traffic signals carefully, Yes, its so easy: Red is to Stop, Orange is to be Ready and Green is to get set & Go. Be calm while driving and wait for your turn to go according to traffic signals.
4) Are you drowsy???? Stop then; if you want to reach on time and in 'one piece' then don't sit on driver's seat. Drowsiness could be so much dangerous while driving, you probably have a co-passenger with you, enjoy her/his driving at that day.
5) Don't Drink OR Don't Drive: As Simple As That. Avoid to travel if you are drunk but if its so necessary to go then keep distance from driver's seat. Let other drive and please just sit at back for your own as well as everyone else's safety.
6) Seat belt: An important thing to wear other than your casual or fashionable clothes. Don't worry; Its just a safety device which will not cost you on wearing but keep you safe. Not only this, if you have a co-passenger with you then tell her/him to do the same.
7) When you are driving, try just to DRIVE. Keep your mobile/tab at one side and also avoid listening to music by headsets because this can distract you from driving and can create a serious trouble for you. Also Note messaging, Mailing or anything to do with keyboard of your mobile is as dangerous as Drink & Drive.
8) Keep your car in your control and drive with in speed. You have heard a phrase surely: the result of crossing the limit doesn't come good. You must know that eight accidents out of the ten just occur due to fast driving. So drive your vehicle with limited speed.
9) Keep Distance on the road please, you are completely unaware about the driver's thoughts who is in the car next to you. She/he can stop suddenly or may be she/he wants to turn at the very next moment, so maintaining distance would be beneficial for you at that time.
10) Stay Alert & Stay Safe, it's the key for your happy and safe driving. You can't control someone else's mind who are also driving on road but you can control your own. Be attentive and just think that only you are the one on road who know how to drive, everyone else is just a learner.
Carzoom Advice – Remember, its your life at the end and even best possible insurance cannot fill up for you.