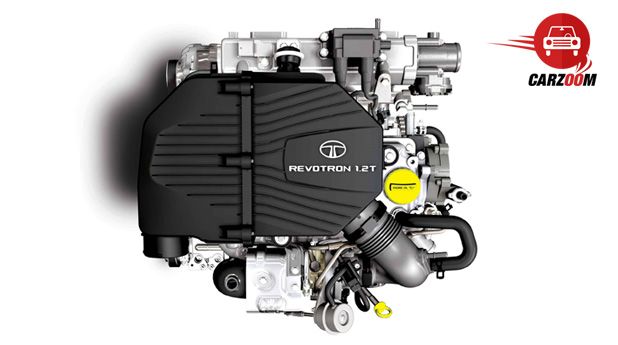 Tata Motors announced the launch of its all new family of 3 and 4-cylinders petrol engines which will be equipped in company's every next future model. This next-gen petrol engines family is named as REVOTRON by the Tata Motors and also company has unveiled the first petrol engine of this new family.
This first and new petrol engine of REVOTRON series is the Turbocharged Intercooled Multi-point Fuel Injected (MPFi) petrol engine, REVOTRON 1.2T.
As per the company, it has done a complete research before launching this new series. This REVOTRON series is designed on the basis of feedbacks of TATA model's users, globally expert drivers etc. The main motto of this new series engines is to provide a light weighted, low on friction, delivering high performance and fuel economy engine. This new petrol engine REVOTRON 1.2T has been tested under different driving conditions.
Tata Motors has stated three main pillars of this new REVOTRON series which are:
Revolution in Performance:
Turbocharged Multi-point Fuel Injected (MPFi) Engine producing 83.8bhp @5000rpm and 140Nm @1750-3500rpm
Multi-drive mode for better throttle response
Advanced catalytic converter reducing toxic emissions
Revolution in Refinement
Light weight and powerful
Extremely silent engine
Drive by wire technology for enhanced drive experience
Low friction crank case for minimized NVH
Smart Electronic Control Unit for precise control
Revolution in Economy
Low weight but high strength for a long lasting engine with Low maintenance
8-Hole fuel injector for efficient combustion
Multi-drive mode for maximum fuel efficiency
Mr. Ranjit Yadav, President, Passenger Vehicle Business Unit said at the time of announcing the launch, "With the launch of REVOTRON 1.2T, Tata Motors passenger vehicles business is making a strategic shift towards a more complete portfolio. The name itself, and amalgamation of Revolution and the French word "tronel", meaning "balance", conveys the essence of this engine brand that uses key technological advances to revolutionize and balance great driving maneuverability, without compromising on power or fuel efficiency. We are enhancing our portfolio with the next generation petrol engines – REVOTRON series".