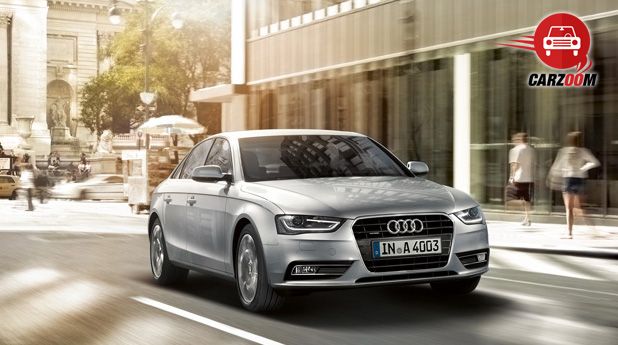 Audi- a brand which is known for its stylish-cum-luxuriant models along with the excellent on road performance, gifts the Indian car market one more luxury sedan model few years ago. This model was Audi A4 luxury sedan which is running successfully since its very first launch and compliments its user's reputation. Lets discuss its specifications and features in detail.
Price:
Being a highline luxury model, this sedan carries the expensive price tags between 28.9-54.7 lakhs which varies as per its various variants.
Engine details:
Overall it has five variants, out of which two are petrol while three are diesels. The diesel trims are 1968cc 2.0 liter TDI (producing 141bhp & 174bhp as per the variants) and 2967cc 3.0 liter TDI (producing 241bhp) units along with the impressive developing torque of 320Nm, 380Nm and 500Nm respectively. These powerful diesel engines are mated with the automatic transmission as multi-tronic (in 2.0 liter diesel) and 7-speed tronic (in 3.0 liter diesel) gearboxes.
On the contrary, its petrol variants continue with the 1798cc 1.8 liter TFSI and 2995cc 3.0 liter TFSI petrol engine units by churning out the max power of 168bhp & 329bhp while peak torque of 320Nm & 440Nm, respectively. Like the diesel units, the smaller 1.8 liter petrol engine is mated with the multi-tronic while the other, 3.0 liter petrol engine consist 7-speed tronic automatic transmission gearbox. Also, the bigger petrol engine carries a tag of S4; here S indicates its Sporty version.
Multi-tronic is the automatic transmission which features dynamic gear control program (DCP), where 8 different gears can be selected in manual mode, hydraulically controlled multi-plate clutch (available with front-wheel drive models).
As per the fuel efficiency is concerned, it offers amazing mileage figures in all variants which also make this Audi model different and more fuel efficient from the other models of Audi. The ARAI certified mileage of this luxury sedan is 15.64 km/l (1.8 L TFSI), 16.55 km/l (2.0 L TDI 141bhp), 17.11 km/l (2.0 L TDI 174bhp), 14.94 km/l (3.0 L TDI) and 10.34 km/l (3.0 L TFSI).
Space & Dimension:
This five seater luxury sedan is 4701mm in length, 1826mm in width and 1427mm in height which also carries the wheelbase of 2808mm, ground clearance of 128mm and car boot of 480 liters. The fuel tank capacity is 63 liters while the minimum turning radius is of 5.8 m.
Interior:
A sporty and dashing display, premium quality material, attractive as well as luxury interior equipments and the Audi's well known classy style; these are the attraction of this sedan which has the tendency to influence anyone at just first sight.
It features S sports seats at front with integrated head restraints with extendable thigh support and embossed S4 logo (only in S4 variant), sports seat at front (in all other variants), leather armrests in door trims (only in S4), 4-way lumbar support, electrically adjusted driver's seat, memory function for the driver seat (only in S4), electrically adjusted front seats, folding rear seats, front n rear centre armrest, 4-spoke leather wrapped electronic steering wheel while 3-spoke leather covered electronic steering wheel in S4 variant, 3-zone deluxe automatic air conditioner, cup holders, driver info system, 8 loudspeakers (front n rear), concert radio, Audi music interface, cruise control, hold assist, Bluetooth, TV reception (in S4 only), Bang & Olufsen Sound System (in S4 only), CD changer (in S4) and many more, feature list is long coz it's a model of Audi.
Exterior:
Being an Audi model, it doesn't lose its eye catching glimpse even after so many changes. Its LED rear lights, front fog lights, headlight cleaning system, light/rain sensor, electrically adjustable exterior mirrors with integrated LED indicator, sporty designed front & rear bumpers, slide-and-tilt glass sunroof (standard on A4 while optional on S4), single framed radiator grille, rear spoiler, manually operated sunblind for the rear door windows are some of the features which is just complimenting the its sporty design and stunning look.
Safety & Performance:
It offers a flexible handling on road along with the balanced braking system. With the best producing torque among these variants, the 3.0 liter TDI diesel unit variant performs the best on road along with superb fuel efficiency. Meanwhile, the petrol's 3.0 liter TFSI variant gives a feel of sporty car with luxury and performs so aggressively on road that its user could be addicted of it. The remaining variants of this royal model are good performer too. To achieve 0-100km/h, these variants take mere seconds along with the excellent top speed, the figures are:
A4 1.8 L TFSI Petrol: 8.3 seconds/ 250 km/h
A4 2.0 L TDI (141bhp) Diesel: 9.1 seconds/ 210 km/h
A4 2.0 L TDI (174bhp) Diesel: 7.9 seconds/ 222 km/h
A4 3.0 L TDI Diesel: 5.9 seconds/ 250 km/h
S4 3.0 L TFSI Petrol: 5.0 seconds/ 250 km/h
By justifying a luxury model, this Audi A4 has those entire safety features which are needed now-a-days. These includes anti-theft wheel bolts, space saving spare wheel, tyre pressure monitoring display, full-sized as well as rear n side airbags, central locking, first aid kit, safety steering column, seat belts, start/stop system (only in petrol variants), ABS, electronic differential lock (EDL) and electronic stabilization program (ESP) etc.
Also, to provide its wheel a better handling and proper brake, its two variants 3.0 liter TDI & 3.0 liter TFSI are designed with the all-wheel-drive system.
Verdict:
Pros: –
Masculine engine
Stylish glimpse
A long list of luxury features equipment
Spacious interior
Impressive mileage
Cons:
Comparatively expensive but still match with its standard