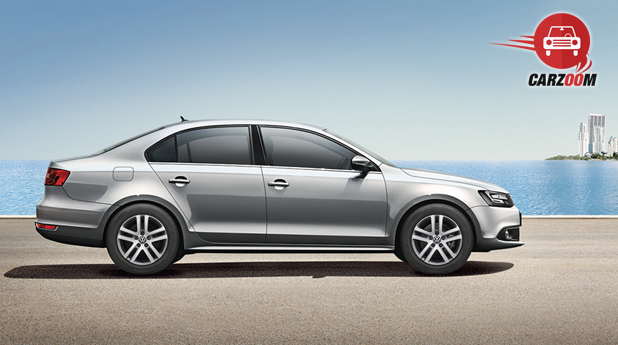 The new Volkswagen Jetta is an enthusiastic car which is known for its driving dynamics and comfortable character and it's a car that might not catches your as much its competitors. Jetta carries simple yet no non sense design aesthetic which might not please everyone but it isn't that bad at all. Jetta is an overall a well packaged car with best in segment spaciousness and proven performance. Our experts and critics already told their opinion about what they think of new Jetta, it's time to look at what users have to say about the new Jetta.

Likes:
Best in the segment:
Most of the people who test drove the new Jetta were pretty happy with the way this big car managed to maneuver around easily, they thoroughly enjoyed the test drive of Jetta as cruising through bad roads is not at a problem. The dual clutch gearbox and multi-function steering wheel were praised by the users.
Best in class Space:
The best thing about this car is the space no we not just talking about the huge 510 liters of boot space, it's the rear legroom and headroom space that steals the show. The overall space in the cabin is certainly best in class, as one of the gentlemen with whom we managed to talk said. "I just bought this new Jetta and it gives me comfort of an Audi A8, I am 6'3" so I obviously need enough space at front and this car is just perfect for me as it not only provide me enough space while it doesn't hamper the rear space in the process".
Solid Build quality:
Volkswagen has given a luxury sedan with robust build quality and most of the users we managed to talk with were very impressed with build quality. One of the women told us "In India where accidents have become part and parcel of our life where u don't only high class safety features but a well build quality vehicle as well and new Jetta is just the right car for this situation".
Inoffensive Styling:
New Jetta might not be the most eye catchy car but it's not that bad either as one of the Businessman quoted "Jetta is simple yet elegant and flaunts inoffensive styling and it's is not here to win any beauty contest. Real beauty lies in the engine and that's the most important thing for me.
Dislikes:
New Jetta is same as the Old one:
Volkswagen has not made many changes in the cabin and most the people were criticizing this move. One of the users who own an old Jetta took the test drive of the new one said, when he entered into the cabin he was shocked to see that nothing has changed much except a new steering wheel and revised central console.
Better alternatives available:
Volkswagen Jetta competes in the segment where Hyundai Elantra, Skoda Octavia and Chevrolet Cruze are there to give cut throat competition. Cruze is the most powerful; Elantra is most good looking car and Octavia is blend of Jetta and Cruze. After the update most people were expecting more features and equipments like Sunroof, leather seats and reversing camera but they didn't get anything except the minor tweaks and revision.
Less powerful:
Volkswagen Jetta probably offers balanced ride and handling but a gentleman who took the test drive of New Jetta quoted, "I have Chevrolet Cruze in my garage for the last 2 years and I heard about new Jetta so took the test drive but I was not as impressed as expected. In comparison Cruze looks more powerful car than new Jetta".