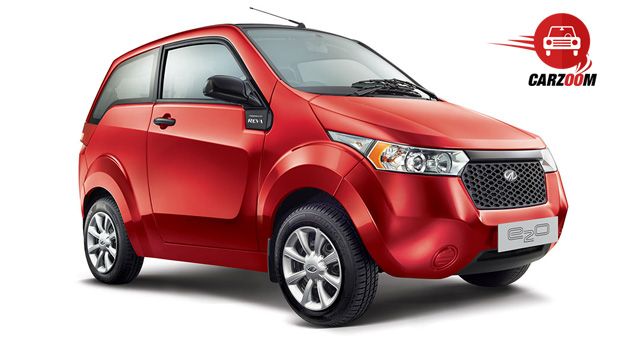 Mahindra has slashed the prices of its all e2O (previously known as REVA) electric cars due to FAME (Faster Adoption and Manufacture of electric vehicles scheme) India initiative by Ministry of heavy industries and enterprise in alliance with SIAM. FAME India scheme is solely responsible for a price drop.
Mahindra has reduced the prices of e2O by up to Rs. 1.5 lakh in all major cities in India including Delhi-NCR, Hyderabad, Mumbai, Bangalore Chennai, Ahmadabad, Kolkata and in cities with population over 10 lakhs. New ex-showroom Delhi Prices of Mahindra e2O including FAME India incentive.
As a result of FAME India Mahindra e2O would now cost 4.79 lakh (On-road Delhi) which is a reduction of around 16% over the old price. However, buyers will still have to pay Rs. 2999 for 5 years or 50,000 km as a maintenance cost for battery pack.
Under FAME initiative Government has provided around Rs. 800 Crore for the phase-I for 2015-16 and 2016-17, under this scheme Government has announced incentives for all categories of electric and Hybrid vehicles as follows:
Rs. 1,800 to Rs. 2200 for Scooters
Rs. 3500 to Rs. 29000 for Motorcycles/Bikes
Rs. 13000 to Rs. 124000 for sub 4 meters vehicles
 Rs. 11000 to Rs. 138000 for four wheelers over 4 meter category
Speaking on the price reduction, Pravin Shah, President and Chief executive (Automotive), Mahindra and Mahindra said, "We welcome this important, progressive and timely initiative from the central government and the Ministry of heavy industries which has the potential to boost the EV industry in India and put it high on global map. The benefits of the scheme in terms of demand incentives will be passed on to our customers, thereby making the e2O a more compelling and viable choice for mobility. Further, with intervention of the government towards increasing charging infrastructure coupled with our technological updations, we hope to address range anxiety, accelerate EV awareness and expand our network across the country. I am confident that India is set to witness a shift in changing lifestyles and a spurt in electric vehicle takers".