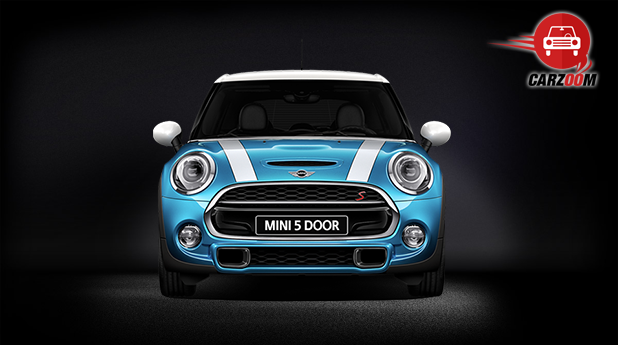 The British luxurious car maker which is part and parcel of BMW is known for its wicked looking car compact sized cars since 1989. MINI gathered attention when they arrived in India during 2012, at that time MINI Marque was launched since several other models are launched in India which got decent response from Indian buyers especially youth. India is the 100th Country in MINI which is selling its products. Last month MINI came up with updated 3 door version and new 5 Door version in India, latter one is arriving for the very first time. Our experts tried their hands on new MINI to let you know should you buy one or not? 
Price:
BMW Owned MINI has launched new MINI 3 door version for Rs. 31.85 lakh and 5 door version for 35.20 lakh (ex-showroom India). New MINI will make its way as a complete CBU unit which is main reason of high price for such a small car.
Engine and Performance:
Globally MINI cooper D is offered in different form of engines but in India is available in just one variant i.e. diesel as per now which churns out 114bhp power 270Nm torque coupled to a six speed automatic gearbox and it sprints 0-100 km mark in 9.2 seconds 200 km/hr. This 1.3L diesel gives 21.15 KPL mileage which is very good for such a hasty car.
New MINI just churns out 114bhp power even much less price Volkswagen Polo gives 105bhp power and 250 Nm torque at that price, well despite 114bhp power engine performs decently well with more than adequate power and torque. Six speed gearbox is good but it is not as smooth as dual clutch system, you can tick 150 km/hr speed with ease.
New MINI is equipped with different modes like 'Driving mode' which will make your ride more controllable with decent gearbox response and then there are green, mid and sport modes which will make your ride from relax to more fun ride and there is a 'driver excitement' system which will tell how efficiently you are using steering wheel, brakes and accelerator.
Now it's time to analyze the ride and handling of new MINI, despite of FWD MINI cars are well known for its go-kart like experience in this department. But new MINI will slightly led you down when compared with old version but you won't feel the difference much.  Overall New MINI is a decent performer but lacks action packed performance like the older version.
Space and Dimensions:
Let's talk about the three door version first which is available in 2+2 layout with two doors so that means to go to the rear side you require some athletic abilities and after doing so much you left with just millimeters amount of legroom space as both front seats are placed in normal position, rear seats are best suited for two if they don't have legs. So it's better to use three door version as a two seater not four and you also get limited amount of head space.
Exterior- Interior & Safety:
MINI has not made much change in iconic styling of new MINI; it carries forward the overall DNA of MINI series. All the conventional design of old MINI is present in the New MINI but in a more beautiful manner with chrome accent headlights with daytime running lights, beefed up bonnet, multi chrome lines upfront, upright windscreen and hovering roof. Sides look rugged which hollow the sportiness of new MINI. Rear side is mix bag of chunkiness and retro design which adds to the appeal of the car.
As you get inside the cabin you will witness something different from just ordinary, the retro styling is also the part of interiors. The cabin has the wow factor which people might disagree with when we say the same about outer looks. Dashboard is beautifies by the large circle shaped central dial which doesn't have Speedo needle anymore which might be a disappointment for some, front seats are well supportive even for healthier persons.
Main disappointing factor about MINI's cabin is that you have to pay extra bucks to make your MINI feature rich for things like 8.8 touchscreen display, iDrive infotainment system, Sunroof, seat upholstery and even for buttons on steering wheel.
As far as safety is concerned 5 star rating getter new MINI is loaded with number of protective features that ensures maximum safety for its occupants with features like 6 airbags, run flat tyres, active pedestrian system, cruise control, ABS, EBD, three point seat belts for all passengers with all such features and more it can guarantee peace of mind for sure.
Verdict:
No doubt MINI is power packed car which would attract many buyers especially speed enthusiast if it were placed at the affordable price. It's just a hatchback and paying 32 lakh for a hatchback is a costly affair, it will cost much lesser if BMW produce it here. So apart from price MINI is good with minor if and buts which can be ignored if their BMW embedded with it.