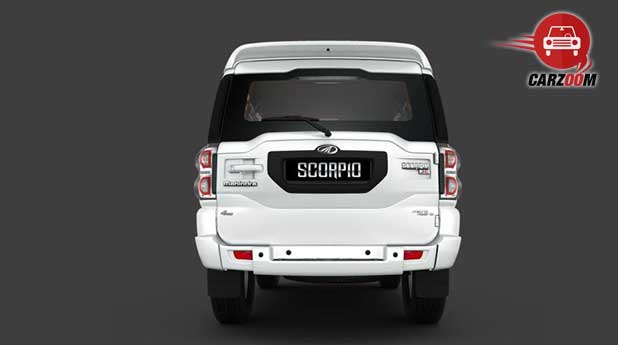 It seems Mahindra and Mahindra has taken the customer feedback very seriously and silently removed the black plastic cladding from the tailgate and replaced it with the body colored one. The New Gen Scorpio was launched on 25 September 2014 with various changes outside and inside with 2WD and 4WD versions.
The facelifted model got the mixed reviews when launched and the masses hated the rear side black cladding especially. So, Mahindra has finally decided to replace it with body color affair that looks good, the black appliqué is now restricted only to number plate to add contrast element to the tailgate.
Other than that Scorpio remains exactly same with no change in any other department and the update is available on all variants of Mahindra Scorpio from base variant to top. Mahindra also made few changes in the tail lights cluster and removed the blue tinge element from them and now it looker smoother.
Mechanically Scorpio continues to feature the same 2.2L mhawk diesel engine developing 120bhp power and 280Nm of torque paired to a 5-speed manual gearbox. The SUV is available in 2WD and 4WD system with shift on fly system.
At the front SUV carries large swept back dual projector headlamps with chrome strip that gives LED effect, revised silver grille, a bonnet scoop and circled fog lamps that distinguish it from previous GEN Scorpio.
The M&M manages to retail around 5000 units of a month since the inception of new GEN Scorpio and the new automatic variant is expected to arrive soon. Currently New GEN Scorpio is available in eight variants at the price domain of Rs. 8.70-13.47 lakh (Ex-showroom Delhi)
The automatic variant will certainly boost the sales of Scorpio and will provide a choice to those who are looking to buy an automatic SUV but are confined with budget and cannot afford Hyundai Santa Fe, Toyota Fortuner etc.