From an unknown brand to becoming one of the dominant carmakers in India is something magnificent. And still continuing to make history, Hyundai has achieved a historic milestone by rolling out its seven millionth car in the form of Creta automatic from its Sriperumbudur facility in Chennai. Hyundai has achieved this feat in 18 years which is much quicker than Maruti Suzuki. The South Korean Giant rolled one millionth car Santro in 2006, just eight years after commencement of commercial operations in 1998.
After that momentum shoots up and the next millionth car achieved within an average of 18-19 months. The fifth million car was flagged of by company's brand ambassador Mr. Shahrukh Khan in October 2013. Now company aims to produce 10millionth car by H1 of 2021. Cars like Santro, i10, Grand i10, Elite i20 and Creta SUV have played a vital role in Hyundai achieving these milestones so quickly.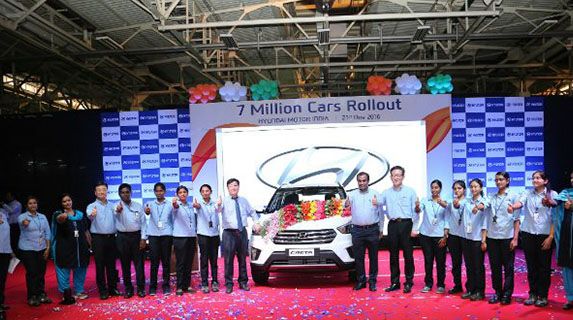 Hyundai has been the largest exporter in the country since 2004 with a volume 24, 64,723 till now. HMIL currently operate from two plants in Chennai with a total annual capacity of 6, 80,000 units and also there is a third plant on the making which would further boost the growth of Hyundai in the country.
Congratulating the employees for achieving this milestone, Mr.Koo said, "HMIL has always set new benchmarks in terms of quality and customer delight by introducing new products with new technology and design to the Indian market, demonstrating superior manufacturing prowess.  Our 'Made in India' products have impressed global and Indian customers alike. We now have to move to realize our vision as announced during our 20th year of foundation on May 6, 2016, of being the market leader, great place to work, most loved and trusted brand with modern premium brand essence to touch 10 million units within the first half of 2021. I thank each one for his commitment towards making Hyundai, the most loved and trusted brand in India."