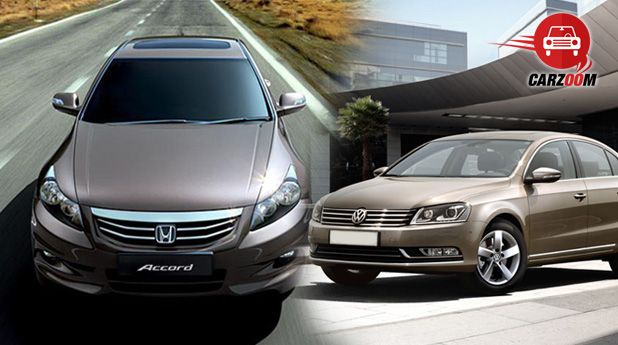 The production of two sedans Accord and Passat have been ended by their company Honda and Volkswagen, respectively. The reason behind this step is said to be mainly their not so good sales and bad popularity in the market.
As per the Honda's sedan is concerned, its sales has been going through a worse condition from last six months, company could only sale 215 units of this sedan overall between June-November of this ongoing year, 2013.
The situation of VW Passat is not any different actually; it could also just manage the overall sales of 235 units during the same time period mentioned above. While on the contrary, Skoda Superb beats these both cars with a very broad margin in terms of sales. Skoda sold out the overall 507 units of its luxury sedan between same June to November.
Not only the lesser sales but also to decrease margins and divert the customers towards the all new luxury models by both the companies (especially Honda) which are going to launch in upcoming new year, are said to those other reasons which influenced the companies to discontinue the sales of ongoing sedans.
Must say, rupee deflation is also playing a major role behind these steps of various brands. This hike in rupee also has hiked the production price of these cars coz some parts of both the cars are being imported from other countries.
The price ranges of these both models have been increased at such level that it is touching the cost of luxury entry level same segment sedans of country which are available with lot of more luxury features than Accord and Passat; these sedans also have the badges of Audi, BMW and Mercedes etc. The same segments sedans of these brands are also offering very new and attractive offers to their customers. So, as a result it is becoming impossible for Honda and VW to attract those customers towards their not so luxury and not so popular Accord and Passat.
In India, Accord has the starting price tag of around 24 lakhs while Passat costs between 26-32 lakhs (depending upon variants). On the contrary, by just spending few more money, the customers could buy more luxury and trendier same segment sedans of Audi, Mercedes and BMW etc.
According to the Honda and Volkswagen, the existing stocks of Accord as well as Passat have been cleared and companies are not planning to launch the next-gen models of both the cars until 2015. Hence, they've decided to end the production now.