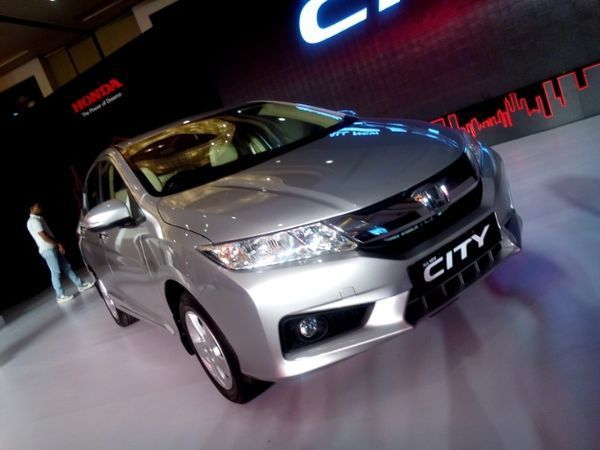 So finally Honda gives a relief to all the car lovers by unveiled the all new model of its most awaited sedan, Honda City. When the ongoing City is already ruling among Indian hearts, this new version definitely has tendency to take the breath away by its modified and aggressive look, and also company is going to introduce the diesel engine option in this sedan for the first time. It is going to hit the Indian car market on Jan 7th, 2014.
Price:
While the ongoing City has the price range between 7.2-10.6 lakhs, the new price tag is not disclosed yet. Honda would reveal its price at the time of launch, the advanced booking have been started though.
Engine details:
This new sedan would be well equipped with two engine variants, diesel as well as petrol. While the petrol unit carries the same 1.5 liter, i-VTEC engine, the new diesel unit has 1.5 liter, i-DTEC Earth Dreams engine similar as Amaze. The ongoing petrol engine churns out the max output of 116bhp and 146Nm while the power & torque produced by the diesel variant is 99bhp and 200Nm.
Space & Dimension:
The five seater sedan is remained similar by dimension with a slightly change in its height and wheelbase. Hence the overall dimension carrying by this sedan now is 4440mm*1695mm*1495mm along with the wheelbase of 2600mm which is 50mm more than its predecessor.
Also, as per report, the new City gets spacious cabin at inside where shoulder room is hiked by 40mm, knee room by 70mm and leg room by 60mm.
Interior, Exterior & Safety features:
Inside the cabin, many new as well as modified features have been designed with the existed features of its predecessor. This list includes audio system in 5-inch LED display with hands-free function, eight speakers, Bluetooth, aux-in,electric steering with controls button on it, rear parking sensors, AC vents at rear, 4 power outlets, multi functional instrumental, cruise control and expectedly some more.
As per its outside look is concerned, this new and trendy sedan gets a complete refreshing as well as appealing glimpse and undoubtedly people are gonna love this.
Performance:
While the ongoing model is providing its users a very controlled and wonderful drivability, we expect the same with this new model too. As it is going to equip with diesel variant too, the variant which is being famous among the India and more fuel efficient; the expectations become high, the exact road handling and performance can only be given by its launch though.
Car Zoom's take:
India is always being a focus market for Honda and needless to say that company has proved its reliability by its models. Honda City, one of the most appealing sedans in India is going to hit the market again after getting a fresh birth, is surely going to be a tough competitor for the others same segment cars like Hyundai Verna, Renault's Scala, Nissan Sunny etc. It would be interesting to watch how this classy City turns the fame lights towards itself, but we'll have to wait for its launch first and till then, for more & latest updates, stay tuned with us.