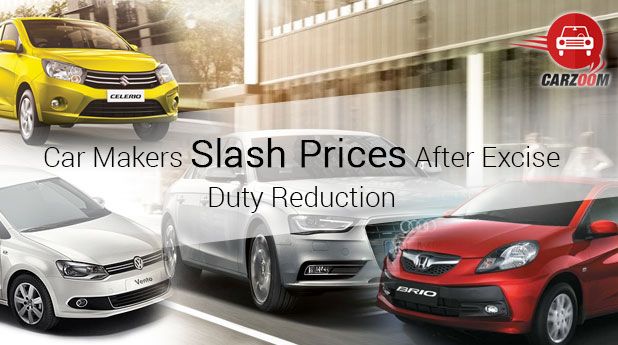 After making a quite surprising reduction in excise duty announced in the Interim Budget by P. Chidambaram, car makers in India also cut prices of their models to pass on the benefit to customers and also with the hope that this will help the companies to hiked their models' sales which were not so good, particularly in last year 2013 due to the glooming time of automobile industry.
The auto giants are expected to bring deductions by immediate effect though it would vary from one car manufacturer to another.
While many companies have announced the price revision, several companies are yet to be come. We'll update the reduced price by every car manufactures time to time.
This revision of price is different as per the car's category. While the hatchback's cost get deduction by 4 percent, the SUV (sports utility vehicles)'s price slashed by 6 percent. Contrary, the sedans are slashed by 3-4 percent. Here is the detailed list:
Small cars (hatchbacks):
Previous excise duty was 12% while the revised excise duty is 8%.
SUVs:
Previous excise duty was 30% while the revised excise duty is 24%.
Sedans:
Previous excise duty was 24-27% while the revised excise duty is 20-24%.
Let's go further to see what changes and revisions company has brought.
Maruti Suzuki:
Its Alto (entry-level hatchback) gets price cut by Rs. 8,502 and the recently launched Celerio by Rs. 13,615. Contrary, the end-variant of Sx4 is reduced by Rs. 30,984, Alto K10 by Rs. 11,304, base variant of Omni by Rs. 8,698 and Estillo by Rs. 12,148.
Also, the price range of WagonR hatchback is reduced by Rs. 12,578 while A-star and Eeco get deduction by Rs. 13,482 and Rs. 10,881, respectively.
The Ritz hatchback's cost dropped by Rs. 15,130, Swift by Rs. 15874, Dzire by Rs. 17,884 and finally Ertiga by Rs.18,747.
Hyundai:
This brand decreased its models prices by Rs. 10,000 (for Eon) to Rs. 1.35 lakhs (for the Santa Fe).
Chevrolet:
It has reduced its model's price from Rs. 12000 to Rs.49000. Now the Spark new price is 3.49 lakhs, Beat petrol's base variant price is 3.92 lakhs and so on.
Volkswagen:
The VW Polo cost deducts by Rs. 18,000-31,000, Vento by Rs. 14,500-27,000 and Jetta by Rs. 38,000-51,000.
Nissan:
Nissan slashed its models price by 4-6 % which means in the range from Rs. 13,000 to Rs. 49,000.
Mercedes:
Mercedes has dropped the prices between Rs. 55,000 to Rs. 2 lakhs on the models which are produced in the country only like C, E and GL class.
Audi:
Audi has also deducted the price range of its entire locally manufactured line-up between Rs. 72,000 to Rs. 3.82 lakhs.
Mahindra:
The slashed price range by Mahindra is between Rs. 13,000 to Rs. 49,000 which varies between model like Verito Vibe to XUV 500 while the Ssangyong Rexton receive the price cut of Rs. 92,000 for its top-end model.
Honda:
It also implies the price deduct rule with its models and now Honda Brio's is now available at 3.99 lakhs, Amaze petrol at 4.99 lakhs, Amaze diesel at 5.97 lakhs, City starts at 7.19 lakhs, City top-end model at 10.89 lakhs and CR-V 2WD manual at 20.25 lakhs while CR-V AWD automatic at 24.36 lakhs.
In a statement, Kenichiro Yomura, President, Nissan India Operations, said, "The reduction in excise duty is a welcome move towards revival of the Indian automobile industry. We are confident this will make our products more accessible and drive growth across the range."
"We hope this move will help improve the market sentiment in the automotive industry,'' Arvind Saxena, Managing Director, Volkswagen Passenger Cars said in a statement.