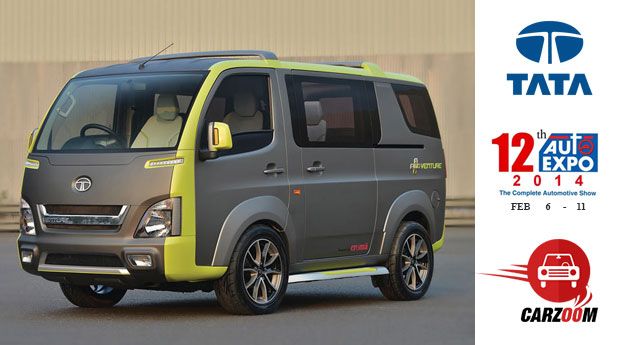 Tata made its warm presence at this 12th Auto Expo by showcasing many interesting models and the ADD Venture concept was one of them. As per the company, it is for those customers who are willing to be fun loving, technology-driven and active. This ADD Venture concept is based on its Venture Van and expected to hit Indian car market by 2015.
Price:
Well, company has not revealed its price yet but expected to come with approx same price range like ongoing Venture Van with slightly up and downs, probably. The ongoing Venture costs between 4.5-5.3 lakhs.
Engine details:
The all-new ADD Venture will be powered by the same 1405cc, 1.4 liter 4-cylinder IDI TCIC diesel engine mated to a 5-speed manual transmission gearbox like the predecessor Venture. This muscular engine develops the max power and peak torque of 70bhp and 135Nm, respectively. This ADD word is for additional gross vehicle weight (GVW) which is 2050kgs in this new modified van.
Space & Dimension:
This family based ADD Venture Van is 3950mm in length, 1565mm in width and 1878mm in height which offers seating capacity for seven and also carries a wheelbase of 2100mm, clear height of 160mm and fuel tank capacity of 33 liters.
Interior & Exterior:
At outside, its glimpse has been modified by a big leap. This new ADD Venture looks more classy and stylish than before. Its funky exteriors, trendy n comfortable interiors based on 'café lounge with flexible seating' system, integrated hot drink machine, side and front center stacks with internet enabled iPads, roof mounted dual AC, butterfly shaped windows, sunroof, audio system with CD n MP3 and cool box etc makes this van much classy, useful and wonderful for a trip or traveling.
Car Zoom's take:
Tata is doing great from some time, first the introduction of all-new REVOTRON engine family, then the main three pillars (DesignNext, PerfromanceNext and FuelNext) on which it's every new model will be based and now bringing the exciting models one by one. Needless to say, company' this strategy will prove as a huge sale hiking of its models and also set them up as a strong competitor for other same segments cars. Though, people will have to wait for these new launches, let's hope for the best till then.