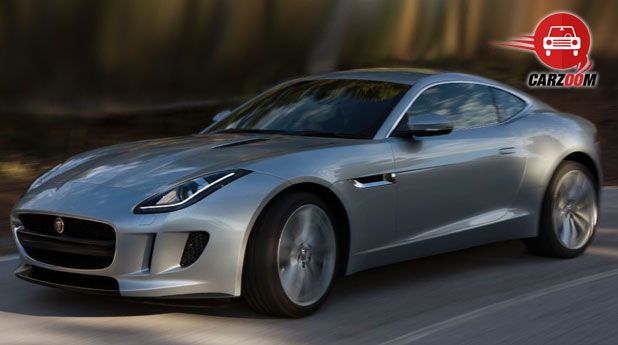 The recently held 12th Auto Expo has ended but after giving Indian customers a bulk of trendy, royal and new surprises in the form of outstanding models by various companies. In this queue, Jaguar's F-Type Coupe made its warm presence too as one of the show stealer models. It is much like its sibling F-Type convertible model which is already in the market but with a fixed roof on his head.
Price:
By having three variants namely F-Type, F-Type S and F-Type R, this dashing model carries the price tag of 1.21 crore, 1.5 crore and 1.82 crore respectively.
Engine details:
Its two-base variants (F-Type and F-Type S) are equipped with a 2995cc, 3.0 liter V6 supercharged engine developing the max output as 340PS, 450Nm and 380PS, 460 Nm, respectively. Contrary, the top-end variant F-Type R is powered by the powerful 5000cc, 5.0 liter V8 supercharged engine and produces the wonderful max power and peak torque of 550PS & 680Nm, respectively.
All the three variants of this luxury coupe are mated with an 8-speed automatic transmission gearbox which assists in providing a well balanced handling on road.
As per its fuel economy is concerned, its various variants offer various yet impressive figures, let's have a look:
F-Type – 7.9 km/l (city)
– 14.7 km/l (highway)
– 11.3 km/l (combined)
F-Type S – 7.8 km/l (city)
– 14.2 km/l (highway)
– 10.9 km/l (combined)
F-Type R – 6.2 km/l (city)
– 12.0 km/l (highway)
– 9.0 km/l (combined)
Space & Dimension:
Coming to its dimension, it's all three variants carry the almost similar dimension except the height of F-Type R which is slightly differ than the others. While the two-base variants has overall dimension of 4470mm x 2042mm x 1309mm, the top-end variants has 4470mm x 2042mm x 1321mm. Other than this, all the variants have share the same measurement of wheelbase and boot volume which is 2622mm and 407 liters respectively.
Interior & Exterior:
This Jaguar's F-Type coupe shares the entire features range of its sibling F-Type convertible. As per the company, its powerful shape and beautiful proportions reveal its breeding which is the latest in Jaguar's iconic bloodline of high performance sports car. The entire comfort features are available in this luxury coupe which defines its luxuriant power, these includes cruise control, start/stop system, leather upholstery, rain sensing wipers, optional panoramic glass roof and many more.
Safety & Performance:
Safety wise, it is equipped with lot of requisite features to make this car one of the safest ones. It includes intelligent high beam which automatically switches b/w low n high beam when necessary, electronic brake force distribution (EBD) which helps to measure load weight and distributes braking force to front and back wheels accordingly, maximizing control during braking, occupant safety which includes two front airbags and two side airbags as well, reverse traffic detection, assisted parking and emergency brake assist (EBA) etc.
While the F-Type convertible has already made a blast in terms of its performance, the same is expected with this coupe model. It tends to accelerate 0-100km/h in mere 5.3 seconds (in F-Type), 4.9 seconds (in F-Type S) and 4.2 seconds (in F-Type R) with the restricted top-speed of 260km/h, 275km/h and 300km/h respectively as per the variants from base to top-end.
Verdict:
Pros:
– Highly luxuriant model
– Impressive performance and mileage figures
Cons:
– Much Expensive