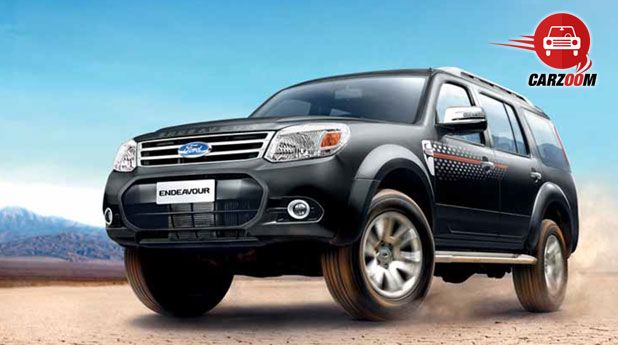 Ford Endeavour is one of the practical SUVs of Indian automobile industry and probably one of the cheapest ones by any foreign brand. It's a real SUV which carries powerful engines, bold glimpse and suitable price tags. As company has now brought the updated version of this muscular SUV, we tried our hand on it. Let's have a deep look.

Price:
As per its size, power and segment, it comes in really affordable price range.
Available within range of 19.83-23.06 lakhs.
Engine details:
Powered by diesel unit only, no need of petrol mill according to car's nature though.
Two sizes of engine, one is a 2.5 liter while another is bigger of 3.0 liter.
Both the engines produce impressive max output as well as peak torque.
Availability of manual and auto transmission along with 2WD and 4WD system provides the SUV an exciting and appealing on road performance.
Mileage figure are satisfactory but definitely could be better.
Performance:
No issue from its developed power but overall performance could be better.
Though, it offers a decent ride quality and well balanced handling.
The four-while drive system works properly and gives an awesome drivability.
Space & Dimension:
A real SUV, can fit seven adults in it with so much ease.
Dimensions of wheelbase, ground clearance are so much impressive.
Overall, a spacious and muscular Ford's model with lots of legroom and headroom.
Interior:
Company has renovated the new Endeavour 2014 by offering many new and required features in it.
These changes include cruise control, Bluetooth, new leather seats etc.
Material used in it is of high quality, it's not much easy to scratch its plastic.
Not too much luxurious yet much comfortable and practical.
Exterior:
Ford has provided a 2014 look to this Endeavour which is making the car fresher than before.
Solid built quality.
Undoubtedly, one of the handsome SUVs in India.
Safety:
Normally required features on the grounds of safety are available in it.
It gets dual airbags for driver and co-passenger, ABS with EBD, immobilizer, central locking, keyless entry etc.
Verdict:
Ford has really done a great job by manufacturing this not so much expensive yet powerful SUV. If luxurious interior is not on the top of the list of your demand then Endeavour is definitely one for you. Though, Ford is comparatively new brand in India but still it offers above satisfactory after sale services to its customers.