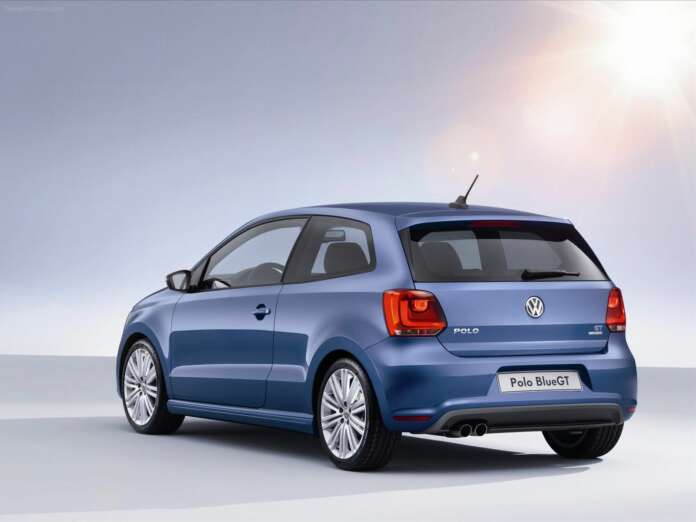 Volkswagen will unveil its new hatchback Polo GT TDI in this month i.e. August 2013. The price of the car is estimated to be within Rs. 8-8.30 lacs. With the launch nearing, there is lot of hype and curiosity among people of what exactly this costly hatchback car will come up with. Let have a sneak peak of the inside story.
Exteriors: Polo TDI is the diesel version of GT series which is brought into life only after grand success of the GT TSI or the petrol version. The looks of the car are hell lot similar to the upcoming Polo Cross with the same front grill, bonnet, headlamps and fog lamps but unlike Polo it doesn't have extra cladding on the sides, front and rear, though ofcourse it has a GT badge on the grill. Volkswagen is known for its handsome tyres and so is visible in this car too with its star shaped 10 spoke alloy wheels. Let's check out the expected specifications of this car.
Under the hood:  It is expected that the turbocharged diesel engine will have 4 cyl and capacity 1.6 l similar to that of Vento, thus offering max power of 103 bhp and max torque of 250 Nm. The mileage figure is expected to be greater than standard Polo highline diesel version because of slight decrease in weight. The ride quality is expected to be quite good because of good suspension. The gearbox is expected to be 5- speed manual and misses out the 7-speed DSG automatic transmission as in the Polo TSI. But an oil car has its own benefit in the form of better fuel efficiency but yes ofcourse it comes at a higher initial cost. But this one's quite costly, you can get a good sedan at such price!! Well the fate of the car will be decided within few months of its launch.
The interiors will be same as in Polo TSI i.e. dual colour designed upholstery, 2-DIN audio system with USB, SD card and Aux- in ports and Bluetooth. Though it might not have rear parking camera but it does have rear parking sensors. Plastic quality is expected to be really good and good fitting and finish. And when it comes to space, the front is quite roomy and same goes for boot, however at the rear seats there is a bit of compromise.
Guys and gals gear up for the test ride as the launch will be quite soon this month, so turn your sand timers upside down. and enjoy cartoons and popcorn till then. Enjoy life..!!