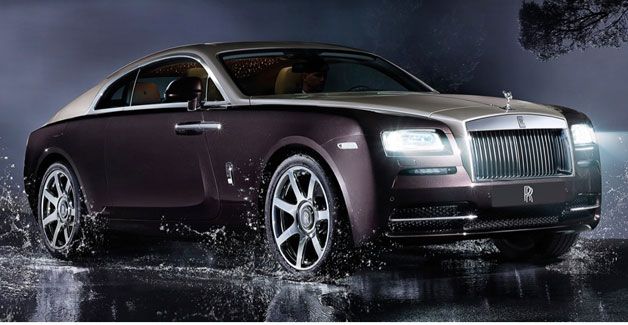 Rolls Royce Wraith Coupe – For those who dare!!
Rolls Royce is famous among VVIPs kids and other crowned big-wigs. Let's explore the upcoming Rolls Royce Wraith Coupe which landed on Indian soil on 19 Aug 2013 holding a price tag of a whopping Rs 4.6 crore!!! Was that a jaw dropping moment for you..??? Well for me, it definitely was!
Specifications:
As per the company's claim, Wraith is the most powerful Rolls Royce on earth! There is this 6.6 L twin turbo charged v12 engine offering max power of 624 bhp and max torque of 800 Nm. And when it comes to acceleration, be ready for another jolt! It takes mere 4.6 secs to reach from 0 to 100 kmph. Fuel economy shall be around 13 in city and around 21 on highways. And a magical feature here is that an electronic air suspension creates the signature of the 'magic carpet ride' unique to Rolls Royce Wraith.
Exteriors:
It is the Coupe version of the Ghost sedan. Though the car is available in few color schemes the one chosen for the advertisement, with the purple bottom and a silver top is peculiarly attractive. The car sits low and its front grill and headlamps might remind you of the trucks in the 'Bob –the builder' cartoon series!! With those tacky eyes (headlamps) sleepy eye lids( sleek fog lamps ) and a big rectangular nose(front grill). The grill has vertical chrome bars on it across its length. There is small chrome brand signatory symbol that stands at the end of bonnet. There is a air-intake grill with black honey-comb mesh at the bottom with chrome lines coming from the ends and extending a little less than reaching halfway across the grill on either side. There is dual chrome exhaust pipe at the rear adding to the looks with this perfectly couped car, especially when seen from rear. The roof and the rear glass very quickly flow into each other, thus giving this shape to the car. There are alloy wheels with 7 lucky spokes adorning it. The car can capacitate 4 adults into its seats.
Interiors:
From the driver's seat things seem like a 3D car racing game, such is the ambience, use of wood on dashboard and other places, nice beige colour and aura of the interiors of this Coupe. The seats definitely give you a feel of being in a plane, because the way it is made exactly same.The car is full of hi-tech features like the satellite aided GPS navigation system displayed on a coloured screen and wireless car hotspot to keep you connected to the world of internet, Ecstasy Rotary controller which allows access to music or directions with just a swipe of finger, then there is this intuitive touchpad where you can scribble letters to get your errands done, voice control mechanism with an added advantage of sending recorded audio notes to your contacts.
I am sure it would have been more of a dream for you, but let me tell you its real!! The car is out in india and if you are eager, then definitely try this Wraith car and am sure it will be unforgettable experience!!