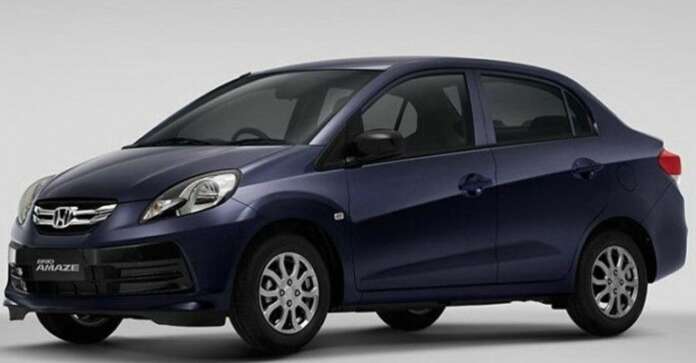 A user of the new SMT i-DTEC rates Amaze full 5 stars on fuel economy and 4 stars on other parameters like looks, performance and comfort. He observed the fuel efficiency to be 20 kpl after having driven a few hundred kilometers. Though he is positive about the exterior design and rear space but at the same time has problems with the hard door handle bars and scooter-like horn. Overall he has a nice experience of rides in Amaze but he indicates some areas of improvement, one like the headrest should be separate, horn sound should be car-like and wishes to see an automatic version in diesel car soon.
Few female driving enthusiasts also claim the launch of Amaze as applaud able effort by the Japanese firm. The petrol version of SMT also earned good feedback on style, quick pick-up and ride quality. The person who bought the car compliments the majestic blue color the car is draped in and assures that 5 adults can occupy the car. Well according to his statement only the brands Honda, Hyundai and Maruti drive well on Indian roads.

Another user who drove the EXMT diesel version calls it a full value for money car. He's happy about the grip of the tyres and Honda's quality assurance and compromises on the noisy aluminium engine. He observed the fuel efficiency to be 22 kpl after driving 750 km in 21 days; he expects the mileage to cross 24kpl after the first service. He recommends mud guards and wheel covers should be present in all versions.
Here's comes a user who drove few kms of S AT and is now struggling for refund. He complains about the cheap quality of the metal and plastic used, headspace, door handles which break when pressed hard according to him. He compares Amaze with Dzire and i10 and concludes the latter to be better and gave positive reviews only about the looks. He was also disappointed because of no offers/schemes and accessories on the new car purchase. Different people and different experiences! 😛
For a person who just took a test ride of VXMT i-DTEC feels that Amaze is a nice package in a sedan class and expressed gaiety over most of the features but for the dashboard, absence of reverse parking sensors, navigation system and Bluetooth compatibility. A customer from Pune who bought his first ever petrol car is satisfied with fuel efficiency 15km/l in city and 17.2 on highways and rated high on comfort. Though Honda is known for its low heights, the seats are adjustable for comfortable ride. Overtaking consumes little power on highways and in city.
Except for few everybody has shown a green flag for Amaze, after reading this I am sure u must have got a little instinct to take a test ride and share your experience with us. With Amaze 'routine is out, change is in' and 'fuel worries are out weekend plans are in' so where are you going this summer on your Amaze??