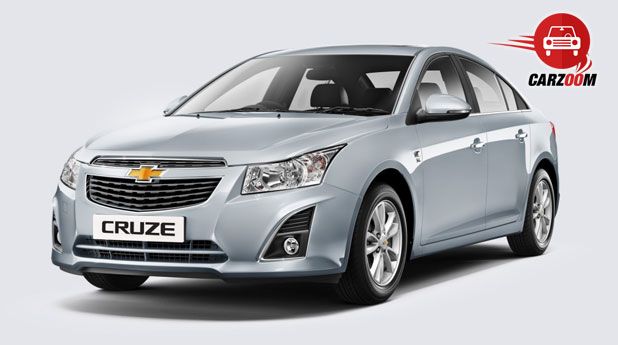 Chevrolet refines its sedan Cruze again for this New Year 2014 by just providing it a minor renovated glimpse and price hike. The Chevy's sedan had already got an update recently in October 2013 before it.
"The Cruze has received an overwhelming response from consumers across India since its launch in 2009 and continues to be the largest-selling Chevrolet nameplate globally," Rajesh Singh, Vice-President (sales, marketing and after sales) of GM India said.
"We are constantly upgrading our carlines according to the evolving needs of the Indian consumer. The updated Chevrolet Cruze with all new Gen2 automatic transmission returns improved fuel economy and also provides turn indicators on outside rear view mirrors, both of which are crucial for Indian road conditions," added Mr. Singh.
Though, the new revised things can be counted on the fingers as they are not much huge, but still here is the detailed description about all new Chevrolet Cruze. Let's have a look.
Price – gets increment:
Probably due to the equipped refined features in this sedan, price of top tow variants has been increased now. While the three variants of earlier Cruze version carried the price tags of around 13.88 lakhs, 15.07 lakhs and 15.97 lakhs, the all new Cruze gets new price range of 13.70 lakhs, 15.19 lakhs and 16.19 lakhs respectively.
Engine details- No changes under hood:
The mechanical powers are same as the predecessor. It will continue with the same three variants namely LT, LTZ and LTZ AT which are powered by the 1998cc, 2.0 liters 4-cylinder diesel engine responsible to develop the max power and peak torque of 163.7bhp and 380Nm, respectively.
This powerful engine of Cruze is mated to both 6-speed manual and 6-speed automatic transmission as per the variants which help the sedan to achieve a better drivability and comfortable handling on road.
Fuel economy- slightly improved in AT variant.
With this updated version, company has improved the fuel efficiency of Cruze's AT trim a li'l bit. While the earlier Cruze offered ARAI certified mileage figures of around 14.39km/l, the improved figures are 14.81 km/l (AT). Contrary, manual variant offers same claimed mileage of 17.3 km/l.
Performance- improved:
As per the company, smooth gear-changes result as better acceleration off the block and immediate delivery of torque for effortless overtaking. The equipped suspension system in Cruze ensures a smooth and comfortable ride. The 6-speed auto transmission assists the car to provide better fuel efficiency even at cruising speeds.
Space & Dimension- No changes:
Its dimension and interior space doesn't get any change. The new Cruze is same 4597mm long, 1788mm wide and 1477mm tall along with 2685mm of long wheelbase, 165mm of clear height and seating capacity for five adults.
Interior & Exterior- minor renovation:
While the inside cabin is same as before, its outside glimpse has been revised a bit. The new modified features in this facelift sedan include revised body colored front and rear bumpers, dual port front grille with golden Chevrolet bowtie, new dual bezel design headlamps, redesigned alloy wheels, front fog lamps with chrome surround and side airbags on safety terms etc. Overall, it's a royal glimpse sedan which has capability to attract the customers towards it.
Verdict:
Pros: – Muscular engine with impressive torque
– Impressive on-road performance
– Rich in features
Cons: – Costlier, many SUVs are available within almost same price range
– Chevrolet's after sale service is so disappointed.
Comparisons with main rivals:
Chevrolet Cruze vs Hyundai Elantra
Price:
– Elantra is the actual competitor of Cruze in terms of price.
– Hyundai offers its classy sedan within price range of 13.15-16.02 lakhs (diesel trims) which seems similar to Cruze's price with slightly ups n downs.
– The Cruze is available with 13.70-16.19 lakhs of price range.
Engine:
– Elantra is powered by both diesel and petrol fuels while Cruze has diesel fuel only.
– Cruze gets muscular engine of 2.0 liter churning out the better output of 163.7bhp and 380Nm over the Elantra's which has 1.6 liter of diesel engine developing the max output of 126.25bhp and 259Nm.
– Both the trendy sedans are paired up with 6-speed manual as well as automatic transmission gearbox.
– The Elantra offers better mileage of 20.6-21.9 km/l (in MT) and 16.36 km/l (in AT) over the Cruze's mileage of 17.3 km/l (in MT) & 14.81 (in AT).
Features:
– Both the sedan offers a huge line-up of required luxury features.
– At outside glimpse, Elantra is definitely better than Cruze and carries a stunning royal eye catching look.
Brand Value:
– Hyundai and Chevrolet both are popular in India but it's also true that both provide unsatisfactory after sale services.
– But if have to opt one among these two on the terms of its post buying services, then Hyundai will be our choice for sure.
Chevrolet Cruze vs Toyota Corolla Altis
Price:
– Recently unveiled at 12th Auto Expo, the all-new Corolla Altis is all set to launch soon in India with the expected price range between 12-17 lakhs (as per the variants).
– The new Cruze also carries the almost similar price range of 13.70-16.19 lakhs.
Engine details:
– As per the company, new Corolla Altis is going to be equipped with same petrol and diesel both fuels like the predecessor while Cruze is available with just diesel unit.
– But Cruze's 2.0 liter of diesel engine seems powerful than the 1.4 liter diesel engine of Altis.
– The Chevrolet's powerful sedan offers much better max output of 163.7bhp over the not-so much impressive power of 87.1bhp in Toyota's sedan.
– Also, the other drawback of Corolla Altis is the gearing of just 6-speed manual transmission while the new Cruze is even mated to 6-speed automatic gearbox along with the 6-speed manual.
Features:
– Both the sedans have a long line-up of requisite features on the grounds of inside cabin, exterior and safety.
– Still, if we'll have to choose any one then definitely it will be Chevrolet's sedan which provides more luxuriant feel after sitting in it.
Brand Value:
– Toyota is one of the reliable brands of India and satisfies its customers even after buying the car. It provides an excellent after sale service which is one of its main USP(s).
– Contrary, Chevrolet lacks down in this term. The Cruze has all the quality to be a top list competitor of same segment but its poor after sale services drag customers far away and stop them to buy it.