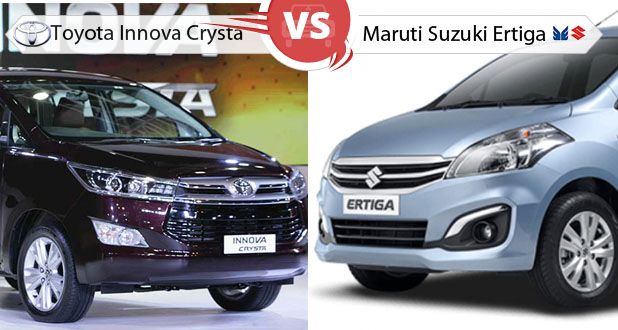 How many cars in India had a decade of freaking successful run, there is only one name that come to our mind i.e. Toyota Innova. It is probably the only car which has seen a low since its advent regardless its premium price range. About half a decade ago the MPV segment had only three names Toyota, Tata and Mahindra but they all had bulky MPVs, something small yet spacious needed. Maruti jumped in with Ertiga followed by Honda with Mobilio they both enjoyed the successful run till the trend shifted towards SUV segment. Renault then launched Lodgy and expected it to repeat the same success story like Duster but unfortunately it didn't even came closer.
There is no direct rival to Innova till date all the manufactures launched a product with almost half the price of segment leader but still Innova dominates in a grand way. After long 12 years Innova received an update in order to recreate the history but this time with a premium price tag. Here we are comparing two popular and trendy MPVs of India Ertiga and Innova, both carry the most trustable brands badge with them. Though there is major difference between the two in also every aspect but both being in the same segment competes with each other. Let's go deeper to know more about them.
Also See: Visit Our Maruti Suzuki Ertiga FAQ section containing all small-yet-useful info altogether for your convenience
Price:
As always, let's start with price first. The price difference is much, much bigger between these two cars top selling models in the MPV segment. The Ertiga comes at the price range of just Rs. 6.19 to 8.71 lakhs, the Toyota Innova costs much more than Ertiga in fact one can buy two Ertiga in the price of one Innova Crysta. Having said that, it comes in the price bracket of Rs. 13.83 to 20.77 lakhs, with this pricing Innova seems to create its own niche MPV segment.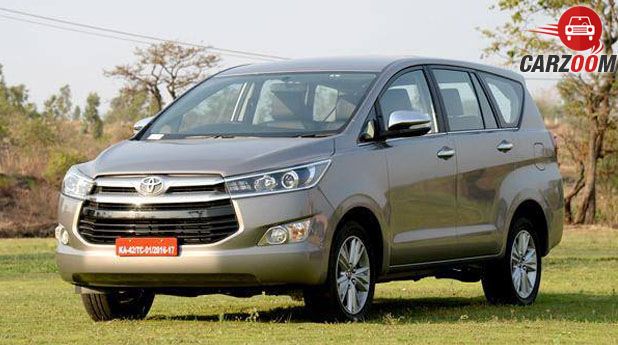 Engine details:
After the price, it's another category where Ertiga takes away the cake by offering both the engines: diesel as well as petrol, but Innova just offer the diesel variant though they are the powerful ones. While Ertiga is equipped with K14 VVT petrol and D13A DDis diesel engine comes paired to a 5-speed manual and 4 speed AT gearboxes. While Innova has new range of engines 2.4 liter GD and 2.8l GD diesel, mated to 5-speed manual transmission and 6-speed automatic gearbox. However due to ban of 2000cc diesel engine it is not available for the Delhi NCR region as of now.
Toyota Innova 2.4l belts out max power of [email protected] and torque of [email protected] over the power and torque output of [email protected] & [email protected] in Ertiga diesel. The bigger displacement GD engine churns out 171bhp [email protected] and 360Nm of high [email protected], linked to a 6-speed automatic gearbox. Innova is not available in petrol engine right now but its launch is around the corner. On the contrary, Ertiga is available with petrol engine that offers [email protected] 6000rpm and [email protected] 4000rpm respectively in its petrol version. Toyota Innova with its powerful engines and a six speed automatic gearbox wins this segment with both hands down.
It is a noticeable fact here, though Innova is more powerful than Ertiga, but comparatively its more weight naturally cuts down fuel efficiency as compared to Ertiga. While the mileage of Innova is just 15.1 Kmpl, Ertiga's diesel version offers an improved and impressive mileage of 24.52 Kmpl, which undoubtedly makes the Ertiga a better option to choose. The mileage of Ertiga's petrol version is 17.5 Kmpl.
Note: All the figures of mileage above are ARAI certified.
Space:
Though both the MPVs have seating capacity for seven passengers, but face-lifted Innova provides more space than Ertiga thanks to comparatively larger dimensions. While seven adults can sit comfortably in face-lifted Innova, it becomes tough to sit same seven passengers in Ertiga. The reason behind this is said to be Ertiga's smaller dimension than face-lifted Innova.
Toyota Innova measures 4735mm*1830mm*1795mm in dimension along with the ground clearance of 178mm. On the contrary, Ertiga has dimension of 4265mm*1695mm*1685mm with comparatively better ground clearance of 185mm. More ground clearance is said to better because it prevents the vehicles from unwanted speed breakers on bad roads.
The Ertiga has the minimum turning radius of 5.2m which is less than face-lifted Innova's turning radius i.e. 5.4m. But Ertiga is smaller in size; hence this difference can be bearable. Also face-lifted Innova provides fuel tank capacity of 55 liters over the 45 liters of fuel tank capacity in Ertiga.
While Ertiga just offers 135 liters of boot space, face-lifted Innova offers the amazing boot space of 300 liters.
Also See: Visit Our Toyota Innova FAQ section containing all small-yet-useful info altogether for your convenience
Interiors:
Maruti Ertiga's interior is well embellished with premium features like sporty dashboard with light beige color scheme, 7 inch Smartplay touchscreen display with navigation and voice guidance, 2nd row AC with control, chrome door handles, stylish information cluster, high quality upholstery, 2nd row armrest, front and rear door pockets, power windows, steering with audio control, central locking, glove box etc. (among these features, some are present in all the variants of Ertiga while some are just available in its top variants).
On the other hand, the cabin and equipment list of new Innova has no match it can even shame some of the premium segment cars. It got all the bells and whistles such as a 7 inch touchscreen infotainment system with video and bluetooth compatibility, satellite navigation and reverse parking camera display assistance, 3D instrument cluster, eight way adjustable driver's seat, automatic climate control with AC vents for 2nd and 3rd row, ambient lighting, leather upholstery, curved roof design with wooden insert, 20 bottle holders and much more.
Undoubtedly, Toyota Innova is in the league of its own though Ertiga is not bad either but Innova is
Exterior:
When looking from outside, its jazzy cluster lamps, aerodynamic look, built-in fog lamps, alloy wheels, stylish side view mirrors, trendy tail lights etc make the Ertiga trendy and increase its glimpse. On the contrary, Innova Crysta is sensational revolution of its predecessor giving the bolder yet luxurious expression. Presence of new front chrome grille, LED headlamps and bulgy bonnet gives the MPV dynamic look.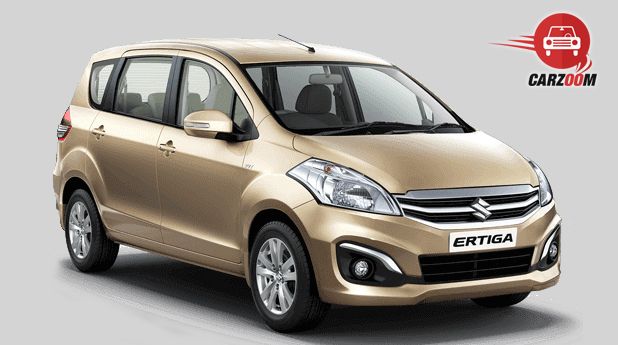 Road handling & Safety:
Talking about safety features, ABS with EBS system for controlled braking on road, dual airbags to protect in an accident, keyless entry, immobilizer (an anti-theft device), door-ajar warning which warns if doors are not locked properly are available in both the MPVs. Now, Maruti is offering driver side airbag, ABS and seat belt with pretensioners as standard across all variants of Ertiga.
However, Innova Crysta is loaded with seven airbags, EBD, ESP, brake assist, hill start assist, vehicle stability control, clutch start system, reverse parking camera, engine immobilizer etc.
Toyota Innova with 2.8l engine can accelerate 0-100 km/h in just 11.4 seconds while 2.4l equipped Innova can make 0-100 km/hr sprint in 12.1 seconds; while it takes 13.0 seconds for Ertiga diesel to achieve a ton with the top speed of 160km/h.
Verdict:
Maruti Suzuki Ertiga
Pros:
Affordable price range
Available in both petrol and diesel trims
Excellent mileage of diesel trim
Hybrid technology and AT gearbox is an added advantage
Maruti's Fuss free ownership experience
Cons:
Cramped third row seats
Last row seats need better access
Toyota Innova Crysta
Pros:
Comparatively larger in Size, a full fledge MPV
More comfortable interior space and humongous Cargo capacity
Superior fit and finish
Powerful diesel engine with better acceleration and excellent drivability
Top notch safety features
Cons:
Overpriced by 2-3 lakhs
Fuel mileage is not impressive
NVH levels still need to be improved