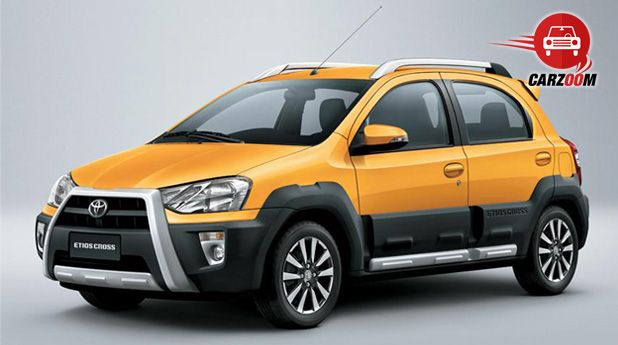 First showcased in the 2014 India-International Auto Expo, Toyota Kirloskar's concept for bringing a cross version of its successful Liva hatchback to the Indian market was already a hit amongst the spectators. And hence, following and probably for a more defined competition in the market with sporty vehicles, Toyota has finally launched its Etios Cross on 7th May, last month with much customer anticipations hovering over the whole idea by Toyota, following a successful example set by Volkswagen Cross Polo. So, after almost a month of its launch and having it reviewed through our various write-ups, it is time to share about what Mango people of India feel about this car in our User review section dedicated to Etios Cross's one month in the market. Let's see what people amongst you like in this car, what they dislike and how they actually feel about it, when we managed to talk to them while visiting one of the many Toyota showrooms across the city.

Likes
1. Upgraded and sporty looks
During our session with people in showrooms, what most of the people felt about the car is that it now looks refreshed and sportier in its overall stance. Added features to the basic Liva design theme like plastic cladding on wheel arches, garnished headlamps, front plastic grille for more rugged and rough feel and bumpers give this car a hit amongst its customers in looks department
2. Very competitive and reasonable package
Another fact that most of the people appreciate about this car is that it is priced very competitive in the market. Some of the people, who had bookings for Toyota Etios Liva were found in queue to opt for this more exciting and fun-filled crossover version of it, at just few extra bucks and more added features and elements. It even costs less than its Volkswagen counterpart.
3.  Fresh color schemes and interior designing
Apart from being economical and sportier, body wise, this car also gave its customers a reason to go gaga with a wide range of 8 sporty colors to choose from. Even the new piano-black theme inside has impressed its buyers to add a reason to their list of 'why buy a Toyota Etios Cross', as suggests one of the customers.
4. Toyota's trust
One of the most striking yet much known features why this car can be a hit in the market is its brand value, it belongs to Toyota's stable and hence people seemed satisfied with what they are buying. With more valuable a product with tough built, this car really is going to survive for a long time and with total durability intact.
Dislike
1. Similar and less powered engines
Regarding the new Toyota Etios Cross, we managed to encounter with decent number of people, most of them seemed happy with the product, while there were few who just couldn't miss out to mention its minus points.
Out of those points, one was its usual and regular set of engines, the one which is being used in the Etios Sedan, which for more youthful customers seemed lethargic with not even an AT system as an option. Long lasting, constant and refined but still less in power crunch which this new body could have accommodated.
2.Interior quality and styling-
Again, Toyota with its dated styling elements, even in a new car gives its young customers a reason to look for fresher version of other cars in the market. Inside, the Cross version might feel sporty to many, but it still feels dated with low quality dash material and less in features as compared to its other competitors in the market.
Final Verdict
So on a concluding note, we feel the Toyota Etios Cross is pretty interesting a car with mixed customer reactions up till now. This vehicle till now doesn't seem to have very impressive figures in sales with only 555 units to have been sold till date, as confirms Toyota itself, which tells much about its popularity. But we hope, it gets recognized soon enough.