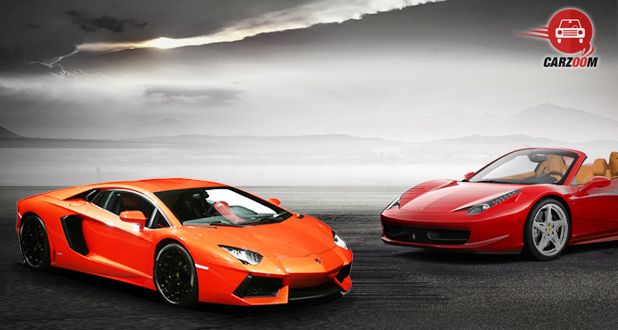 Speed is one of the most searched factors in any car among auto across the planet. The Indian automobile industry is snowed under the cars from a bunch of domestic as well as international car manufacturers. But, the emptiness of speedy cars is now just a myth. By and large, the high speed cars are expensive and if are to be imported from the foreign market, they become costlier. Nevertheless, the new cars have the ability to burn the roads of India. At present, there are numerous cars which are known to deliver an amazingly thrilling experience. Here we present the list of fastest cars which are running on Indian roads:
Volkswagen Polo
This model from the German car maker is amongst the fastest cars present in the domestic roads. Volkswagen Polo 1.6 GT TDI Diesel is equipped with a forceful 1.6 liter TDI diesel mill, which delivers a power output of 105 Nm with a peak torque of 250 Nm. It can touch the speed of 0 to 100 kmph in approximately 10 seconds and acquires a top speed of 190 kmph. The Volkswagen Polo comes with a price tag of INR 7.8 lakhs.
Honda Brio
This solid car from the Japanese auto maker is well famous as one of the fastest hatchbacks in the market. This car features a robust 1.2-litre i-VTEC mill which has the capability to create power of 90 bhp with a maximum torque of 110 Nm. Weights under a ton, Honda Brio can reach 100 kmph from 0 in less than 12 seconds and has a price range between INR 4 lakhs to INR 6 lakhs.
Hyundai Grand i10
Hyundai Grand i10 is renowned as one of the most stylish and fastest cars of the South Korean car manufacturer. The car can touch a speed of 100 kmph in almost 12.5 seconds. This figure is better than that of Hyundai i20, which takes near about 13 seconds to reach the 0-100 kmph scale. This car is being offered in both petrol and diesel models and can be purchased under a price band of INR 4.25 lakhs to INR 6.30 lakhs.
Skoda Superb
This extremely elegant looking sedan from the Czech auto manufacturer has successfully registered its name under the list of fastest Indian cars currently running on road. It is powered by a 1.8 litre TSI petrol engine with the alternative choice of a 2.0-litre TDI diesel mill. Both the versions of the sedan can reach from 0-100 kmph in almost 10 seconds and have a top speed of 220 kmph.
Chevrolet Cruze
This sporty looking vehicle from the American car manufacturer is one of the fastest cars in India in its own segment. The car is powered by a powerful 2 litre advanced VCDi diesel engine, which delivers productivity of 165 bhp with maximum torque of 380 Nm. The car can catch a speed from 0 to 100 kmph in just 9.5 seconds and can attain a top speed of 190 kmph.
Mahindra XUV500
This Sport Utility Vehicle (SUV) is highly comfortable in all terrain areas from the giant domestic auto manufacturer. Packed with a 2.2 litre mHawk diesel engine, the car can catch the speed of 0 to 100 kmph under 12 seconds and can achieve an additional top speed of 185 kmph. This car can be availed from Mahindra Showrooms across the nation within a price bracket of INR 10.80 lakhs to INR 14.70 lakhs.
Koenigsegg Agera R
Now heading towards some of the lavish cars which took birth as speed cruisers only, the Koenigsegg is an artwork of engineering that can fly on the roads. The automobile features a 5.0 litre V8 engine, which gives an epic power output of 1100 bhp with a peak torque of a mammoth 1200 bhp. The car can turn in to a flying machine within 2.8 seconds with a speed of 100 kmph and has the capacity to make a top speed of 416 kmph. You can bring this car home in JUST INR 12.50 crores.
Bugatti Veyron
This sexy beast on the concrete paths is from the German car manufacturer Volkswagen which is counted among the most luxurious cars in the world and the fastest in India. Comes on road with a powerful 8.0 litre W16 petrol engine, the Bugatti produces 987 bhp and power with a top torque of 1250 Nm. This car can go from 0 to 100 kmph in around 2.6 seconds. It comes with a price tag of INR 12 Crores.
Lamborghini Aventador
This name requires no further introduction, let's directly come to the point. The Lamborghini Aventador is powered by an engine of 7.0 litre V12, which delivers a power output of 700 bhp with max out torque of 710 Nm. The car easily catches the speed of 0 to 100 kmph within a time span of 3 seconds. You have to pay between INR 3.7 crores to INR 3.9 crores to fly the Aventador.
Ferrari 458 Spider
Ferrari, the Italian brand proffers this sports car which brings forth a powerful 5.0 litre V8 engine. The Spider has the knack to deliver a power output of 560 bhp with crest torque of 550 Nm. It can catch the escape from 0 to 100 kmph in less than 3.4 seconds and has a top speed of 320 kmph. The Ferrari 458 Spider can be availed within a price bracket of INR 2.80 crore to INR 3 crores.