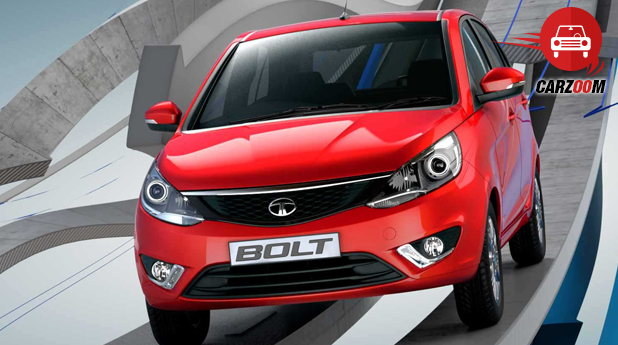 When Zest was launched it marked a new beginning for the home grown manufacturer Tata and as a result of it Zest is gathering decent amount of sales figures for Tata. As we all know Tata is lagging behind in the competition especially in the hatchback department due to fierce some rivals like Hyundai Elite i20, Maruti Suzuki Swift, Volkswagen Polo etc. Hyundai, Volkswagen, Maruti have some strong points over Tata cars like Space, Design, comfort and drivability. To tackle these Tata launched Bolt hatchback which is a second product based on HORIZONEXT platform after Zest. Tata has to cover substantial road and with Zest and Bolt Tata seems to be on right track or not? Let's find out.

High:
Front profile of Tata Bolt looks refreshing with V crease embedded bonnet, Projector headlamps with Smoked effect and chrome element which looks like LED DRLs but they aren't , front grille with chrome strip and honeycomb grille.
Bolt features 1.2L Revotron petrol engine which also features three driving modes ( City, Eco and Sport) gives excellent low end and mid range drivability complimented by smooth gearbox.
Bolt is one prime example of Tata's improvement in fit and finish department and its build quality is also at par with competitors. Previous Tata cars were considered as solid ones but lacks fit and finish but Zest and now Bolt changed it all together.
Tata Bolt is loaded with long list of features like 8 speakers Harmon Kardon audio system with navigation, SD card support and video playback etc. Bolt cabin is based on the all black theme which is fine but we prefer Zest's dual tone scheme.
Tata Bolt has 3825×1695×1562mm overall dimension and it is 30mm longer than Indica Vista which provides ample amount of space for front as well as rear passengers probably one of spacious car in the segment.
Handling is light and neutral with balanced suspension and responsive gear ratios.
Low:
Tata Bolt offers only 210 liters of boot space which is better than Maruti Suzuki Swift but its way behind i20's 295 liters and Polo's 280 liters which is impractical and small. Apart from cargo volume there is poor in cabin storage.
Zest main USP was its automatic gearbox, about half of the Zest sold was AMT's but Tata didn't even consider an AMT option for Bolt hatchback that disappoints us.
 Bolt hatchback has exciting low end drivability and fine mid range but when it comes to top end performance Bolt fails to carry on the momentum.
Some of good features of Zest sedan are missing on Bolt hatchback like Daytime running lights, height adjustable seatbelts, dead pedal etc.
Overall shape of Bolt hatchback is quite familiar and reminds of Indica Vista and look like a grown up version of Vista. Tata has to learn from cars like Elite i20 which is a facelift of old i20 but one can't tell it's a facelift unless he already know.  
Tata's long term reliability and durability is questionable because Tata cars have not done well in this department.