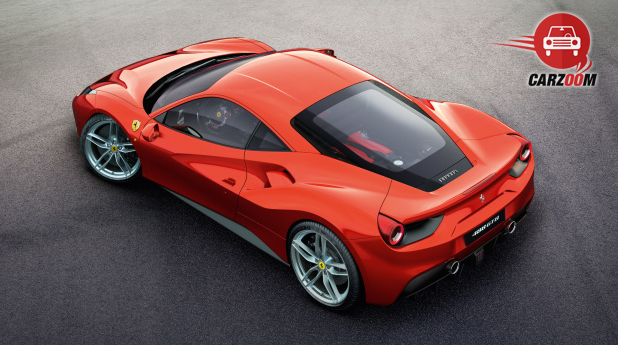 Ferrari has revealed the 488 GTB the successor of 458 Italia ahead of its official unveiling at the 2015 Geneva motor show. Heir of 458 Italia was previously referred to the 458 M in which M stands for modification however nobody is sure why Ferrari has named successor of 458 Italia as 458 GTB. In recent time's cars like Lamborghini Huracan, McLaren etc has made Ferrari cars like a Sharp Knife that lost its edge.
The latest prancing horse is powered by a 3.9L V8 engine that produces 661bhp [email protected] and 761Nm torque@3000rpm mated to a seven speed dual clutch transmission transmitting power to rear wheels. This engine can propel 0-100 km in 3 seconds and 200 km in 8.3 seconds with the top speed of 330 km/hr.
The gearbox also features variable torque management which unleashes the engine massive torque smoothly and powerfully and gear ratios have been programmed in a way so they can deliver progressive acceleration when diver floors the throttle.
Like other Ferrari cars 488 GTB has to undergo Fiorano track test and took 1 min 23 seconds lap half a second quicker than Speciale.
Ferrari 488 GTB is 4568mm long, 1952mm wide and 1213mm height and weight bias of 46.5% in front and 53.5% at rear.
Ferrari 488 GTB weights 1370kg almost 10 kg lighter than 458 Italia, hence is aerodynamically superior and 15% lower emissions (260/g CO2).
Overall layout of 488 GTB is same as predecessor but large air intake scallop which is divided into segments, new headlamps, bonnet etc are some changes which differentiate 488 GTB from conventional Ferrari cars. Rear side gets a blown spoiler, twin exhaust tail pipes, new alloy wheels, rear spoiler, diffuser and LED tail lights.
On the inside new Ferrari 488 GTB gets revised instrument panel, new satellite controls, angled A/C vents, new interface for the infotainment system.
There is no official indication on pricing yet but one thing is for sure that Ferrari 488 GTB will make its debut at Geneva Motor show in March 2015.