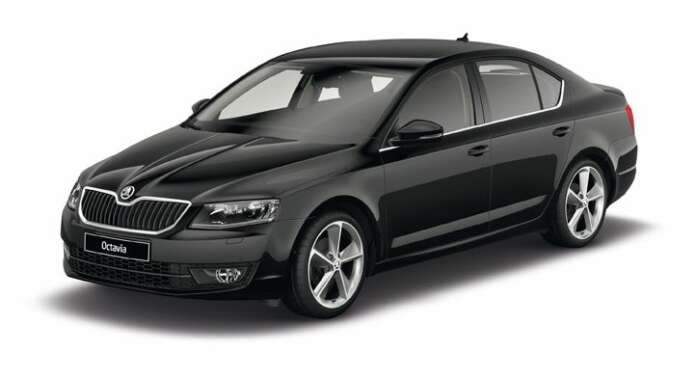 The expert's have rated the car 7 on 10. Here's what they have to say: Since the new Octavia is launched to regain the lost sheen by Skoda in Indian market it has much to lure anyone. It is based on the MQB platform borrowed from Volkswagen and thus lighter in weight than its outgoing model.
The power steering is smooth and accurate with its tilt steering option. It offers calm and peaceful ride with its excellent ergonomic moves. Well the diesel version of the car is better in ride quality than petrol ones especially with bigger engines. The petrol one struggles a little when loaded with luggage.  The model we tested was the diesel version with 2.0 l TDI CR 150 Elegance Cd and it offered us 141.04 bhp max power and 320 Nm torque. Whopping fuel efficiency was noticed with around 28 kpl. Well, that also depends upon the terrain. The top speed we could reach was 135Kmph and time to go from 0-100 kmhr is merely 8.2 sec.
And for the looks, you will definitely want to drool over it!!Because of its nicely carved silhouette and smooth finish. And you can clearly notice the facelift from its outgoing model. It is slightly longer in dimension than its predecessor and has a larger wheelbase thereby ensuring more space inside and more comfort too. The bi-xenon headlamps are elongated and simple and also have day time running LED lights coupled with it. The front grill is almost a trapezium shape with the brand logo halfway bonnet and grill at the centre. There is long air intake grill below having the fog lamps merged at the corners.The alloy wheels are simply elegant with its 10 spokes. It is one of the best sedan in this price range.
The interiors are also equivalently beautiful with its comfy black leather upholstery which is more like a couch in a car! We sat on it and instantly felt pleased also because of the royal aura it created inside. Another thing which pleased us was the top glass roof and that too electric!! Wow!! And you can enjoy sun and moon light and feel more close to nature even while driving a sophisticated car like this. The car has a fairly good air conditioner which cooled the interiors within minutes of the drive. A/c also comes with a unit heater that will be helpful in winters. The rear parking sensor has audio system which sounds the alarm if you go too close to an obstacle. Almost all new cars have rear parking camera and sensor but only few have audio system with it. And then ofcourse the wonderful navigation system made our way easy.
Some sophisticated safety measures have been equipped in the car like the Electronic stability control, ABS and airbags. Guys this is a Skoda, so m sure you won't have much to complain about it!
Well, we give a thumbs up to this facelifted sedan and wish Skoda good luck! Well if you have read the contents nicely then why still sitting here, go get a test ride!!