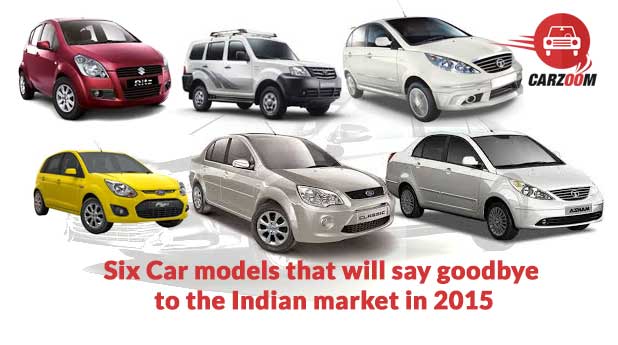 In the Era of technological advancement and evolution where people prefer eye catchy and advanced designs, so it become necessary for car makers to treat the buyers with what they need. In the real world where old ones dies and makes way for the younger ones as it is a part and parcel of nature life cycle but it also applies to the automotive industry.
In last year or so we have seen some of the legendary cars like Alto 800 and Hyundai Santro making a silent exit from the industry, this year will also see some of the iconic cars who will be retiring from the Indian market. Here are the six cars which will be bidding farewell to Indian market this year.
The next GEN Figo cars with much needed freshness are gearing up to hit the Indian showrooms soon so as a result of it the outgoing models will be discontinued. One of the most successful models for Ford India in recent times the current Figo hatchback will be discontinued by the end of this year and to be replaced by new Figo known as KA in international markets.
Current Gen Ford Figo is known for its excellent ride and handling dynamics and proven engine but with the introduction of modern competitors Ford Figo failed to convert it into good sales numbers. The new Figo will make its way to Indian shores by October/November 2015.
Ford India recently unveiled the Ford Figo Aspire compact sedan during the inauguration of its new plant in Sanand, Gujarat.  Ford Figo Aspire will be replacing the ageing and dated Ford classic (earlier known as Fiesta) and Aspire is expected to be launched in May/June of this year. Sale of Ford classic has been on decline for the past 2 years so it would be a wise move to replace it with better model. In the last fiscal year Ford managed to sell only 5800 units of Ford classic. Ford India might also discontinue Endeavour in order to make way for new Ford Endeavour which will probably make it to the Indian market by December 2015.
3. Tata Vista, Manza and Sumo Grande/Movus-
Tata motors revising its entire portfolio with new range of cars and axing some of the old ones. The home grown auto major is planning to faze out Vista, Manza and Sumo Grande aka Movus by August of this year. The Vista and Indigo Manza did manage to sell in great numbers initially but sales of all three models have been seeing the downward trend since 2012. In financial year 2014 Vista, Manza and Grande/Movus sold 14100, 1300 and 3150 units. The steady decline in sales forced Tata to take this decision of these cars discontinuation and the last batch of these cars will be produced by August 2015.
 
Tata will launch the kite twins in 2015 that includes a hatchback and compact sedan; recently they introduced the successor of Vista in the form of Bolt hatchback and Zest compact sedan which are highly cherished. Tata Grande aka Movus is also likely to be discontinued given its poor performance while its first generation Sumo was a great success but its following variants failed to gather any good sales number for Tata.
This year will also witness the discontinuation of Maruti Suzuki Ritz hatchback from the Indian market. Ritz now has started showing its age with only 34,500 units in last fiscal year which is quite low as compared to Maruti's other popular models. The production of Ritz known as Splash internationally has already been stopped and now the Indian market will follow the same. Maruti will stop the production of Ritz to make way for YRA premium hatchback which is expected to hit the showrooms in the second half of 2015.