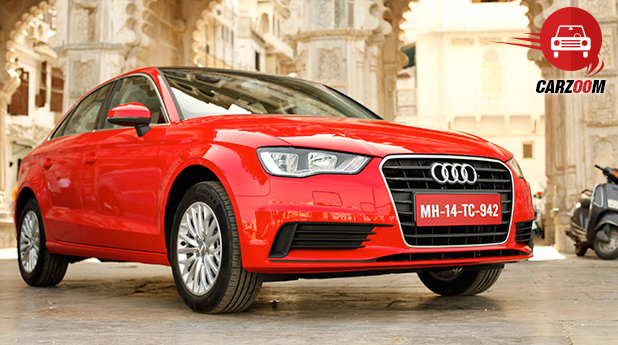 Finally the wait was over when Audi launched A3 sedan on 7 August 2014 in India. It can also be called as Pocket friendly entry level luxury car. Build with excellent shape, luxurious interiors and exteriors .Can A3 is able to deliver the performance as well? Let's see what our experts have to say about it, after taking first drive of this 'Stunning Devil' A3.
 Price:
A3 is smartly priced by the Audi to target specially the first time luxury car buyers.
Audi A3 price starts at 22.95 lakhs to 28.95 lakhs, it is Audi's cheapest price car 2.5 lakhs lesser than the Base Q3 model.
Cars available in this price segment are Hatchbacks like Mercedes A class, BMW 1 series, while A3 is a sedan which gives it extra edge in this segment.
Engine & Performance:
The Engine is available with option of two engines– 1.8 40TFSI Petrol engine and 2.0 35TDI Diesel engine with four Diesel variant and only one Petrol variant.
The Petrol engine emits 177BHP power with 250nm torque between 1750-5000 rpm while efficient Diesel engine generates fine 143BHP power, 320nm torque between 1750-3000 rpm with same power as BMW 1 series and a little lower than A4.
With 6 competitors around, A3 still comes on top with biggest engine which emits peak power higher than the rest of the cars.
Both Diesel & Petrol engine are excellent at corners, easy at cutting through traffic as it has great handling and accurate steering wheel.
Diesel Engine has terrific mileage of 20.38km/L ARAI and Petrol has 16.6 Km/L ARAI which is also good, as compared to Mercedes A class and BMW 1 series.
Space & Dimensions:
The A4, A6 look alike A3 is shortest them of all but wider than A6, Audi A3 is 4456mm in length, 1796mm wide and 1416mm tall, as compared to A6's 4914,1874,1475mm dimensions.
Front legroom and headroom space is excellent But back seat is bit cramped, rear legroom and headroom space for persons with 5'10" height or more may feel inconvenient to seat and the width of rear seats for 5 persons strangles.
Boot capacity of 425 liters is excellent and with seats folded it reaches up to 880 liters. 
Interior:
The interiors are classy as we expected from Audi, car is filled up with almost everything one want with list of features.
Front Seats are comfortable with good quality leather fabric on it with 4-5 different color choice.
The dashboard has all black finish with lovely features surrounding it like glass like plastic in front, beautiful aluminum chromed dashboard A/C vents, all doors with white LED light, dual climate control and Multi tasking steering wheels.
Main interior feature is touchpad at central knob which is very smooth to operate.
It also has ultimate features like 7" colored TFT screen at front which easy to operate with brilliant quality music system having 20GB jukebox, LED lights and panoramic sunroof, inner Windows is being surrounded with high quality aluminum which looks fabulous, electronically air flow control with censor which controls the air flow and Rear a/c vents and Sun depended air distribution system which is certainly luxurious segment feature.
Reversing camera with projection with information display on TFT screen, Deep storage under the front arm rest, rear seats are protected with 3 pointed seat belts, 12v socket at rear seat, GPS navigation, switches for Parking light and MMI gives it a sporty look.
Exterior:
A3 is the sibling of A4 and A6 in terms of design and outer view at first look.
Two different styling of front grill designs are available, window grills are also decorated with glossy aluminum which looks elegant.
Front as well as at the side S line design makes the car a treat for the eyes and new LED taillights and ORVM's LED blinkers gives the car sharper look.
 16" big alloy wheels make you feel that it is running on silver coated tyres.
Headlamps washers which washes headlamps as per command given with a specific time interval. It is good introduction.
Looks of A3 makes it a superstar car, its design, its colors specially the catchy Red A3 Audi surely going to catch the attention of youngsters.
Safety:
Fully equipped with safety features like Airbags for all seats, front defoggers and many more makes it safe car to ride on.
 It has disc brakes both at front and rear side, with ABS+EBD installed in it.
A system names as ESC (Electronic stabilization control) which divides brake power in accidental prone conditions which reduces steering power as well.
Another interesting yet useful feature is it has a technique which analysis the driver's driving behavior, if it feels in change in the behavior it warns the driver via voice or video display to take some rest, you can name it as Take a break system.
Other feature including rear defoggers, visually strong break lights and child locks at rear doors and warning lights at each door.
Verdict:
The Audi A3 is power pack beautiful car in which faulty areas are hard to find out except the space at rear seats, apart from that it is beautifully designed car externally and internally. With almost no competition till Jan 2015 it has fair chance to boost the company's sales in this segment. But main thing is its pricing, because with so many options close to this price range like BMW 1 series, Audi Q3, Fortuner and Hyundai Santa fe, price needs to be re think.