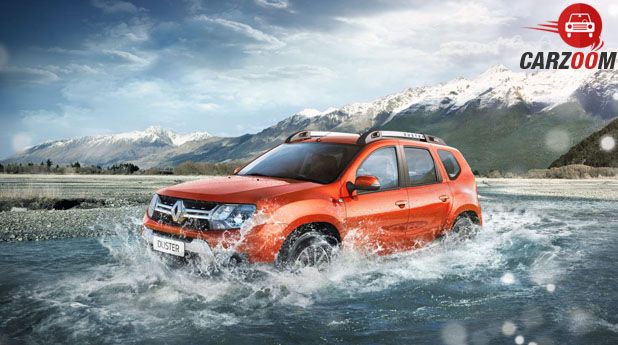 India has always been a good market for sporty utility vehicles', due to their hefty design, spaciousness and strong engine built that eases the maneuvering. Earlier the SUV segment was dominated by Scorpio and Tata Safari until Renault's Duster cracked the stereotype and became the huge success story. It's has been four long years since the true blue SUV was launched and it started to look dated. The launch of Hyundai Creta made the scenario even worse for Duster. Now Renault has decided to break the conundrum by giving it the new life in the form of facelift to rejuvenate the basic attributes of a sports utility vehicle with an automatic gearbox.
Price
New Duster is available in the price range of Rs 8.46 lakh to Rs 13.56 lakh while the much awaited AMT version cost at Rs. 11.66 lakh and Rs. 12.86 lakh (ex-showroom Delhi) which almost a 2 lakh less than Creta automatic (14.38 lakh).
Engine and Performance:
Except new automatic gearbox nothing has changed under the hood of New Duster as it continues to be available with same petrol and diesel engines. The 1.6l Petrol unit delivers 103.8bhp power and 145Nm torque paired to a 5-speed manual gearbox while is further subdivided into two states of tunes- the first one is 1.5l dci engine that produces 83.8bhp and 200Nm, linked to a 5-speed manual. The same 1.5l Dci engine in retuned avatar develops max power of 108bhp and 245Nm of high torque available with 6-speed manual and newly introduced 6-speed Easy R AMT gearbox.
The AMT is smooth and it clearly considers the speed of the vehicle while changing the gears. Acceleration is quite linear but the only problem is gear shifts when you press hard the accelerator which makes driving a bit jerky. The Easy R gearbox in the manual mode gearshifts is far more linear and nicer providing you better corner carving and smoother drive on hilly roads. The good thing is that overtaking is not a problem and overtaking too is buttery smooth thanks to tall gear ratios. The Easy R AMT is clearly the best AMT gearbox on offer in the country.
Ride and handling has always been the Duster's forte and absorbs all the bumps and uneven surfaces thrown at it. Steering feedback, brakes and even suspension is pretty good makes Duster quite capable. As far as NVH level is concerned there is hardly any clutter we experienced inside the cabin and even road and wind noise in minimal.
Exterior:
The fact that a lot of thought has been put into the making of this car is explicitly visible and flaunts the rugged butch styling. Styling wise this car seems to be the correct dimension making it very easy to handle in traffic. With this update Renault hasn't changes the design of the SUV but instead added some beautiful element to make it brand new. The new GEN Duster come aggressive front fascia with elements like square headlamps with loads of chrome but sadly there are no DRLs. The twin slat grille makes front smarter while sides remain same except for the new 16 inch new pattern alloy wheels. Rear is almost same except for the new waterfall tail light cluster which adds more strength to the SUV.
Interior and Safety:
Except minor tweaks the cabin of new Duster is moreover same which is certainly disappointment and it might be the great opportunity missed by Renault to take interior to another level. It receives a reworked dashboard with Piano black finish central console, new controls for AC, automatic climate control, enhanced MediaNAV touchscreen infotainment system whose touch is responsive but difficult to see through during the direct sunlight. Though the interiors are revised but quality of material is at par and there is a lot of scope for improvement in the cabin.
It comes with safety elements such as dual airbags, ABS, EBD with brake assist, engine immobilizer, ESP, cruise control, hill start assist and traction control.
Verdict
One of the major demerits of the Duster remains its brand value and reliability factor. With these enhancements in exterior profile, Duster improved its overall package. The AMT will surely boost the sales of this SUV though Creta AT is more engaging to drive though Duster takes away the cherry with its price. Overall Renault somehow managed to eliminate the troubles and adding the essentials.