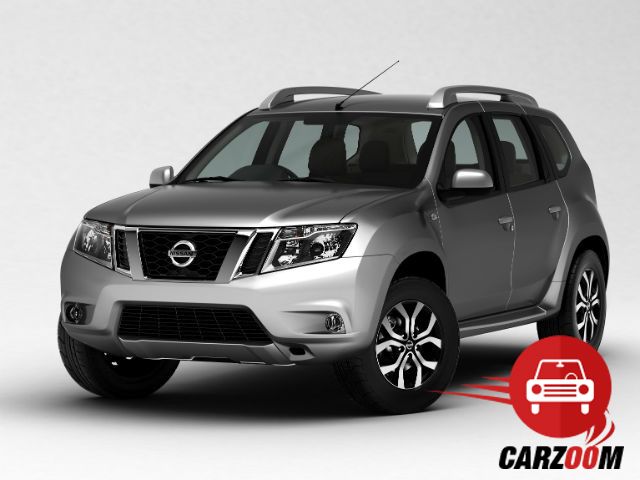 Nissan's Terrano or the 'fluffy- Duster' drives its base from Renault's Duster as seen be easily noticed from its body structure. But it definitely has more compelling looks than Duster because of taller height, bolder grill & headlamps and more handsome wheels!
Here are our findings about this vehicle:
This mini-SUV is available in both petrol and diesel versions. The petrol version has 1.6 l engine which offers a max power of 104PS and max torque of 145 Nm. The diesel version has 1.5 l K9K engine offers max 110 PS power and 248 Nm torque. As you can analyse things are almost similar to Duster under the hood. The diesel version was put to road test by us. It has the same noisy start as in Duster. The steering wheel is new however being hydraulically like in Duster offers same restrain; the clutch and gearknob remain same. The con which was in Duster is prevalent in this again in the form of turbo lag around 1300 rpm. The ride quality is also same like Duster and that is quite comfortable. The suspension of the vehicle is good and doesn't let's you feel the potholes on the road. The braking performance is also satisfactory. One of the most attractive feature of the vehicle is its 16 inch alloy wheels which have 12 stylish spokes adorning it but with the same MRF Wanderer tyre. The front has trapezium-shaped grill holding the brand logo at the centre and nicely carved bonnet. The interior have a grey-coloured aura and is blessed with a new audio system and a cool air conditioner with rear A/C vents.
This SUV is expected to give a city mileage of around 15 kpl which is acceptable! The max speed we could achieve was 172 kmhr and the min time going from 0-100 kmhr was recorded to be 12.6 sec. These figures also depend on the terrain on which we drove the vehicle.
Here are the safety features we found on our test car: dual airbags, rear parking sensor, Anti- Braking System , roof railings, prominent spoilers at the sides and rear.  Other features which came into our view were the tilt steering option, turn indicators on ORVMs, body coloured door handles, better boot space than Duster. However an anomaly also is there in the form of strangely placed ORVMs controls i.e. below the handbrake.
That is what we analysed about this new SUV sorry mini-SUV by Nissan. It's definitely worth your test ride, but do consider Ford EcoSport and Renault Duster before buying it. While EcoSport is cheaper and offers slight more mileage, Duster and Terrano are more spacious at the rear and boot. And Terrano has the most seductive looks out the 3. I would get a little biased for Duster, but you make your own decision depending upon your priorities.
With Nissan Terrano just out in the market, check it, test drive it. And if liked, just book it.
All the best for your Search! And a free advice- keep a low beam while driving at night so that you don't blind the person coming in front.