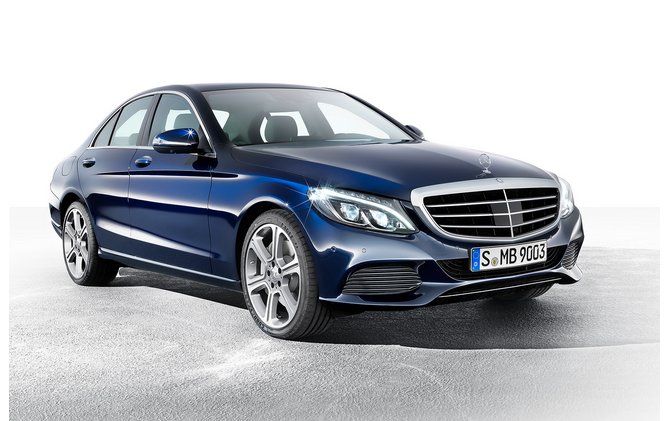 After the success of sedan C-Class W204 globally, its successor C-Class W205 has been unveiled by Mercedes-Benz at Detroit Motor Show. It is expected to be introduced in India at Auto Expo 2014.
Price:
The Indian price is not disclosed yet but being a Mercedes model, a competitive price is quite expectable. Though, Germany has announced the price range of this luxury sedan which is £28316 of its base model (C180), means around 28.5 lakhs in Indian rupees.
Engine details:
Reportedly, Mercedes-Benz C-Class W205 is launched with three engine variants, globally, out of which one is diesel and two are petrol. These variants are named as C180, C200 and C220 Blue TEC.
While the first variant C180 is powered by 1.6 liter petrol engine churning out the max power of 156bhp and peak torque of 250Nm, the second variant C200 has 2.0 liter petrol engine producing the max output of 184bhp and 300Nm.
On the contrary, the third and last variant C220 Blue TEC has diesel unit which is of 2143cc and developing 184bhp and 400Nm.
As per its transmission is concerned, this all new sedan is expected to get two gearbox options that are 6-speed manual and 7G-Tronic PLUS Automatic.
Also, company is claiming that 1-2 more and powerful engine variants and 9-speed automatic transmission would be added in this classy sedan after the first India launch. Well, exact detail could be revealed only after the launch.
Space & Dimension:
The new sedan has been longer as well as wider than its predecessor C-Class W204 by 95mm and 40mm respectively. Now the new W205 is 4686mm in length, 1810mm in width and 1447mm in height. Also, its wheelbase has been increased by 80mm which means 2840mm over 2760mm.
Still, the new W205 is manufactured by using more aluminum than W204 and hence making it 100 km lighter than its predecessor. The car boot gets a little bit increment too and now its total measurement is 480 liters.
Interior & Exterior:
It is being cleared with the new sedan's images that Mercedes has taken a step forward in terms of styling and its glimpse. The designing of this luxury sedan is slightly similar with its new S-class model. The new sedan is designed with the state-of-the-art technology and luxurious finish. Though the complete list of interior and exterior is not disclosed yet in India, but we are expecting those entire requisite features which are essential and would justify the badge of Mercedes.
Road handling:
The ongoing C-Class model of Mercedes-Benz has proved its ability on the road and its users are quite appealing this car. Globally, the W205 is promising to accelerate 0-100 km/h in just 8.2 seconds (in variant C180), 7.5 seconds (in variant C200) and 8.1 seconds (in variant C220 Blue TEC). Though, these figures could get some ups and downs according to Indian roads.
Verdict:
Mercedes doesn't need any introduction; it is one of those successful brands which are known for its luxuriant features, premium quality material and awesome road performance. With this new launch, company is offering these all above mentioned features on a higher level than before, or at least we could expect this much from Mercedes. Let's wait and watch till the launch.