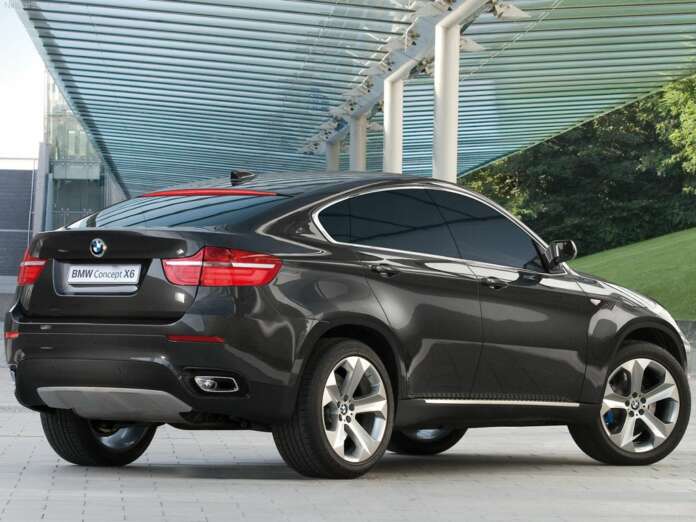 You know what, this year's budget hates three things- diesel, SUVs and imported car!
But the question is, why the hell are we talking about budget here? Well to be honest, these all three things which our govt hate makes up this car which we have here, the BMW X6.
Well to be frank, this car is new. With some quirky cosmetic changes and a tuned engine to deliver more power, this car is just perfect to play with. Ummm its a Beemer! A big one, so let's just simply find out about it in detail, without wasting any moment.
DESIGN-
This car, from the time it was first launched, has had a great presence on road with such gigantic dimensions and for its unconventional design element. You just can't help looking at it again, and again, and again maybe! You know, its insane!
Don't mind that, its too freaky that none can control their senses. So, first off, this is not an SUV but a Sports Activity Coupe(SAC) as what BMW claims about it. And about its newness, the traditional Kidney grille has been given a fine touch up and it surely looks different. The fog lamps have been repositioned and the tail-lamps are now LED. Besides some cosmetic touch-ups, as mentioned, this car stays identical to what it is going to replace but this new one sits 10 mm lower than the earlier model which reduces the car's ground clearance to 212 mm. What?? only 12mm extra than an EcoSport!! Weird!
Apart from that, the vehicle looks as appealing as always with that popular sloping roofline design, such a trendsetter!
INTERIORS AND FEATURES-
This car hasn't gone much updated from the inside but is now available with a vivacious range of colors to choose from, for the leather upholstery with newly introduced  raised sports seats which are electronically adjusted. The space is well mannered for the front riders but joy is a bit cold for the rear passengers. There's no problem with leg and shoulder room, but the headroom has been altered and to provide additional design hues to the sloping roofline.
There's an additional choice to have a Taylor made dashboard wood trimming with tough design and is made of the high quality plastic. The steering wheel too, feels awesome on fists and grasp feels confident which makes the X6 restore the BMW's reputation for steering feel, delivering a healthy feedback.
Talking about the features list, keep in mind that this car costs 1 crore and so, you can expect what you want, and it fulfils! Like the BMW iDrive multimedia system, head-up display, individual climate control on all four seats, rear seat entertainment system with DVD player and screen, but the screen is optional and would cost an additional 3 lacs extra for the addition. Whoaaa!! Calm down guys, the safety equipment list is yet to be disclosed.
This car, boasts some of the high-class safety measures and why not, you don't pay 1 whopping crore just for the entertainment, right?
So the the car is ultra safe with 8 airbags, including head airbags for all the 4 seats and side airbags as additional to these 8. A crash sensor, DSC, incorporated side impact protection, traction control, ABC, CBC, hill descent control and Central locking with electronic immobilizer are some of the additional car safety features. Feeling safe enough now?
ENGINE AND PERFORMANCE-
Apart from facial changes, this car has seen some changes that are more than skin deep.
The 3.0 litre, V6 twin-turbo diesel mill after tune-up coughs a sober 301 bhp and 600 Nm compared to the previous figures of 235 bhp.
Sounds great and provides strong low-end, punchy mid-range and an equally strong top-end. And with those twin turbos, there is zero turbo lag throughout the ride range. This diesel mill is pretty agile and drags this big-mutha from 0-100 in just 6.8 secs.
Another engine option is there, which is a 4.4 litre V8 that develops 402 odd growling horses and 600 Nm of torque. Trust us, this V8 sounds so nice, even better than the diesel.  And pulls the car from 0-100 in just 5.4 secs flat. To the point there!
Both the engines are coupled with an 8-speed auto 'box which make the shifts, seamless. Power is transmitted to all the wheels efficiently without making you losing traction, even on the tightest bends. And the screen shows the amount of torque being sent to the wheels.
The car can obtain a top end of 220-250 kmph easily and still stays in control and sticky to the road with those run-flat tyres.
Mileage metre-
The diesel variant, being efficient claims a mileage of 10.5 kpl on highway
And 6.7 km it will go in city for every litre of diesel.
The petrol engine can disappoint you though, but the power and performance surely compensates that.
PRICES AND COLORS-
This car costs around 1.10 crore on road in Mumbai and will be available with custom-pick color options but some of the few standard colors are
Titanium Silver
Black Sapphire
Mineral Silver
Monaco Blue
Space Grey
Deep Sea Blue
Tasman (green)
Vermilion Red
Alpine White