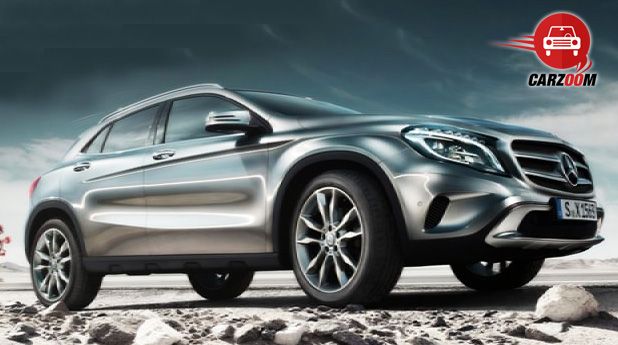 Mercedes, the German luxury car maker seems to be on car launching phase at the moment, after launching two AMG models is now on the verge of launching its smallest SUV this month on 30th September and we will also witness the launch of E350 CDI in a week's time. Mercedes is known for big luxurious cars but this time around Mercedes is trying their hands on compact vehicles for the first time.
Mercedes showed its compact SUV for the first time in Auto Expo 2014. Mercedes GLA will be completely imported from outside as CBU (completely built unit). This SUV will have several color options as per what our sources has revealed. The Mercedes dealers have already started taking bookings for Compact SUV for the price token of Rs. 1 lakh.
GLA will be presented in two engine options- Petrol and Diesel. 1.6L petrol engine will produce 152.9BHP power and 250nm torque; it will be badge as GLA 200 CGi. The GLA will accelerate 0-100 km/h in 8.9 seconds with the top speed of 205 KPH. It will give an efficient mileage of 16 KPL which is good.
While, 2.2L diesel will produce 133BHP power and 320nm of peak torque and it will be Badge as GLA 200 CDi. It will whoosh 0-100km in 10.0 seconds with the top speed of 205 KPH. GLA 200 CDi will give 20 KPL mileage which is excellent. Both engines are equipped with 7 speed automatic transmission.  On comparison with Audi Q3 and BMW X1, GLA is slight behind from these cars in terms of power and torque.
GLA will be 4417mm long, 1804mm wide and 1494 tall. It has 421 liters of cargo space which is fine but there is improvement in ground clearance which is 183mm seeing the bumpiness of Indian roads. It will also sport 18 inch alloy wheels.
GLA's Price will be varying around the price bracket of Rs. 25-30 lakhs. With the introduction of compact SUV Mercedes surely going get help in boosting their market in India. Recently, Mercedes has crossed sales figures of 1 million around the world in the month of August which is significant achievement.      
GLA is based on Mercedes front wheel architecture (MFA); it also gets roof rails, body plates and skid claddings which makes GLA SUV complete. Central dashboard gets touch screen and SLS inspiring A/C vents.