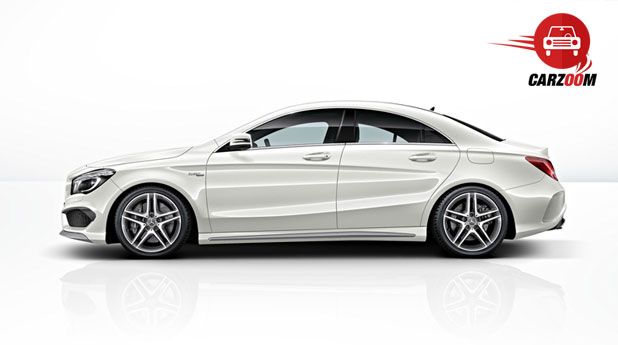 Mercedes-Benz has taken a major step ahead in the world of luxury cars with the launch of The New CLA 45 AMG, succeeding the Mercedes-AMG premiere in the A class. This car is endowed with thrilling interior and excellent design. Integrated with the best features and distinctive engineering, this car has set new limits to the world of motor racing, constituting the world's most powerful series production 4-cylinder turbo engine.
Price:
Comes up with the price of 68.5 lakhs in India.
Quite competitive tag as per its segment.
Engine:
Keeping in mind the technicality, this is the world's one of the most powerful series production four cylinder car, turning into an arrow.
The engine is highly concentrated extracting maximum power from the line up.
A standard AMG SPEEDSHIFT DCT 7-speed sports transmission strives to deliver the result effectively.
Space & Dimension:
CLA 45 AMG has long length of 4691mm, width of 1777mm with the height of 1416mm.
The knee room and headroom of this luxury model is bit compressed though and we were expecting better.
Compatible and relaxing ride quality especially in case of chauffeur driving.
Interior:
One peek at the car and it houses in your heart, appalled not just by its exterior but also by its breath taking interior.
The interior mirrors, the motor sportiness with the dynamic color combination and the shimmer of brushed aluminum.
We loved the stylish features of this car like panoramic sliding sunroof, DVD player, radio and 10GB memory for compressed audio files, reversing camera for ensuring safe and easy reverse parking and maneuvering, automatic climate control with 2 climate controls etc.
Exterior:
The CLA 45 AMG captivates not only with its figures but also its elegance and exposure.
The appealing appearance coupled with warm expressive colors makes it more impressive and personifies beauty and elegance.
The exciting exterior of CLA 45 AMG, its powerful AMG body styling gives this car a dynamic appearance, thereby creating a breath taking effect on to its onlookers.
AMG body of the car gives a dynamic appearance from any angle.
Rear Mercedes logo with stylish matte finished frame, which makes you feel good and great.
Safety:
This powerful car ensures a powerful yet a safe riding opportunity.
Daytime driving lamps with parking lights featuring LED technology, ABS make you feel safe at high speed.
Tyre pressure monitoring system it monitored by sensors.
Verdict:
Mercedes-Benz is always known for its luxurious cum powerful models and this AMG version of CLA class is definitely not any exception in that. The price range is bit high though but it's bearable as the target customers can afford this car easily. Overall, we were impressed with this model.