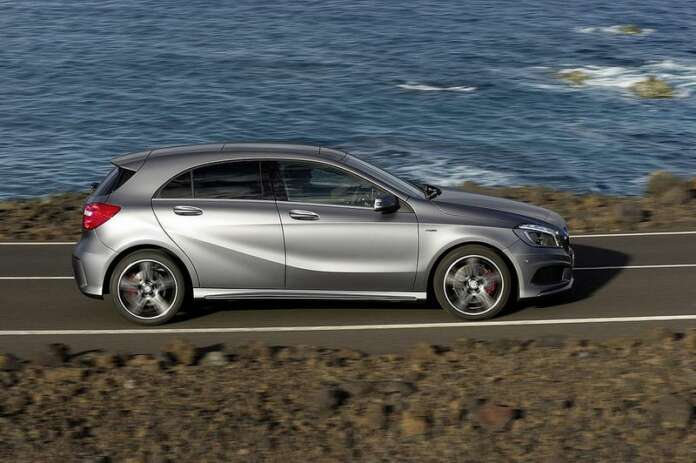 We, our team and I are fond of this job of testing and writing about cars. Whatever season it is, whatever reason it is, we are always testing some of the most brilliantly made vehicles in the market and some of the most idiotic too. But this time apart, we have a subsequently new car with us, the third-gen Mercedes-Benz A class, which is neither too brilliant nor really idiotic!
We took this latest car on a day out around Alwar in such a magnificent weather and here is what we have to say about it in the experts review section.
PROS–
About the looks, we say this little bastard is gonna kill you with them! It's nothing we've ever seen before and is something we'll not even mind seeing more of, probably the best looking Mercedes yet. It's a small but huge package of perfection oustide being the most compact car from the Benz family and inside, as we got into it, it boasts one of the neatest cabin.
We were really amazed with the fact that being an entry level hatchback, this car has still touched some benchmarks with the SLS AMG styled room and undefeated, typically Mercedes-Benz quality. And our team was even more rejoiced noticing that optional sunroof we had in this little sunshine, which was something really unexpected. All in all, this car gets a hit from our team for being the best looker around in the segment and the same is what the consumer feedback report suggests.
Enough praises for the niche styling, now the real test of the car was to prove itself on road and it certainly does it well. Remember, only well!
This car is not something from which we could churn out a bucket full of throttling and performance but then, its engine is something we have seen in the earlier versions of E and C classes, fitted in the A class after some tunings for efficient performance rather than the rubber burning zing delivering a class reveling mileage of around 15 kpl overall on the diesel mill.
Performance and handling are on a happier side with stiffer suspensions and tight feel of the steering and we didn't feel the car going stressed when pulled frequently around the hilly roads of Alwar while cruising at high speeds, taking a fast corner or navigating those twisty hilly roads. And driving this car in the city was effortless too, since power delivery is linear and available as low as 1500rpm and part-throttle response is quite adequate to amble around town. So, this car really took away our heart with those looks, feel and efficiency for once, but was that all enough for it to be the best new car? We don't think so, Let's move further!
CONS–
Whatever we expressed after testing this car for hours was true, but what we are going to describe here can't be neglected either, maybe its gruelling, but its all true and for the betterment of everyone, including the car makers as well.
First things first, specifications wise, the car is sweet in overall attire from outside and inside as well, with the front seats being extremely comfy and supportive. But the rear seats will make you realise of it being only half as interesting as the front, with a little too upright seating. Bench is on a shorter side and lacks thigh support. Plus, the huge front seats obstruct most of the frontal view, and both the windows and the rear windscreen are small.
The 2.2 litre turbodiesel was what we drove, it was great but noisy and trust us, this was not at all music to the ears and makes easily into the cabin as well. Besides, the car felt a lot like a hyper child, craving for the candy but can't reach out for the shelf making it a not so great accelerator. Our driver says," on the highways, the engine and the gearbox combination doesn't feel all that impressive, making the D drive mode leisurely and S mode also doesn't feel as quick as you want a dual-clutch to be."
The heavy handling, as we said, felt weighed up when the throttle was pushed, but then felt a bit too weighty at city speeds as well! Poor!
And what our whole experts team felt around here was," its not a car you want to take to a drag strip, but can surely spice things up on the roads, where it will spend most of its living years." You don't spend a decent but big amount like 23 lakh for making compromises, do you? And would you even do that if you get double the fun in any other car as costly as this one? But then you won't be having a merc beneath yourself to take you places in total freshness and same old German charm. Choose wisely! Happy driving!
END VERDICT-
Yes, it's a hatchback that costs upwards of 20 lakh, but then, it is one stunning looking package, offering luxury features associated with cars in higher segments. Plus, its sporty drive and excellent handling manners are definitely worth it. Go give it a shot!  It's the latest car in the market to woo you.