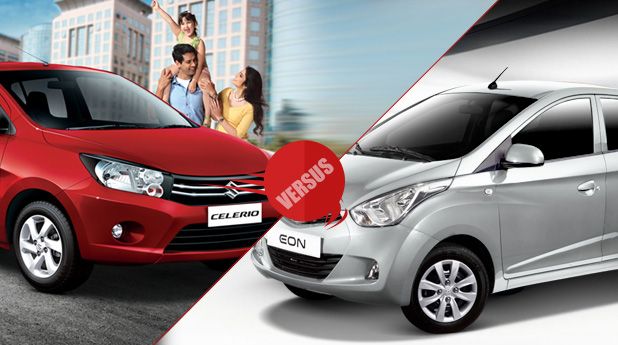 Two well reputed brands of India, their two exciting models, both are in hatchback category and the comparison between them; these create complications when a person has to face them all-together. Well, it happens when we plan to buy a car of our own. We always want to make sure to choose the best among many. And in this queue, based on the searches of people, we are here with the detailed comparison of two trendy hatchbacks.
While one is the newly launched model by Maruti Suzuki, Celerio, the other is Hyundai's ongoing small car with a small name-tag Eon which is doing well since its launch. We find not only dissimilarities but quite few similarities as well between these two cars. Let's proceed.
Price:
When it comes to price, Eon takes the cake away from Celerio by carrying a really affordable price between 2.8-3.9 lakhs over the Celerio's price range of 3.7 lakhs to 4.7 lakhs.
Though, Eon has scored more by its less price but still more to go to find out whether Celerio's little high price is worth to compromise or not.
Engine details:
As per their mechanical powers are concerned, both the hatchbacks share petrol fuel only while diesel unit is missing. Though, it is being expected that Maruti can update the new Celerio later with diesel unit as well after seeing the first reactions of its users but there are no such plans by Hyundai this time. Meanwhile, Eon also gives option of CNG fuel availability.
The Maruti's hatchback is powered by 998cc, 1.0 liter K-Series petrol engine which is good to develop the max power and peak torque of 67.1bhp and 90Nm, respectively. While on the other side, Eon doesn't look as much powerful as Celerio under the hood. The reason is the availability of 814cc, 1.0 liter SOHC petrol engine which churns out the comparatively less output as 55bhp and 75Nm of max power and peak torque, respectively.
Not only this, Celerio is also rich in transmission coz it is mated to not only a 5-speed manual gearbox but with an all-new conceptual AMT (automated manual transmission) as well which is responsible to provide this trendy new small car a better driving experience than ever. Contrary, Hyundai Eon is geared up with only a 5-speed manual transmission gearbox.
The new-gen Celerio does well even in terms of its fuel efficiency. Maruti has paired it up with better power which makes this car to offer the mileage figures of 23.1 km/l and makes it better than almost every other same segment model on the basis of fuel economy. Though, even Eon doesn't disappoint much in this, it also offers an impressive mileage figure of 21.1 km/l.
All mileage figures mentioned above are ARAI Certified.
Performance:
The Celerio is new and people who have taken its test drive are feeling amazed by its handling, better drivability and decent balance on road. Its new technology and pairing of automatic transmission definitely makes it far better than others and attracting people towards it.
However, Eon also provides a decent ride on road but a feel of vibration comes in the starting gears which later become smooth on shifting to upper-ones. Overall, Eon gives a feel of comfort on driving but AT is definitely being missed.
Space & Dimension:
Being the hatchback models, both offer seating capacity for five passengers but Eon is smaller than Celerio in dimension. The Eon is 3495mm in length, 1550mm in width and 1500mm in height while Celerio is 3600mm long, 1600mm wide and 1560mm tall. Celerio carries the wheelbase of 2425mm which is longer than Eon's wheelbase of 2380mm. The clear height of Eon and Celerio is 170mm and 165mm, respectively.
Interior & Exterior:
At inside, both the companies tried their best to equip the entire requisite features in their respective hatchbacks but still Celerio has comparatively more comfort devices and equipments as per now-a-day's demand. The reason is Celerio's newness over the Eon's.
At the outside glimpse, both the cars are small, cool and classy and match best with the requirement of someone's daily use. Though, Eon is smaller than Celerio and hence less spacious too. The luggage storage capacity of Celerio is 235 liters which is better than the Eon's boot capacity of 215 liters.
Safety:
Safety wise, like any other hatchback, these two also shares the basic safety devices which seem quite appropriate for such cars in minimum budget. But here again, Celerio has some extra than Eon and this is one of the most required safety features anti lock braking system (ABS) which is marking its well presence in Celerio (only as optional feature) but completely missing in Hyundai's hatchback Eon.
Verdict:
Maruti Suzuki Celerio:-
Pros: –
Better power as well as torque
Presence of automatic transmission
Spacious
 Maruti's excellent after-sale services
Cons: –
Comparatively a li'l bit expensive
Hyundai Eon:-
Pros:  –
Cons: –
Less powerful engine
Safety device like ABS is missing
Comparatively not so good after-sale services