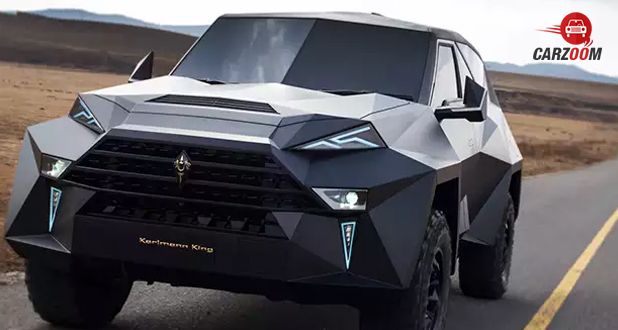 If you are an SUV fan and want something better than Maserati Levante and Lamborghini Urus, then you would surely like to go for Karlmann King Car. Touted as the world's most expensive SUV it comes with a price tag of $2.2 million, by adding customizations the price can cross $ 3.5 million. The beast might cost Indian buyers twice, which is INR 14.27 Crore (Without taxes and duties). The production of the SUV is said to be limited, just 12 units to maintain its uniqueness. The car was first unveiled at Dubai International Motor Show in 2017.
Designed by a Chinese automotive firm with the team of 1,800 people in Europe, the SUV gives an impression of a radical concept with a futuristic sculpted design which also shows the armored vehicle like appearance.
In a statement the company said: "The vehicle is "stealth" and it offers "an unprecedented visual feast".
The Karlmann King SUV is based on a Ford F-550 platform and weighs 4,500 Kg and if you want it to be bulletproof the weight can increase up to 6,000 Kg. The 6 meters long SUV has a 6.8 liter V100 engine, which gives out approximately 400 bhp power. The SUV also gets a Hi-Fi sound, ultra HD 4K television set, phone projection system, private safe box and optional satellite TV. You even get extra features which include: coffee machine, independent AC, indoor neon light control and almost everything that you can imagine inside a car. The wheelbase of the car is a massive 3691 mm, which means there is enough space for a meeting of four friends inside. The body interior has been built in carbon-fiber and steel.
The launch date is yet to be declared but we are eagerly waiting fro this beast on roads.